Photo: Viacheslav Mavrychev, Suspilne/Kharkiv 
Ukrainian volunteers are transforming British military "toys" into tools of resilience, assembling a formidable arsenal of British armored vehicles to defend their country.
Ukrainian volunteers have been buying up British military equipment, such as armored personnel carriers, off-road pickups, drones, and tanks, in preparation for a prolonged war with Russia. They have been sourcing these items from auctions and have managed to acquire over 150 units of heavy armored vehicles.
These military "toys" are popular in Britain, where they are used for business purposes or by collectors. Businesspeople rent them out for birthday parties, weddings, funerals, rallies, and film shoots. The British army has been selling off old equipment for many years, and with the withdrawal of troops from Iraq and Afghanistan, there has been a significant surplus, which has found its way into the hands of buyers from all over the world.
One example is Nick Mead, 61, a British businessman specializing in military gear, who supplied 100 military vehicles to Ukraine. Mead runs Tanks a Lot, a company providing driving experiences in vintage military vehicles on his farm in Brackley, Northamptonshire, for military enthusiasts. When Russia invaded Ukraine in February 2022, the company began to focus on legally shipping critical military vehicles to Ukraine in deals cleared by the Department of Trade and Industry. Unfortunately, Barclays Bank recently deemed Mr. Mead's business "high risk" and shut down his business, savings and online accounts.
"I've sent 100 vehicles to Ukraine over the past year, including tanks with guns, but I'm being driven out of business by a bank… All I want to do is get help to where it's needed and give our Ukrainian friends what they're crying out for, but my hands are being tied." explains Mead.
Ukrainian volunteers, including members of the Ukrainian diaspora, searched for and processed all proposals for the sale of armored vehicles in Britain. The vehicles were sold in various conditions and at different prices, and not all of them were suitable for combat. Volunteer foundations had to recruit people to assess the condition of each unit on-site. The Ukrainian World Congress (UWC) brought logistics department officers to Britain to verify the quality of the armored vehicles. The Serhiy Prytula Charitable Foundation engaged its volunteers for this purpose.
At least three major Ukrainian organizations bought used British armored vehicles: the Serhiy Prytula Charitable Foundation, the Petro Poroshenko Foundation, and the Ukrainian World Congress (UWC).
The Serhiy Prytula Foundation collected funds during the November 2022 attacks on energy infrastructure. In just a day and a half, Ukrainians donated UAH 236 million, which was used to buy 101 vehicles. Former president Petro Poroshenko financed half of the purchase himself, while the other half was paid for with funds from his foundation. They contracted for 14 machines. The Ukrainian World Congress purchased and delivered 25 armored vehicles thanks to fundraising in 70 countries, and another 15 are being prepared for shipment.
Meanwhile, Ukrainian activists and volunteers purchased 155 units of armored vehicles for Ukrainian defenders from Britain, including FV103 Spartan, FV105 Sultan, FV104 Samaritan, FV432 Bulldog, and Stormer vehicles. These vehicles have different functions, such as transporting reconnaissance groups, medical evacuation, and repair work in the field. Most of the equipment was purchased from private British owners through crowdfunding campaigns.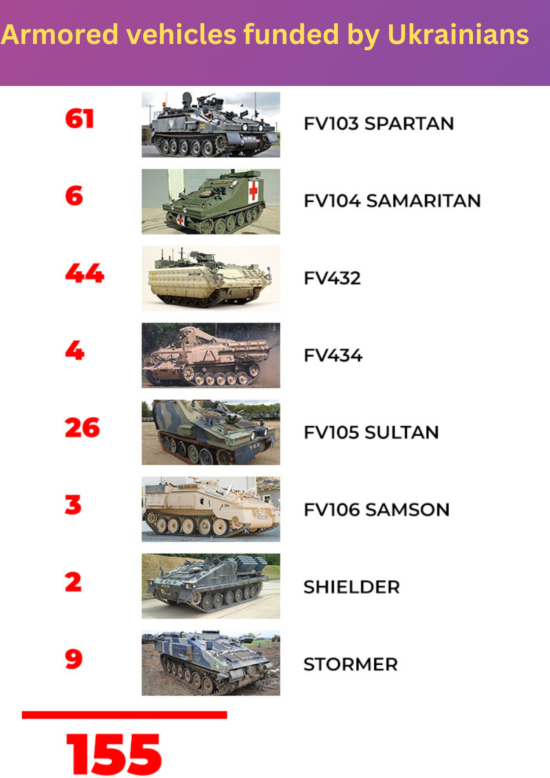 FV103 Spartan
– tracked armored personnel carrier. It belongs to the Combat Vehicle Reconnaissance (Tracked) family of vehicles. It is armed with a single 7.62mm machine gun and can carry up to seven personnel, including three crew members.
FV104 Samaritan – armored ambulance used to carry medical personnel and evacuate wounded soldiers from the battlefield.
FV105 Sultan – command and staff armored vehicle.
FV432 Bulldog – tracked armored personnel carrier developed in the 1960s. It has a crew of two and can carry up to ten troops. It is armed with a 7.62 mm machine gun and has smoke dischargers for self-defense.
FV434 and FV106 Samson – specialized repair and recovery vehicles that have a cargo compartment for transporting spare parts and tools. They are also equipped with winches and cranes.
Shielder – minelaying vehicle mounted on the Stormer tracked armored fighting vehicle.
Stormer – air defense missile system, equipped with the Starstreak air defense missile system.
The equipment is now being transported to Ukraine, which has proven to be a difficult task, as the foundations and volunteer organizations do not have the logistical capacities of the Ukrainian military or NATO.
Ukrainian NGOs have imported a significant number of British armored vehicles to be used for military purposes in the country. Despite bureaucratic hurdles, the process was made possible with assistance from both Ukrainian and Western regulators, as well as military and civilian volunteers. The vehicles purchased are from the 1960s and 1970s but are still functional and suitable for transport and evacuation purposes. They are not distributed randomly but allocated to specific brigades in certain areas to maximize their effectiveness.
All in all, such vehicles are crucial in war zones, with some Ukrainian officials stating that "if the armored vehicles run out, the war will end. Armored vehicles should come in a stream, hundreds and thousands of vehicles, and we need to take everything they give us."
Tags: air defense, armored vehicles, foundations, military aid, Russo-Ukrainian War (2014-present), Volunteers