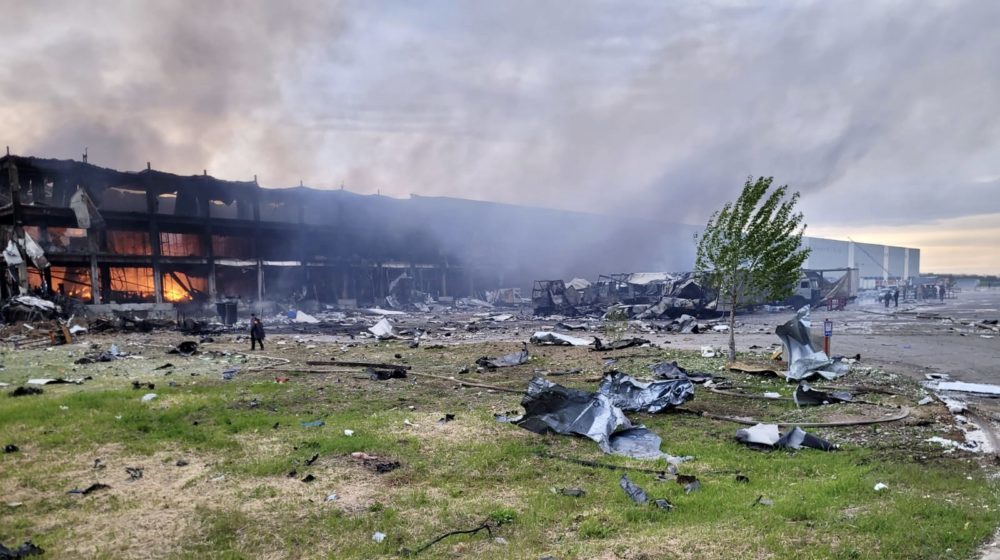 Ukrainian Red Cross Society's humanitarian aid warehouse destroyed by the Russian missile strike on 8 May 2023. Photo: redcross.org.ua 
Early on the morning of 8 May, the Odesa District Military Administration reported that last night a Russian Kh-22 missile hit a warehouse of a food company located in the Odesa district, which resulted in a massive fire. Later it turned out that the warehouse belonged to the Ukrainian Red Cross.
https://twitter.com/EuromaidanPress/status/1655468324162084874?xzdsf
The Ukrainian Red Cross Society (URCS) says last night's missile strike has completely destroyed its Odesa regional organization's 1,000-square-meter warehouse and the humanitarian aid stored there.
"Currently, the provision of humanitarian aid and the activities of some projects of the Odesa regional organization of the Ukrainian Red Cross have been suspended," URCS wrote.
Also, a rocket attack damaged the Society's mobile hospital in Mykolaiv Oblast on 7 May. The staff and volunteers of the Ukrainian Red Cross were not injured in both attacks, URCS noted.
"The population, humanitarian organizations, and hospitals are not targets! Attacks on the staff and facilities of the International Red Cross and Red Crescent Movement are a gross violation of international humanitarian law and are classified as a WAR CRIME!" the Ukrainian Red Cross wrote, adding that since 24 February 2022, the beginning of Russia's all-out war against Ukraine, the organization's 25 buildings (offices, warehouses, bases) have been damaged or destroyed.
Read also:
Ukrainian air defenses bring down all 35 Russian Shahed drones over Kyiv – Air Force Command
Tags: Odesa, red cross, Russian missile attacks