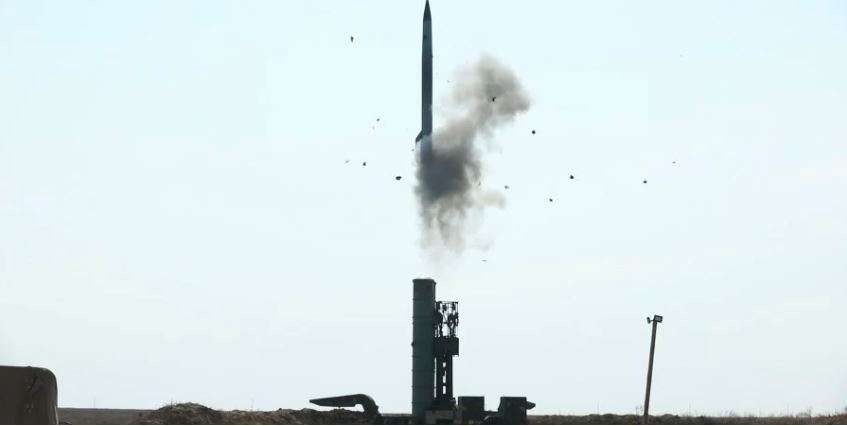 Ukrainian air defense shoots down Russian missiles. Photo: Ukraine's Air Force 
Ukraine has called for an increase in the supply of both air defense systems and missiles, as its air defense forces spent a significant number of missiles fending off massive attacks from Russia during the fall and winter, according to Colonel Yurii Ihnat, spokesperson for the Ukrainian Air Force.
Speaking on air of the national telethon, Ihnat revealed Ukraine's air defense forces destroyed 750 Russian cruise missiles and 750 kamikaze drones in this period. In addition to these defensive efforts, the Ukrainian Air Force has also taken down 600 units of piloted enemy aircraft, such as planes and helicopters, throughout the ongoing war, Ihnat said.
"We expect our partners to increase not only the supply of the complexes themselves but also the missiles. The expenditures of missiles are quite serious," Ihnat said.
Earlier, the Financial Times reported, citing three briefed officials, that Ukraine Ukraine will urgently request surface-to-air missile shipments at the Ramstein military coordination group meeting on 21 April, concerned that a severe shortage could allow Russia to launch extensive bombing attacks. Western capitals are apprehensive that without adequate air defenses, a long-planned counter-offensive against occupying Russian troops may stumble.
Ukraine has received recent shipments of Soviet-designed MiG fighter jets as an attempt to offset the threat of Russia's large, yet mostly unused, air power. However, Kyiv urgently needs more short-range air defense, i.e. missiles capable of shooting down fighter jets, having used a significant amount to counter Moscow's drone and missile barrages. "If they use them all up, it opens the space up for air forces," said a European official, adding that if Russia can deploy "dumb bombers," Ukraine will be in trouble.
Defense Minister Oleksiy Reznikov announced on 19 April that Ukraine had begun receiving US-made Patriot missile systems, marking the most advanced air defense systems provided by Western backers so far. Despite this, the ongoing need to defend against Russian missile and drone attacks has systematically depleted Ukraine's stockpiles.
Sir Richard Barrons, former head of the British armed forces, told the Financial Times that if Ukraine's air defense runs out of ammunition, the material cannot be easily or quickly replaced by the West, leaving Ukrainian forces "very vulnerable" and enabling the Russian air force to "penetrate anywhere it chose to in Ukraine."
The Financial Times report confirms earlier warnings based on leaked Pentagon documents that Ukraine's air defense network is at risk of collapsing if it does not receive a significant influx of munitions to counter Russia's air force.
According to New York Times, which analyzed the documents, missile stocks for Soviet-era S-300 and Buk air defense systems, which account for 89% of Ukraine's defense against most fighter planes and some bombers, were anticipated to be entirely exhausted by May 3 and mid-April, according to one leaked document. The assessment, issued on February 28, was based on consumption rates at that time; it is unclear if these rates have since changed.
The same document estimated that Ukrainian air defenses, designed to safeguard troops on the front line where much of Russia's air power is focused, will be "completely depleted" by May 23, leading to pressure on the air defense network further into Ukrainian territory, New York Times wrote. The danger in this situation is that as Ukraine's missile reserves deplete, Moscow could decide to unleash its air force, which poses a major challenge for the Ukrainian military.
The leaked documents reveal that Russian fighter jets currently deployed in the Ukraine theater number 485 compared to 85 Ukrainian jets. With its extensive air capabilities, the Russian Air Force could have a decisive impact on the war if Ukraine's air defenses weaken, New York Times noted.
Related:
Tags: air defense, Ramstein