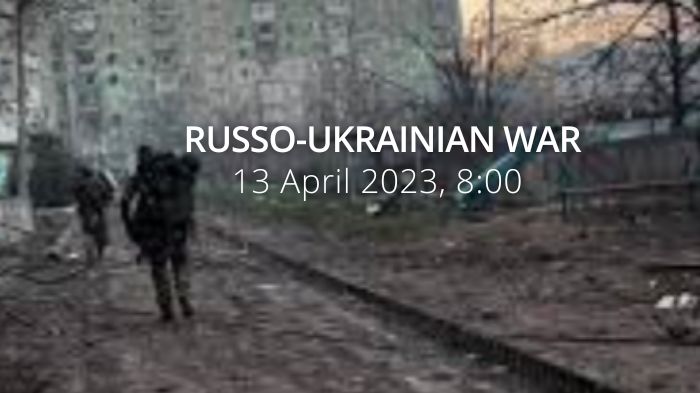 CNN finds another video of Russians beheading Ukrainian soldiers. Russian Wagner claims advances in Bakhmut. Kyiv denies Wagner's claim.
Daily overview — Summary report, April 13
A map of the approximate situation on the ground in Ukraine as of 00:00 UTC 13/04/23.

There have been no notable changes to control since the last update. pic.twitter.com/hY9FdvJ1g5

— War Mapper (@War_Mapper) April 13, 2023
The General Staff's operational update regarding the Russian invasion as of 18.00 pm, April 12, 2023 is in the dropdown menu below:
During the past day, Russian forces launched 2 missile and 32 airstrikes, launched more than 40 rounds from MLRS on the positions of our troops and the civilian infrastructure of populated areas, there are dead and wounded civilians. 2 Russian missiles fired from the S-300 air defence system hit the objects of civil infrastructure in the city of Sloviansk.
The Russian Federation continues to disregard the laws and customs of war, so the probability of missile and air strikes remains high throughout the territory of Ukraine.
Despite numerous losses in equipment and manpower, the occupiers continue to focus their main efforts on conducting offensive actions in the Lyman, Bakhmut, Avdiivka and Maryinka areas. During the day, thanks to the courage of each soldier, more than 45 enemy attacks were repelled.
Volyn', Polissya, Sivershchyna and Slobozhanshchyna axes: the operational situation has not changed significantly. Certain units of the territorial troops of the armed forces of the Russian Federation continue to be on the territory of the Republic of Belarus. A comprehensive check of the combat readiness of the Armed Forces of the Republic of Belarus is underway. Individual compounds and units are brought to higher levels of combat readiness. Additional manning of the units involved in the inspection was carried out at the expense of the draft of reserve servicemen. Russian forces continue to maintain a military presence in the Kursk and Belgorod regions bordering Ukraine, and continues to carry out engineering equipment in the area. During the past day, Russian forces shelled the settlements of Galaganivka, Zaliznyi Myst, Arkhipivka of the Chernihiv Oblast; Methodivka, Seredyna-Buda, Esman, Khodyne, Bilopylla, Iskriskivshchyna, Volfine, Pavlivka, Obody, Kindrativka, Varachyne, Basivka, Zapsillia and Myropillya of the Sumy Oblast, as well as Veterinarne, Lukyantsi, Neskuchne, Vovchansk, Varvarivka, Nesterne, Zemlianki, Komisarov, Kolodyazne, Novomlynsk and Oskil in Kharkiv Oblast.
Kupyansk axis: Topoli, Krasne Pershe, Novomlynsk, Dvorichna, Zapadne, Kindrashivka and Oskil of the Kharkiv Oblast were hit by enemy fire.
Lyman axis: during the day, Russian forces carried out unsuccessful offensive actions in the area of Bilogorivka. Novoselivske, Nevske, Kuzmine, Belogorivka of the Luhansk Oblast and Torske and Spirne of the Donetsk Oblast were hit by artillery fire.
Bakhmut axis: Russian forces continue to conduct offensive actions, tries to take full control of the city of Bakhmut, fighting continues. During the past day, Russian forces conducted unsuccessful offensive actions in the area north of the settlement of Khromove and near Bohdanivka and Predtechyny. Vasyukivka, Orikhovo-Vasylivka, Novomarkove, Hryhorivka, Bohdanivka, Bakhmut, Ivanovske, Novodmytrivka, Kurdyumivka, Druzhba, Severnye and Zalizne of the Donetsk Oblast were affected by enemy shelling.
Avdiivka and Maryinka axes: Russian forces carried out unsuccessful offensive actions in the areas of Severne, Maryinka, Pobieda, and Novomykhailivka settlements of the Donetsk Oblast. The fiercest battles continue for Mar'yinka. At the same time, Keramik, Novokalynove, Krasnohorivka, Stepove, Avdiyivka, Tonenka, Severna, Vodyane, Pervomaiske, Netaylove, Nevelske, Karlivka, Georgiivka, Mar'yinka, and Pobieda of the Donetsk Oblast were under enemy fire.
Shakhtarske axis: during the past day, Russian forces did not carry out any offensive actions. They shelled the settlements of Novomykhailivka, Shakhtars'ke, Novoukrainka, Velyka Novosilka, Vugledar and Prechistivka in the Donetsk Oblast.
Zaporizhzhia and Kherson axes: Russian forces continues to conduct defensive operations. Over the past 24 hours, more than 35 settlements have been shelled. Among them are Olhivske, Chervone, Charivne, Novodanilivka, Orihiv, Novoandriivka, Mali Shcherbaki, Stepnohirsk of Zaporizhzhia Oblast; Kozatske, Odradokamyanka, Mykolaivka, Olhivka, Tyaginka, Kizomys of the Kherson Oblast and the city of Kherson.
The Russian occupiers continue to strengthen the counter-intelligence regime in the temporarily occupied territories. The number of roadblocks and patrols has increased in and around the village of Grafske, Volnovasky district, Donetsk Oblast. At the checkpoints, Russian forces is actively conducting filtering activities of the local population.
The situation is somewhat similar in Blagodatny, Donetsk Oblast. Fearing the leakage of information about the location of the occupying units, the invaders began to restrict certain traffic routes to taxi drivers, local residents are allowed to enter only with registration.
[The Russian occupiers continue to leverage educational institutions of the temporarily occupied territories and use them for their own purposes. They set them up as military facilities, hiding behind human shields – the schoolchildren and the teaching staff.]
[For example, mobilized units of the Russian occupation forces have arrived in the city of Skadovs'k (Kherson oblast) in recent days. The personnel are accommodated in the buildings of educational institutions. At the same time, the occupiers are forcing the teaching staff to continue the educational process with the attendance being compulsory for the children.]
[This said, a humanitarian crisis is imminent in temporarily Russia-occupied Skadovs'k due to the growing shortage of medicines. The Russian so-called "authorities" put in office by the occupation forces have significantly limited the supply of all types of medicines to pharmacies.]
During the day, the Ukrainian Air Force avi made 6 strikes on the areas of concentration of personnel and military equipment of the occupiers. Also, our defenders shot down 2 enemy UAVs of the "Orlan-10" type.
At the same time, units of missile and artillery troops hit 4 areas of concentration of manpower, weapons and military equipment, 2 enemy ammunition depots, as well as 1 enemy radar station.
Kyiv denies Wagner Bakhmut claim, Russia says forces advancing, Reuters reports. "Ukraine and Russia traded barbs on Wednesday over how much Kremlin's forces control the city of Bakhmut, for months the focal point of Moscow's bid to advance through eastern Ukraine. Ukraine's military said it controlled considerably more than 20% of the city. The claim by Russian entrepreneur Yevgeny Prigozhin that his Wagner mercenary group had seized more than 80% of Bakhmut was untrue, it said.
Russia's Defence Ministry retorted that Wagner forces had captured three city blocks. And Russian forces, it said, had struck Ukrainian army reserves trying to break through."
Military Updates
Ukraine's delays counteroffensive, the Washington Post says

Ammo shortage, slow military equipment delivery & leak of US intel documents make Ukraine alter plans.https://t.co/6whYGX5FtE

— Euromaidan Press (@EuromaidanPress) April 12, 2023
According to British Defence Intelligence, (last 48 hours): 
https://twitter.com/DefenceHQ/status/1646100775704092673
Leaders of several Russian regions bordering Ukraine, as well as occupied Crimea, have announced that their usually high-profile 9 May Victory Day military parades will be cancelled.
Some Russian cities further away from Ukraine have confirmed they plan to go ahead with Victory Day. The cancelled events have likely primarily been called off because of security concerns near the border, as officials have claimed.
However, the different approaches highlight a sensitive communications challenge for the Kremlin. Putin couches the 'special military operation' in the spirit of the Soviet experience in World War Two. The message risks sitting increasingly uneasily with the many Russians who have immediate insights into the mismanaged and failing campaign in Ukraine. Honouring the fallen of previous generations could easily blur into exposing the scope of the recent losses, which the Kremlin attempts to cover up.
Over recent weeks, Russia has continued to develop extensive linear defences in Zaporizhzhia Oblast in southern Ukraine. The area is highly likely the responsibility of Russia's Southern Grouping of Forces (SGF).
Russia has now completed three layers of defensive zones across approximately 120km of this sector. These consist of a front line of forward combat positions, and then two zones of nearly continuous, more elaborate defences. Each zone is approximately 10-20km behind the one in front.
Russia has probably put significant effort into these defensive works because it is convinced Ukraine is considering an assault towards the city of Melitopol. The defences have the potential to be formidable obstacles, but their utility almost entirely depends on them being supported by sufficient artillery and personnel. It remains unclear if the SGF can currently muster these resources.
Losses of the Russian army 
As of Thursday 13 April, the approximate losses of weapons and military equipment of the Russian Armed Forces from the beginning of the invasion to the present day:
Personnel – about 180590 (+540)
Tanks – 3646 (+0)
Armoured combat vehicles – 7053 (+10)
Artillery systems – 2777 (+7)
Multiple rocket launchers –MLRS – 535 (+0)
Air defence means – 283 (+1)
Aircraft – 307 (+0)
Helicopters – 293 (+0)
Automotive technology and fuel tanks – 5637 (+7)
Vessels/boats – 18 (+0)
UAV operational and tactical level – 2339 (+5)
Special equipment – 320 (+1)
Mobile SRBM system – 4 (+0)
Cruise missiles – 911 (+0)
Pentagon's leaked intelligence documents: US estimates Russian and Ukrainian losses in war at 354,000, Ukrainska Pravda reports, citing Reuters. "The documents of the US Department of Defence, allegedly leaked to the Internet, contain estimates of the losses of Ukraine and Russia in a full-scale war, which differ significantly from the official data of both sides. According to purported US intelligence documents, 354,000 Russian and Ukrainian soldiers have been killed or wounded since the beginning of Russia's full-scale invasion of Ukraine.
The "leaked" document titled ""Russia/Ukraine – Assessed Combat Sustainability and Attrition", shows that Russia's losses are estimated at 35,500-43,000 killed in battle and 154,180 wounded, that is, with a total of 189,500-223,000. Ukraine, as alleged in the Pentagon document, suffered a total of 124,500 to 131,000 total losses, in particular 15,500-17.500 killed and 109,000-113,500 wounded. […]
The published data of the Pentagon also provides an assessment of the balance of forces between Ukraine and Russia. It claims that despite the overall numerical superiority of Russia in some regions, Ukraine has more tanks and armoured personnel carriers in the area of operations. In particular, according to these data, Russia lost 2,048 tanks and 3,900 infantry fighting vehicles, while Ukraine lost 468 tanks and 1,020 infantry fighting vehicles. In addition, Ukraine has 802 tanks and 3,498 infantry fighting vehicles on the battlefield, while Russia has 419 tanks and 2,928 infantry fighting vehicles. At the same time, the Russian side has an advantage in fighters and air defence."
Russia's e-conscription overhaul underlines scramble for military manpower, Reuters reports. "A rapid overhaul to Russia's conscription system rushed through parliament on Wednesday has underlined a scramble for additional manpower for its forces fighting in Ukraine. On Wednesday, Kremlin spokesman Dmitry Peskov said the extremely important law was intended to solve what he called a mess in Russia's draft centres that had been exposed by a partial mobilisation in September, when the government was forced to retract a number of wrongly-issued draft papers.
In some ways, the new laws are harsher than September's decree on partial mobilisation, whose enforcement was patchy, and varied from region to region. Whereas in September conscripts, whose draft papers were only considered valid once physically presented to them, could avoid the draft simply by avoiding picking up their summons, the new law would make that all but impossible.
Draft notices were made difficult to miss by serving papers on Russia's near-ubiquitous Gosuslugi ("state services") platform, which Russians use for a wide spectrum of everyday tasks, from registering their children for school, to requesting doctor's appointments and paying their taxes. Moreover, the law allows for any draftee still ignoring their online summons after a seven-day period to be legally declared a fugitive, banned from leaving Russia, and have their assets frozen. […]
The new law appeared part of a renewed push to generate more manpower for Russia's military in Ukraine, where analysts say a much-anticipated winter offensive appears to have fizzled out without meaningful gains for Moscow. On March 30, British Defence Intelligence said that Russia planned to recruit an additional 400,000 professional soldiers, echoing Russian media reports.
Western analysts have suggested that the recruitment drive was driven by heavy personnel losses in a grinding, months-long battle for the city of Bakhmut in eastern Ukraine, alongside a costly failed attack on the town of Vuhledar which badly depleted Russian strength in the Donbas region ahead of a widely anticipated Ukrainian counter-offensive.
Mike Kofman, an expert in the Russian military at the US-based CNA think-tank, has said that only a small proportion of Russia's troops in Ukraine are capable of offensive operations."
Pentagon documents leak: Russian AWACS aircraft in Belarus blown up by SSU agents who disobeyed order, Ukrainska Pravda reported on Tuesday, citing The Economist. "The leaked classified documents of the US have revealed that agents of the Security Service of Ukraine (SSU) are responsible for blowing up an A-50U, a Russian airborne early warning and control system (AWACS) at the Machulishchy airbase in Belarus."
Humanitarian 
Russian army shells residential areas in Nikopol, southeastern Ukraine

4 people got wounded. Two of them were saved from under the rubble. The rescue operation continues.https://t.co/OmTeJAlqmM

— Euromaidan Press (@EuromaidanPress) April 12, 2023
Global Alliance of National Human Rights Institutions excludes Russian Ombudswoman, Ukrainska Pravda reports, citing Dmytro Lubinets, Ukrainian Parliament Commissioner for Human Rights (Ombudsman). "Today, I took part in the voting process for the exclusion of the Institution of Human Rights Commissioner in the Russian Federation from ENNHRI members. ENNHRI members with A status took part in the vote. I emphasise that this is the first time in the history of the association that one of the members has been excluded.
According to the ombudsman, the reason for the vote was that Moskalkova conducted her activities in a manner contrary to the purpose defined by the alliance's charter. […] The Global Alliance of National Human Rights Institutions (GANHRI) has been bringing together human rights representatives from around the world since 1993 and currently has 120 member organisations. They are conventionally divided into four networks: African, American, Asia-Pacific and European."
Truth Hounds, a human rights team documenting war crimes, established the likely culprits behind a Russian airstrike on civilian objects in Mykolaiv in March 2022. Footage from a Mavic drone was crucial in identifying the type of weaponhttps://t.co/rhJvjYR6gH

— Euromaidan Press (@EuromaidanPress) April 12, 2023
Environmental
https://twitter.com/EuromaidanPress/status/1646191648521551872
Russians seize 20 nature reserves in Ukraine, turn them into hunting grounds – President's Office, Ukrinform reports, citing Andriy Yermak, the head of the Ukrainian President's Office. "Russians have already occupied twenty nature reserves in Ukraine. They are turning parks, where rare species of animals and plants are supposed to be protected, into hunting grounds, mines and parking lots for tanks. The survival of wildlife is another important reason why Ukrainian lands should be freed as soon as possible, Yermak said.
As reported, according to preliminary information, since the beginning of the full-scale invasion, Russia has caused almost UAH 2 trillion [$54 bln] in damage to Ukraine's environment."
Lethal surprises hidden in the grass: Russia's trip wires and land mines, The New York Times reports. "Ukrainian land is covered in thousands of Russian mines, trip wires and booby traps. An area four times as large as Switzerland is unsafe because of land mines, the United Nations has estimated.
They kill or maim hundreds of civilians each month. In March, land mines killed 226 civilians and wounded 724 others. Throughout Ukraine, about 350 de-mining teams work continually.
The Ukrainian government has divided mined zones into priority areas for clearance. It is encouraging technological innovation for de-mining tools, and it intends to create a for-profit market for demining services. The World Bank has estimated clearing Ukraine of mines will cost $37 billion."
Legal
CNN finds another video of Ukrainian soldiers being beheaded, Ukrainska Pravda reports, citing CNN. "According to CNN, two videos emerged on social media last week showing Russian invaders beheading Ukrainian soldiers. The videos appear to be of separate events. One of them may have been filmed very recently, while the other — from the amount of foliage seen on the ground — looks like it was filmed during the summer.
One of the videos was purportedly filmed on 8 April by mercenaries from the Wagner Private Military Company. They filmed the decapitated bodies of two Ukrainian soldiers lying on the ground beside a destroyed military vehicle. […]
On the evening of 11 April, a video of the brutal murder of a Ukrainian prisoner of war emerged on social media. The footage shows a Russian soldier cutting off the head of a Ukrainian defender, who was still alive at the time, using a knife.
In March 2023, the Russian invaders shot an unarmed Ukrainian prisoner of war after he said Glory to Ukraine."
Most victims killed deliberately: 717 civilians shot dead in Kyiv region during Russian occupation, Ukrinform reports, citing Head of the Main Directorate of the National Police of Ukraine in the Kyiv region Andrii Niebytov. "A total of 1,374 bodies of victims were discovered. These are Ukrainian civilians who have been killed. Most importantly, 717 out of 1,374 victims were shot dead with small arms, i.e. most people were killed deliberately. A total of 340 people died from mine blast injuries, and the cause of death for 317 people was not established. They could have died naturally during occupation, or due to the lack of medical assistance, Niebytov told.
In his words, during Russian occupation, 38 children were killed and 43 injured in the Kyiv region. A total of 195 bodies are remaining unidentified, and 279 people are considered missing.
According to Niebytov, following operational and investigative actions in the Kyiv region's de-occupied areas, a total of 11,333 criminal proceedings were opened. Most of them are being investigated by the Security Service of Ukraine in accordance with Art. 438 of the Criminal Code of Ukraine (violation of laws and customs of war)."
Russia is likely conducting a campaign of systematic religious persecution in occupied Ukraine, ISW reports. "Russia continues to weaponize religion in an effort to discredit Ukraine in the international arena and is using information operations about religion to advance military objectives despite itself committing gross violations of religious freedom in occupied Ukraine. Russia may use the upcoming Orthodox Easter holiday on April 16 in an effort to delay Ukrainian counteroffensives by calling for a ceasefire out of respect for the Orthodox religion despite the fact that Russia has shown no such respect for religion in areas its forces occupy. Russian religious persecutions are likely also part of an ongoing Russian cultural genocide and ethnic cleansing campaign aimed at extirpating the idea of an independent Ukrainian nationality or Ukrainian Orthodox Church. 
Russian occupation authorities are likely conducting a campaign of systematic religious persecution in occupied Ukraine. Since Russia's full-scale invasion of Ukraine in February 2022 Russian soldiers or occupations authorities have reportedly committed at least 76 acts of religious persecution in Ukraine. Russian authorities have closed, nationalized, or forcefully converted at least 26 places of worship to the Kremlin-controlled Russian Orthodox Church of the Moscow Patriarchate, killed or seized at least 29 clergy or religious leaders, and looted, desecrated, or deliberately destroyed at least 13 places of worship in occupied Ukraine. These cases of religious repression are not likely isolated incidents but rather part of a deliberate campaign to systematically eradicate "undesirable" religious organizations in Ukraine and promote the Moscow Patriarchate. 
This study contains only a small subset of all reported Russian religious persecution events against religious groups in Ukraine. ISW did not include events where indirect fire may have unintentionally killed religious leaders or destroyed places of worship. (This report specifically does not include all 494 religious buildings that the Russian military reportedly wholly destroyed, damaged, or looted, according to the independent Kyiv-based Institute for Religious Freedom as of February 2023 because ISW cannot assess intentionality in all those cases, for example.) The events included in this study are drawn from reports of Russian forces – usually infantry, security personnel, or occupation officials – deliberately coercing religious groups. This report also excludes many instances of Russian religious repressions in areas Russian forces have occupied from spring 2014 to February 24, 2022, to focus on more recent persecutions in newly-occupied areas. 
Russian authorities systematically repress religious liberty in Russia as a matter of state policy. […] Russian occupation officials have been repressing Ukrainian religious communities in proxy Republics in eastern Ukraine and in illegally occupied Crimea since 2014. […]
Moscow's religious persecution campaign seeks to eradicate the Autocephalous (independent) Orthodox Church of Ukraine (OCU), which Moscow views as schismatic despite the decision by the Ecumenical Patriarch of Constantinople in 2019 granting the Ukrainian Orthodox Church its independence from the Moscow Patriarchate. Russian occupation authorities are likely systematically eliminating OCU churches in occupied Ukraine. […]Witness reports indicate that Russian authorities are seemingly targeting the OCU for its Ukrainianess. […]
Russian occupation officials are systematically seizing UOC property to transfer to the Moscow Patriarchate and are eliminating worship in the Ukrainian language. […] The Ukrainian Ministry of Reintegration's indicated that Russians have reduced religious diversity by over 50 percent in Crimea, for example. The Kremlin continues to use long-standing false narratives that the Ukrainian government is oppressing religious liberties as a moral justification for its refusal to negotiate with Ukraine, likely in the hopes of turning international public opinion against Ukraine. The Kremlin is especially keen on accusing the Ukrainian government of persecuting the Ukrainian Orthodox Church Moscow Patriarchate (UOC MP). 
The UOC MP is not an independent religious organization but rather an extension of the Russian state and an instrument of Russian hybrid warfare. […] Supporters of international religious liberty should support Ukraine's efforts to liberate its territories. Religious freedom in Ukraine – especially the freedom of religious minorities – are far better defended in Ukrainian-controlled territories than in Russia or Russian-occupied Ukrainian lands. The US Commission on International Religious Freedom (USCIRF) found that Russia is one of the worst violators of religious freedoms due to its restrictive state policies and prosecution of peaceful religious activities that are legal under Ukrainian law."
Support
Spain to send main battle tanks Leopard 2 to Ukraine in the coming days, Spain's Defense Minister says

In addition to the tanks, Spain will also provide Ukraine with 20 armored personnel carriers.https://t.co/ItJCPlXvib

— Euromaidan Press (@EuromaidanPress) April 12, 2023
Denmark says West may decide on fighter jets for Ukraine by summer – AFP, Ukrainska Pravda reports, citing Le Figaro. "Troels Lund Poulsen, Danish Defence Minister, did not rule out that the West's decision on the possible transfer of combat aircraft to Ukraine will be made before the summer after the delivery of MiG-29s by Poles and Slovaks.
Discussions take time, as the countries must act jointly, but a solution remains achievable in the near future, said the minister, who visited Odesa on Monday. Denmark is not going to do this alone, Poulsen said. We will have to do this together with several countries. And we will also have to dialogue with the Americans on this issue, he added. But I believe that we can solve it in the near future, the minister said, hinting at the prospect of doing this before the summer holidays."
Leaked US intel document claims Serbia agreed to arm Ukraine, Reuters reports. "Serbia has agreed to supply arms to Kyiv or has sent them already, according to a classified Pentagon document, despite the country's professed neutrality in the Ukraine war and refusal to sanction Russia over its 2022 invasion. The document, a summary of European governments' responses to Ukraine's requests for military training and lethal aid or weapons, was among dozens of classified documents posted online in recent weeks in what could be the most serious leak of US secrets in years.
The document is marked Secret and NOFORN, prohibiting its distribution to foreign intelligence services and militaries. It is dated March 2, and embossed with the seal of the office of the Joint Chiefs of Staff. Reuters could not independently verify the document's authenticity.
Serbia's Defense Minister Milos Vucevic dismissed the document's assertions as untrue in a statement on Wednesday. Serbia did not, nor will it be selling weapons to the Ukrainian nor the Russian side, nor to countries surrounding that conflict, Vucevic said."
Yellen urges continued 'significant, predictable and timely' aid for Ukraine, Reuters reports. "US Treasury Secretary Janet Yellen on Wednesday called for continued significant aid to Ukraine as it battles against Russia's invasion, and lauded Ukrainian authorities for their focus on good governance and anti-corruption. Supporting Ukraine is a collective effort. We welcome the efforts by our allies and partners to provide significant, predictable, and timely assistance, and urge all of us to continue doing so, Yellen said.
A senior Treasury official on Monday said the United States has provided close to $50 billion in assistance to Ukraine over the past year, including over $23 billion in budget support to keep government services running."
Massive NATO arms depots to be built in Poland – Morawiecki, Ukrinform reports. "Warsaw, in collaboration with Washington, will continue to construct NATO weapons depots in Poland where thousands of tanks, infantry fighting vehicles, and other military equipment will be stored. […]
Together with our American partners, we will create a logistics base, a weapons base. Several thousand pieces of NATO military equipment will be stored in Powidz (located in the central part of Poland – ed.) and other locations in Poland. This will make us much safer, Morawiecki emphasized.
He added that the equipment stored in these warehouses would include tanks, infantry fighting vehicles, and other equipment that would enable rapid activation of NATO's eastern flank."
Poland aims to set up Abrams tank service centre for Europe, Reuters reports. "Poland aims to become the service centre for US-made Abrams tanks in Europe, Prime Minister Mateusz Morawiecki said on Wednesday during a visit to the United States. I want a service centre for Abrams tanks for the whole of Europe, for maintaining their battle readiness, to be located in Poland. This is possible, I am in talks regarding this…, Morawiecki told a press conference in Anniston, Alabama broadcast by Polish public television.
We are also striving for the production of depleted uranium ammunition cores for the Abrams to be located in Poland. Poland, a close ally of the United States within NATO, has ordered 250 state-of-the-art Abrams battle tanks in addition to 116 modernised ones."
World Bank to provide Ukraine with US$200 million for restoring energy sector, Ukrainska Pravda reports. "Anna Bjerde, the World Bank Managing Director, and Ukrainian Prime Minister Denys Shmyhal signed an agreement in Washington to provide Ukraine with another US$200 million to restore the energy sector. […] According to the Prime Minister, the funds raised from the World Bank will be directed to the restoration of the power grid and heat supply systems in Kyiv, Kharkiv, Mykolaiv, Sumy and the cities of Chernihiv Oblast. […]
Together with the World Bank, we are preparing a project of war risk insurance for foreign investments. This is a key tool to attract these investments now, without waiting for the end of the war."
New Developments
Ukrainian hackers get access to the email of a Russian top-ranking intel officer Sergei Morgachev

Morgachev is wanted by the FBI for hacking Hillary Clinton's 2016 election campaign and interfering in the US elections.https://t.co/lZIZ8L8bLM

— Euromaidan Press (@EuromaidanPress) April 12, 2023
On the war. 
The Institute for the Study of War has made the following assessment as of  April 12, 2022:
Russian forces conducted limited ground attacks near Kreminna on April 12. The Ukrainian General Staff reported that Russian forces conducted unsuccessful offensive actions near Bilohorivka (10km south of Kreminna) and Spirne (25km south of Kreminna). A Russian milblogger claimed that Russian forces conducted unsuccessful operations near Torske, Nevske, and Makiivka (all within 14 to 21km west or northwest of Kreminna) and that Russian forces pushed Ukrainian forces out of positions near Shyplivka (9km south of Kreminna) and the Serebrianska forest area (10km south of Kreminna). Another milblogger claimed that positional battles occurred near Makiivka (21km northwest of Kreminna) and Zhuravka gully (18km west of Kreminna) on April 11. Footage published on April 11 purportedly showed elements of the 76th Airborne Assault Division (VDV) operating near Kreminna.
Russian forces continued ground attacks in and around Bakhmut and did not make any confirmed gains in the city on April 12. The Ukrainian General Staff reported that fierce fighting is ongoing within Bakhmut and that Russian troops conducted unsuccessful offensive actions near Khromove (3km west of Bakhmut) and Bohdanivka (5km northwest of Bakhmut). Ukrainian Eastern Group of Forces Spokesperson Colonel Serhiy Cherevaty stated that Wagner forces are attacking Bakhmut mainly in small tactical groups with the support of conventional Russian elements. The Russian Ministry of Defense (MoD) claimed that Wagner assault detachments captured three unspecified city blocks within Bakhmut while Russian airborne (VDV) elements pinned Ukrainian forces down on Wagner's flanks. Russian milbloggers claimed that Wagner fighters attacked Ukrainian positions along Petra Chaikovskoho Street in southwestern Bakhmut and continued fighting in northern, central, and southwestern sectors of the city. One Russian milblogger claimed that Russian forces now control 80 percent of Bakhmut, including all central administrative buildings. Russian forces are visually confirmed to control at least 76.5 percent of Bakhmut, per ISW's April 11 control of terrain assessment.
Russian forces continued ground attacks along the Avdiivka-Donetsk City frontline on April 12. Geolocated footage posted on April 11 indicates that Russian forces have advanced near Novobakhmutivka (10km north of Avdiivka) and crossed the N20 Donetsk City-Kramatorsk-Sloviansk highway. The Ukrainian General Staff reported that Russian forces continued unsuccessful offensive operations near Avdiivka itself; on the northwestern outskirts of Donetsk City near Pervomaiske and Nevelske; and on the southwestern outskirts of Donetsk City near Marinka and Pobieda. Russian milbloggers claimed that Russian forces continued efforts to encircle Avdiivka from the south and that the current frontline runs less than 1km south of Sieverne (5km due west of Avdiivka). A Russian milblogger additionally claimed that fighting is ongoing in western Marinka.
Russian forces did not conduct any claimed or confirmed ground attacks in western Donetsk Oblast on April 12.
The Kremlin's campaign of "Russification" in Ukraine is burning back into Russia itself as it continues to empower and amplify overtly nationalist voices and ideologies. Russia is engaged in a campaign of deliberate "Russification" within Ukraine aimed at the destruction of Ukrainian identity through a multitude of military, social, economic, legal, bureaucratic, and administrative lines of effort. The ideologies that underpin the basis of this "Russification" also form the rhetorical backbone of the pro-war information space, which frequently mirrors its militarism with staunch Russian nationalism and intense xenophobia that is directed both at Ukraine and Ukrainian identity as well as at domestic minorities within Russia itself.
The domestic ramifications of the acceptance of the ideology of "Russification" are manifested in the responses by Russian authorities and prominent Russian milbloggers to ethnic minorities in Russia. Several Russian milbloggers and commentators published their reactions to a recent news story about the murder of a 17-year-old Russian student by a group of Tajik migrants in Chelyabinsk and used the story to criticize Central Asian migrants and ethnic minority communities for failing to integrate into Russian society. Head of the Russian Investigative Committee Alexander Bastrykin accused migrants of destabilizing Russia by importing terrorism and extremist ideologies and emphasized the role of migration policy in ensuring public order. Former Russian officer and ardent nationalist Igor Girkin amplified a criticism that authorities of the Tuvan Republic are returning the indigenous Tuvan names to 104 administrative-territorial units, which one milblogger decried as "pushing boundaries" unnecessarily during wartime. Social media footage circulated on April 12 shows a group of Russian men reportedly giving the Nazi salute and walking past administrative buildings in Ufa, Bashkortostan while shouting "Russia is for Russians." These instances of xenophobia and racism exemplify the crux of domestic "Russification." The war in Ukraine has empowered the most virulent voices in the information space to consolidate their ideology and project it both towards the Ukrainian people and towards non-Slavic minorities in Russia itself. This dynamic will likely escalate as the war continues and will outlive Russia's invasion of Ukraine, pervading the Russian domestic space for years to come.
These domestic-facing ramifications of "Russification" ironically continue to place the onus of the war effort on the communities that it marginalizes. Bastrykin has previously called for military authorities to specifically recruit migrants from Central Asia and the Caucasus who received Russian citizenship because these migrants have a "constitutional obligation to protect the country that received them." Russian officials at the Sakharovo migrant center in Moscow are reportedly requiring the center's employees to offer migrants contracts for military service, as ISW previously reported. Russian officials have continuously targeted migrant and ethnic minority communities in ongoing force generation efforts, which largely places the military burden of the "Russification" project in Ukraine on communities and individuals that are its targets domestically.
Russian milbloggers offered a muted response to a Kaluga Oblast court's refusal to hear a case against Russian military doctor and "Union of Donbas Volunteers" member Yuri Yevich for "discrediting the Russian armed forces." The Kozelsky District Court in Kaluga Oblast issued on April 12 a decision on the "return of the protocol" of Yevich's administrative offense and other materials of the case to Russian law enforcement agencies, which permits those agencies to resolve any issues associated with the case materials. Russian authorities may still decide to pursue legal prosecution against Yevich for the charge of "discrediting Russian armed forces" after reviewing and formalizing those case materials. Russian milbloggers had previously widely decried the charging of Yevich and voiced concerns that Russian authorities could use the law as carte blanche to suppress any Russian soldier, volunteer, or "patriot." A very limited number of Russian milbloggers amplified the court's decision without additional commentary on April 12, however. The court's refusal to hear the case partially met Russian milbloggers' previous demands, and the milbloggers' failure to recognize this fact reflects the fact that this community focuses on promoting salient controversies to criticize Russian officials and institutions. Russian milbloggers' responses to the court's refusal to hear the case may also be muted because they are worried that the charges against Yevich represent a trial run for using the law against the "discreditation" of the Russian Armed Forces to suppress segments of the ultranationalist pro-war community. Russian milbloggers may view the court's refusal to hear the case as a pause in a possible Kremlin plan to begin censoring some segments of the Russian pro-war information space that have been highly critical of the Kremlin, and milbloggers will be unlikely to admit any satisfaction about this controversy until the case against Yevich is completely dropped.  
The Russian nationalist community continues to glorify atrocities and advocate for the expansion of brutality. Russian milbloggers responded to widely circulated footage of a Russian soldier beheading a Ukrainian prisoner of war. A Wagner-affiliated Telegram channel attempted to excuse the beheading by claiming that both sides engage in brutal acts and asserted that this beheading would not be the last violent execution during the war. The channel claimed that being accused of brutality during war is like getting fined for speeding during a car race—a claim it used when discussing two previous Wagner executions videos. Russian forces' continued use of such violent tactics and its support in the Russian information space undermines professionalism and discipline in the Russian military.
Key Takeaways
The Kremlin's campaign of "Russification" in Ukraine is burning back into Russia itself as it continues to empower and amplify overtly nationalist voices and ideologies.
The domestic ramifications of the acceptance of the ideology of "Russification" are manifested in the responses by Russian authorities and prominent Russian milbloggers to ethnic minorities in Russia.
These domestic-facing ramifications of "Russification" ironically continue to place the onus of the war effort on the exact communities that it marginalizes.
Russian milbloggers offered a muted response to a Kaluga Oblast court's refusal to hear a case against Russian military doctor and "Union of Donbas Volunteers" member Yuri Yevich for "discrediting the Russian armed forces."
The Russian nationalist community continues to glorify atrocities and advocate for the expansion of brutality.
Russian forces conducted limited ground attacks near Kreminna.
Russian forces continued ground attacks in and around Bakhmut and along the Avdiivka-Donetsk line.
Russian forces continue to construct defenses in occupied Zaporizhzhia Oblast and Crimea.
Russian officials continue to advance a law aimed at improving the effectiveness of issuing summonses and cracking down on Russian draft dodgers.
The Ukrainian Resistance Center released a report detailing the extent of illegal deportations of Ukrainian children from Donbas to the Russian Federation.
US doubts success of Ukrainian counteroffensive – media, Ukrainska Pravda reports, citing The Washington Post. "American intelligence believes that Ukraine's problems with the accumulation of troops, ammunition and equipment may lead to the fact that its military will significantly lag behind the original goals of Kyiv regarding the expected counteroffensive.
A gloomy assessment marked "top secret", dated early February, warns of significant force generation and sustainment shortfalls, as well as the likelihood that such an operation will lead only to modest territorial gains. This is a noticeable departure from the Biden administration's public statements about the combat capability of the Ukrainian army. The document, which was not previously disclosed, is one of many materials about US national security discovered online last week.
The document, which predicts only modest success in Ukraine's upcoming counteroffensive, indicates that Kyiv's strategy is to recapture territories in the east and move south in order to break Russia's land bridge to Crimea. Powerful Russian defensive fortifications, combined with enduring Ukrainian deficiencies in training and munitions supplies probably will strain progress and exacerbate casualties during the offensive, the document writes. […]
In addition to the leaked document, US officials said that the prospects for a modest outcome of the spring offensive are also supported by a classified assessment by the National Intelligence Council. This assessment, which was recently presented to a narrow circle of people on Capitol Hill, showed that Ukraine is unlikely to be able to reclaim as much territory as Kyiv won last fall during a stunning breakthrough in the east and south of the country, say people familiar with the matter.
In the weeks following the period described in the Merger Document, US officials held talks with the Ukrainian side to make sure Kyiv's offensive ambitions matched its capabilities, US officials said on condition of anonymity. The exchange of views at the highest level took place in mid-March during a telephone conversation between General Mark A. Millie, Chairman of the Joint Chiefs of Staff, Jake Sullivan, National Security Adviser to the President, Secretary of Defense Lloyd Austin and their Ukrainian counterparts.
According to US officials, all sides came out of these conversations with the feeling that Ukraine is beginning to understand the limitations of what it can achieve in the offensive and is preparing accordingly. While the land bridge is unlikely to break, the interlocutors said, the United States hopes that gradual progress could at least jeopardise the free movement of Russian equipment and personnel in the corridor, which was a lifesaver for the invading forces."
Leaked US intelligence documents: war in Ukraine will drag on beyond 2023, Ukrainska Pravda reports, citing Reuters. "The documents of the US Department of Defence, allegedly leaked to the Internet, show that Russia's full-scale war against Ukraine is turning into a protracted conflict that will last well beyond 2023. One of the documents dated 23 February 2023, titled "Battle for the Donbas Region Likely Heading for a Stalemate Throughout 2023" states that Russia is unlikely to be able to capture this part of eastern Ukraine.
Russia's grinding campaign of attrition in the Donbas region is likely heading toward a stalemate, thwarting Moscow's goal to capture the entire region in 2023, the authors of the intelligence assessment note. These tactics have diminished Russian forces and munition stockpiles to a level that, barring an unforeseen recovery, can exhaust Russian units and frustrate Moscow's war aims, resulting in a protracted war beyond 2023, the document states.
The US military intelligence documents also state that both Russia and Ukraine have moderate combat resilience, meaning that both sides are likely to continue fighting for some time to come. Reuters analysed more than 50 documents classified as Secret and Top Secret that first appeared on social media in March. The agency was unable to confirm their authenticity.
On 7 April, The New York Times, citing sources in the White House, reported a data leak: allegedly classified military documents detailing US and NATO plans to build up the Ukrainian army before a planned counteroffensive appeared on Twitter and Telegram. More and more documents are appearing in the media.»
Ukraine's counteroffensive could kick off this summer – PM, Ukrinform reported on Tuesday, citing The Hill . "Prime Minister Denys Shmyhal of Ukraine says a large-scale counteroffensive by Ukraine's Armed Forces to push back Russian invaders could begin as early as this summer. In an exclusive interview with The Hill, Shmyhal stated that the counteroffensive could take place already in the summer, noting that the greatest pressure to start the counteroffensive comes from within (Ukrainian society – ed.) Ukraine, the publication notes.
The prime minister also noted that authorities in Kyiv feel no pressure coming from partners regarding when it is better to start active combat operations to regain territory. All of our friends and partners do comprehend clearly that in order to go into counteroffensive, one must be 100 percent, and even more percent prepared to do so, PM Shmyhal said. […] We have proven multiple times that we can do it. From our international partners we ask for more military capabilities, like tanks, ammunition, planes, armored vehicles.
He also confirmed that Ukraine was really experiencing losses in terms of economy and in terms of human lives, and these losses indeed exercise a heavy toll on the nation. However, according to him, "t doesn't mean that we do not have bravery left or inspiration left or forces left."
Consequences and what to do?
World food prices could rise by 15% due to Russian blockade of "grain deal", Ukrinform reports. "World food prices could rise by 15% due to Russia's blocking the UN-brokered "grain deal" that allows Ukraine to export grain through the Black Sea. Ukraine's Deputy Minister of Infrastructure Yuriy Vaskov said this in an interview with The Guardian. According to the interview, as part of the Black Sea Grain Initiative, representatives of Russia, Türkiye and the UN inspect ships on their way to and from Ukrainian ports. The joint commission agrees on the ships' names which they are going to inspect. However, according to Vaskov, no inspections took place on Tuesday.
The Ukrainian side submitted the names of three bulk carriers, as provided by the agreement. But the Russians crossed out these names and submitted other vessels from the current queue of 50 ships. As a result, not a single vessel has been able to continue its journey, which is a de facto blockade from the Russian side.
Today we have a critical situation. Russians have violated the terms of the Black Sea Grain Initiative. They decided to unilaterally change the plans of Ukrainian ports. This is unacceptable, Vaskov said. If Russia continues its actions, world food prices are likely to rise by 15%, Vaskov warned. According to him, Ukrainian farmers will be forced to stockpile grain again, as they did last summer, and will face serious financial problems. He added that Kyiv urgently raised the issue of Russia's actions with the UN and Türkiye on Tuesday."
Hans Petter Midttun: "We remain steadfast in our resolve to protect our one billion citizens, defend our territory and safeguard our freedom and democracy. We will reinforce our unity, cohesion and solidarity, building on the enduring transatlantic bond between our nations and the strength of our shared democratic values. We reiterate our steadfast commitment to the North Atlantic Treaty and to defending each other from all threats, no matter where they stem from.
We will continue to work towards just, inclusive and lasting peace and remain a bulwark of the rules-based international order. We will retain a global perspective and work closely with our partners, other countries and international organisations, such as the European Union and the United Nations, to contribute to international peace and security.
Our world is contested and unpredictable. The Russian Federation's war of aggression against Ukraine has shattered peace and gravely altered our security environment. Its brutal and unlawful invasion, repeated violations of international humanitarian law and heinous attacks and atrocities have caused unspeakable suffering and destruction. A strong, independent Ukraine is vital for the stability of the Euro-Atlantic area. Moscow's behaviour reflects a pattern of Russian aggressive actions against its neighbours and the wider transatlantic community. We also face the persistent threat of terrorism, in all its forms and manifestations. Pervasive instability, rising strategic competition and advancing authoritarianism challenge the Alliance's interests and values."
The text is extracted from the NATO 2022 strategic concept. The Alliance put great focus on shared values and international law. It is not only safeguarding the physical space – the territories of its member states – but also the values the countries share.
Its subdued response to Russian attacks and provocations, therefore, stands at odds with its obligations.
In September 2021, the EU parliament assessed that the EU member states were exposed to a Russian hybrid war. Recognising that most of the EU members are also NATO members, NATO's failure to acknowledge that it is under attack is a sign of weakness. An acknowledgement would have triggered a collective response. Instead of an counterattack, member states instead compromised on the rather feeble statement that the Euro-Atlantic area is not at peace and limited its response to far-reaching sanctions.
NATO members are continuously being exposed to cyberattacks from Russia and other belligerent actors. Since 2014, the Alliance has acknowledged that a cyber-attack could lead to the invocation of Article 5.
According to the NATO Cooperative Cyber Defence Centre of Excellence:
Since 2002, the cyber agenda started to increasingly appear in NATO's documents until 2014 when the Wales Summit Declaration acknowledged for the first time the possibility of cyber attacks triggering Article 5. However, the relevant section (Para. 72) focuses on the potential attack's effects and magnitude; it does not question a cyber attack's ability to invoke Article 5 and is couched in terms of when, not if. In 2014, no one denied that operations in cyberspace could be equal in impact to conventional attacks.
At the next NATO summit in 2016, the Allies went even further by declaring cyberspace a new operational domain, taking its place alongside air, land and sea (Para. 70). The Warsaw Summit Communiqué thus reaffirmed cyberspace as part of NATO's core task of collective defence, following the proclamation of 2014. The possibility of the invocation of Article 5 in reaction to a cyber attack was reiterated in 2021 in Para. 33 of Brussels Summit Communiqué. On all those occasions, evaluation on a case-by-case basis was the guiding principle.
Acknowledging that the Russian cyber-attacks until know have been limited in scale and scope in the sense that they have not yet triggered collective defence, they have still failed to trigger a resolute response. The Alliance has yet to counterattack to deter further transgressions.
The Russian information war has triggered an equally weak response. While countermeasures have been introduced, the West is still providing Kremlin a platform to distribute its false narratives aimed at legitimising its atrocities, manipulate and influence both populations, as well as key policy and decision makers. As a result, we have made the Russian narratives as our own. Western perception on Crimea – and Russian claims of "historical unjust" – is only one of many examples.
The long-term efforts and the consequential long-term effect of disinformation is one of the challenges the West is facing. It might take generations to change the perceptions established in the cognitive space of millions of European. In my humble opinion, the EU and NATO should consider more radical counteractions to both reduce Russian influence as well a remedy false narratives already rooted in the minds of a greater part of the population.
Denying Kremlin a voice in the Western information space, building understanding and distributing historical facts on the Russian Federation and denouncing its lies could be a starting point for countering the ongoing hybrid war.
The present Western strategy allows Russia to continue the hybrid war at the peril of democracy, shared values, and principles, and not least, our security and stability.
Tags: Russian invasion