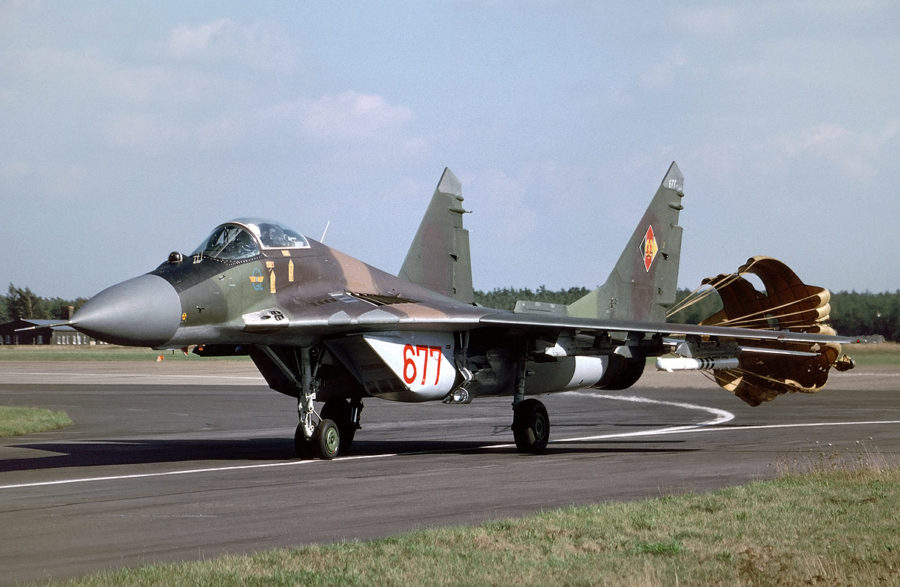 East German MiG-29 dragging its drag chute after landing. Preschen, Germany, 1990. Photo: Flickr/Rob Schleiffert
The German government granted Poland's request to export MiG-29 fighter jets from former East German military stocks to Ukraine, Bloomberg and Spiegel report. Bloomberg says Germany permitted the re-export of five MiG-29s.
In a statement, German Defense Minister Boris Pistorius said that Berlin received the Polish request on 13 April. Chancellor Olaf Scholz's ruling coalition agreed to quickly greenlight it as part of Berlin's continued efforts to support Ukraine, according to Bloomberg.
Germany pledges a swift response to Poland's request to send old MiG-29s to Ukraine – DW
In March,  Poland had already announced that it would supply Ukraine with Soviet-designed MiG-29 fighter jets to help the country fight Russian aggression. Initially, however, no aircraft from former GDR stocks were delivered.
On 5 April, Polish President Andrzej Duda said in Kyiv that his country had provided four MiG-29 fighter jets to Ukraine, four more were being handed over, and another six were being prepared.
23 of East German's MiGs were transferred to Poland in 2002, and Polish President Duda's security adviser Jacek Siewiera said that a dozen of those jets were still in Poland.
Read also: