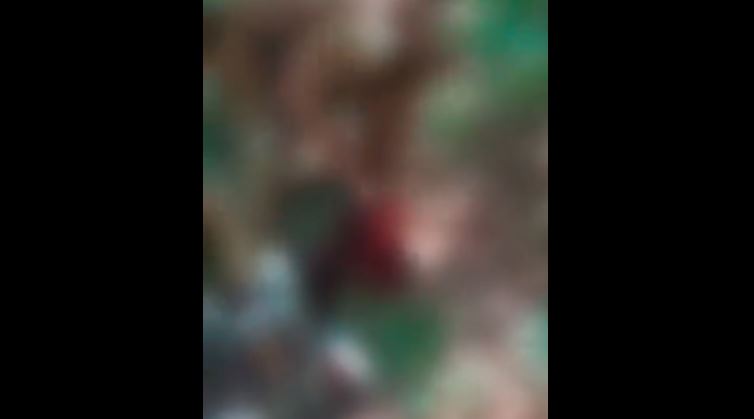 Screenshot from blurred video of the execution by Igor Lachenkov (twitter)  
On the evening of April 11, pro-Russian sources shared a video that purportedly shows Russian soldiers executing a Ukrainian soldier, where a living man is beheaded with a knife, similar to executions committed by ISIS.
In the video (a blurred version can be found here), which was disseminated by Russian Telegram channels, people in military uniforms who speak Russian and wear white armbands – one of the identifying symbols of the occupiers – can be seen. The tortured man has a yellow armband, usually used to identify Ukrainian soldiers.
The faces of the people torturing the man are hidden behind masks. One of them, presumably a Russian soldier, communicates through a radio and gives orders to the other, who carries out the beheading with a knife.
Then these two men display a bulletproof vest, on which a symbol resembling a trident can be seen. Green leaves are visible in the video, so the video was likely recorded earlier, in the spring or summer of 2022.
President Zelenskyy has reacted to the video by stressing that Ukraine needs to be given the strength to win so this evil can be stopped.
https://twitter.com/EuromaidanPress/status/1646068311078195200/?
Not the first incident
This is not the first time a video of cruel treatment of Ukrainian prisoners of war has appeared online. In July 2022, a video was spread on Russian Telegram channels showing two, seemingly Russian soldiers, castrating and killing a prisoner of war in Ukrainian military uniform.
In March 2023, a video of the murder of a Ukrainian prisoner of war was spread online. In the video, a man in Ukrainian army fatigues says, "Glory to Ukraine!" before being immediately shot. In both cases, Ukraine is working to identify the Russian occupiers who executed the POWs.
Such actions against a prisoner of war fall under the definition of a war crime. According to the Rome Statute of the International Criminal Court, war crimes include torture or inhuman treatment, including biological experiments; intentionally causing great suffering or serious bodily harm or injury to health; perfidious killing or wounding of enemy combatants.
Ukrainian Army names POW who Russians executed for saying "Glory to Ukraine" (UPDATED)
According to the Ukrainian OSINT community Informnapalm, forms of torture are widespread among the Russian army and its mercenary groups. Such executions filmed on camera serve the purpose of "binding with the blood of war crimes" newcomers in their units. Russian commanders give order to behead or torture captives and film the process so their subordinates would understand there is no way back. After such "blood baptism," the likelihood that a fighter will escape and surrender significantly decreases because there is compromising material, Informnapalm writes. Such compromising videos may be leaked if the participant of the crime fled or betrayed, or if the video was found on the phone of a liquidated commander and a decision was made to post it online, Informnapalm adds.
Citing information from trusted sources, which is, however, unsupported by OSINT evidence, Informnapalm lists cases of similar executions described by IDPs from Russian-occupied territories of Luhansk and Donetsk oblasts back in 2014.
Russian soldiers, most of whom were Kadyrov's troops, beheaded not only POWs but civilians, men and women alike, whom they tortured, robbed, and, in the case of women, raped before that. For instance, a similar situation happened in Novosvitlivka (Luhansk Oblast) in 2014. According to locals, Kadyrov's troops raped and killed several women who worked in the local hospital. One of the women who managed to escape died shortly afterward, reportedly from "emotional burnout and psychological shock."
Also in 2014, an officer saw Russians beheading POWs in an optical scope, Informnapalm writes, adding, however, that proving these cases is impossible because no photo or video evidence exists.
Torture and executions: signature of Wagner in Syria
Mercenaries from the Wagner PMC, who have played a key role in Russia's war in Ukraine, are also known for torturing and beheading POWs and civilians. In 2019, the Russian media Novaya Gazeta published a shocking video where Wagner troops tortured and beheaded a 33-year-old Syrian who refused to serve in the army of dictator Bashar al-Assad. They first broke his legs with a hammer, then cut off his head with a knife, and severed his hands with a sapper shovel. Later, the man's body was hung and burned to Russian music. Novaya Gazeta identified one of the Wagner troops as "Stanislav D."
In Ukraine, Wagner troops have also shown considerable cruelty, with a video of a Wagner POW who had earlier surrendered to Ukraine being executed by a sledgehammer being shared in November 2022.
Wagner POW who surrendered to Ukraine executed by his own with sledgehammer
Tags: execution, POW, Russian war crimes, Wagner