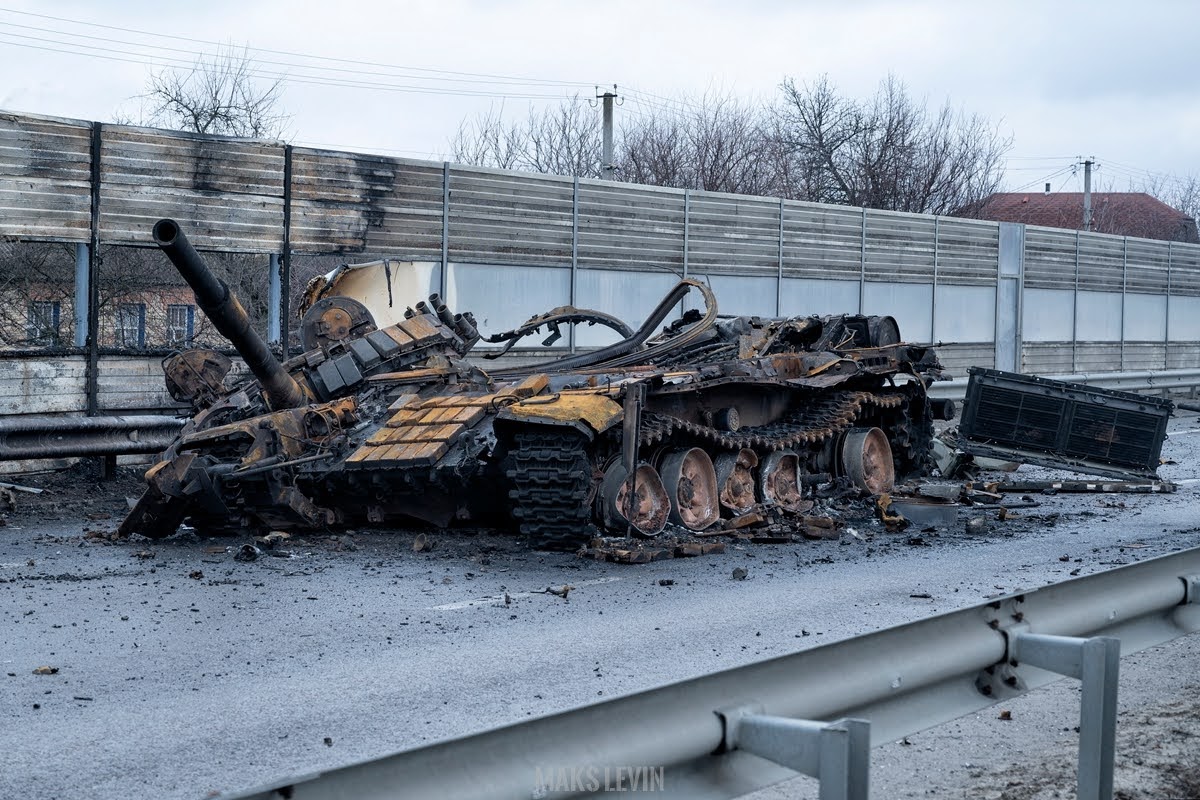 One of the invading Russian tanks destroyed in the Russo-Ukrainian War (2014-present). Ukraine, March 2022 (Photo: Maks Levin) 
Russia's armed forces are visually confirmed to have lost 10,005 vehicles and pieces of heavy weaponry since the beginning of the full-scale invasion of Ukraine on 24 February 2022, according to Dutch open-source intelligence warfare research group Oryx.
This list compiled by Oryx only includes destroyed vehicles and equipment for which photo or video evidence is available. Therefore, the amount of equipment destroyed is significantly higher than recorded here. Loitering munitions, drones, civilian vehicles, and derelict equipment are not included in Oryx's list.
According to Oryx, over the past 14 months of the full-scale invasion of Ukraine, 6473 units of Russian military equipment were destroyed, 304 vehicles and pieces of heavy weaponry were damaged, and 394 were abandoned. Ukrainian forces captured 2834 tanks, armored vehicles, and other pieces of heavy weaponry.
Frontline update: Ukrainians demolish Russian advances in Bakhmut with tanks
Russia is visually confirmed to have lost 1928 tanks, according to Oryx. Oryx reported that the Ukrainians destroyed 1168, damaged 100, and captured 554 Russian tanks. The Russians abandoned 106 tanks.
Likewise, Russia has already lost 2284 infantry fighting vehicles: 1476 vehicles were destroyed, 69 were damaged, 127 were abandoned, and Ukrainian troops captured 610, Oryx reported based on the photo and video evidence available in open sources.
According to Oryx, Russia lost 79 aircraft and 81 helicopters in Ukraine within the last 14 months.
According to the General Staff of the Armed Forces of Ukraine, Russia lost 3636 tanks, 7020 armored fighting vehicles, 307 aircraft, and 292 helicopters in Ukraine since 24 February 2023.
Related:
Tags: Russian invasion of Ukraine, Russian losses, Russian tanks