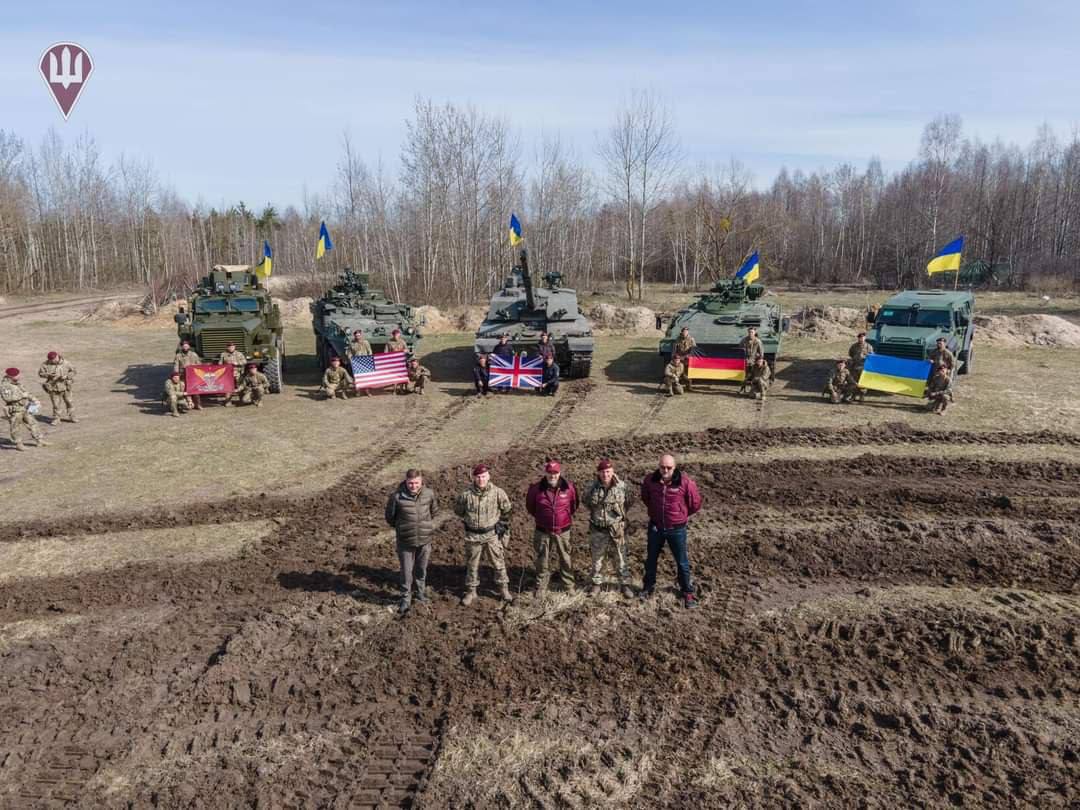 Ukraine's Defense Minister Oleksii Reznikov and Ukrainian troops with Western armor on the background.
Credit: Ukraine's Ministry of Defense/Facebook 
On 27 March, Ukraine's Defense Minister Oleksii Reznikov and the Commander of the Airborne Forces of the Armed Forces of Ukraine, Major General Maksym Myrhorodskyi visited Ukrainian mechanized brigades equipped with newly arrived armored vehicles and tanks that Ukraine's allies had donated.
Reznikov and Myrhorodskyi inspected Ukrainian troops at an undisclosed location in Ukraine. They tried out the British tanks Challenger 2, the American mine-resistant ambush-protected (MRAP) infantry mobility vehicles Cougar and armored fighting vehicles Stryker, and the German tracked infantry fighting vehicles Marder.
"After driving a Challenger tank myself, I can say that even a driver of a Rolls Royce cannot be as comfortable as the crew of this work of art while off-roading," Reznikov said. "Our 'military zoo' is expanding. And an 'elephant' joined our 'war cats.' That's what our paratroopers call the Challenger."
Reznikov promised that Ukraine would liberate all occupied territories, and the newly arrived military gear would help Ukraine to restore its territorial integrity within the internationally recognized 1991 borders.
"No one would have thought just a year ago that the support of our partners would be that strong and the entire civilized world would dare to resist the bloody aggressor, the terrorist country of the Russian Federation," Reznikov said. "Everything has changed over the past year. Ukraine has changed the world. The resilience of the Ukrainian people and the skill of our armed forces convinced us that Ukraine would be victorious. And we are already winning," Reznikov added having confirmed that the UK has already deployed Challenger tanks to Ukraine.
Related:
Tags: Challenger 2, Germany, Great Britain, Marder, military aid to Ukraine, Russian invasion of Ukraine, Stryker, USA