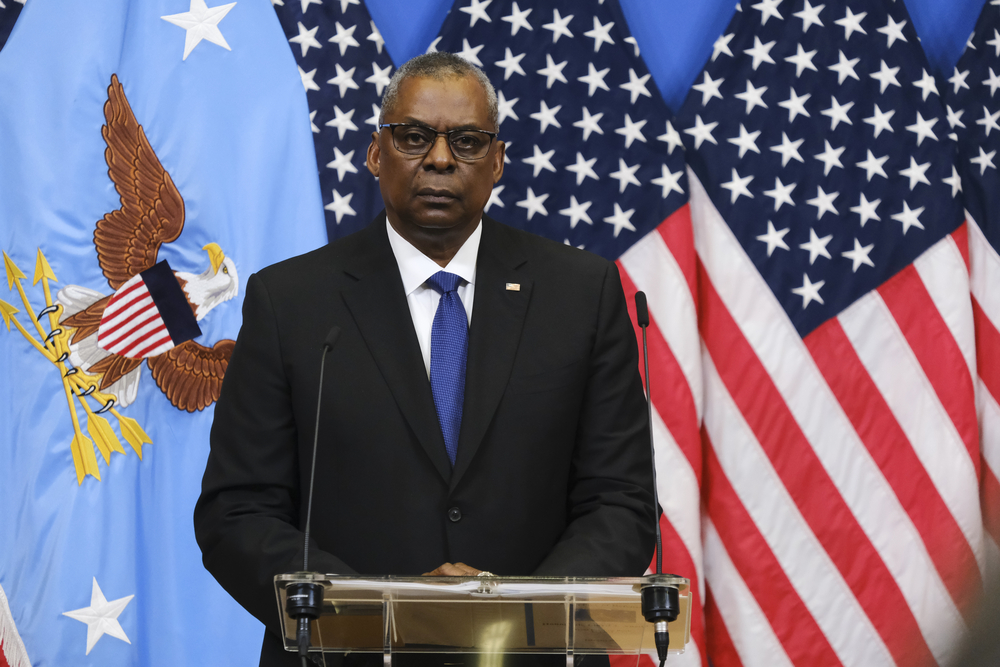 US Secretary of Defense Lloyd Austin speaks during a press conference during a two-day meeting of the alliance's Defence Ministers at the NATO Headquarters in Brussels, Belgium on February 14, 2023. Photo credit: Ale_Mi 
The 10th meeting of the Ramstein-format Ukraine Defense Contact Group was held online on 15 March and brought together about 50 nations.
In his closing remarks to the meeting, US Secretary of Defense Lloyd J. Austin III said:
"We will continue to dig deep for new donations, and today we heard updates on our progress and some significant new commitments."
According to Austin, Sweden announced that it would provide Ukraine with 10 Leopard tanks and key air defense components. Norway is partnering with the US to donate two NASAMS systems to Ukraine. The Netherlands initiates new contracts to ensure the delivery of new weapons to the battlefield in Ukraine. In addition, Slovenia announced a contribution that will help "meet several of Ukraine's priority requirements, including armor," Ukrinform reports.
At the 10th Ramstein-format meeting, US @SecDef Lloyd Austin said:

"The coalition of countries that are donating Leopard tanks to Ukraine continues to grow. And nine countries have now committed to providing more than 150 Leopard tanks."https://t.co/Qq3cSvHg39 https://t.co/GJigMkIeCe

— Euromaidan Press (@EuromaidanPress) March 15, 2023
Update:
Spain will send a new batch of four more Leopard main battle tanks to Ukraine, Spanish Defense Minister Margarita Robles said at the meeting of the Contact Group for the defense of Ukraine, El Español reports. These will be added to six other Leopards Spain pledged to send to Ukraine.
Update:
Canada will send about 8,000 rounds of artillery ammunition and a dozen air defense missiles as part of Ottawa's latest military aide to Kyiv, the Canadian defense ministry said in a statement on 15 March, Reuters reported. Canada will also provide Ukraine with more than 1,800 rounds of training ammunition for Leopard 1 battle tanks donated by Denmark, Germany, and the Netherlands.
Read also:
Tags: aid for Ukraine, Leopard 2, Ramstein