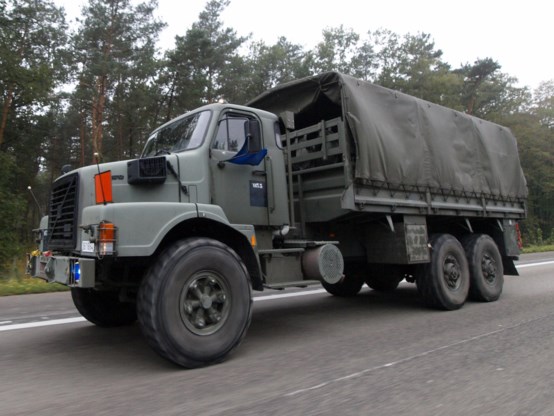 Belgian army's truck. Illustrative photo: belga via De Standaard 
Belgium will deliver 240 military trucks to Ukraine starting next week, De Standaard reports.
The Belgian army has around 400 Swedish-made Volvo trucks, including Volvo Cargo, Volvo Shelter, Volvo Fassi, and Volvo Manumat. The array includes cargo trucks, crane vehicles, and breakdown trucks. The trucks are reportedly in service since the early 1990s, and their refurbishment started a few months ago.
According to De Standaard, the Belgian Defense Ministry believes that the 240 vehicles now being sent to the Ukrainian army are in good condition, with all manuals and spare parts that were still in stock also included. The Belgian army will phase out these trucks and replace them with newer vehicles this year.
Belgian PM announced the country's "largest aid package to date" of military aid for Ukraine https://t.co/TNT0tMuPjn

— Euromaidan Press (@EuromaidanPress) January 27, 2023
Belgium's Defense Minister Ludivine Dedonder says that 100 Belgian instructors are also being deployed to train Ukrainian soldiers in addition to the delivery of trucks.
Regarding discussions on possible supplies of the F-16 fighter jets to Ukraine, Dedonder said:
"That is not the case for Belgium for the time being. If there is an F-16 coalition, our country can see whether it can play a role in it."
Read also:
Tags: aid for Ukraine, Belgium, F-16