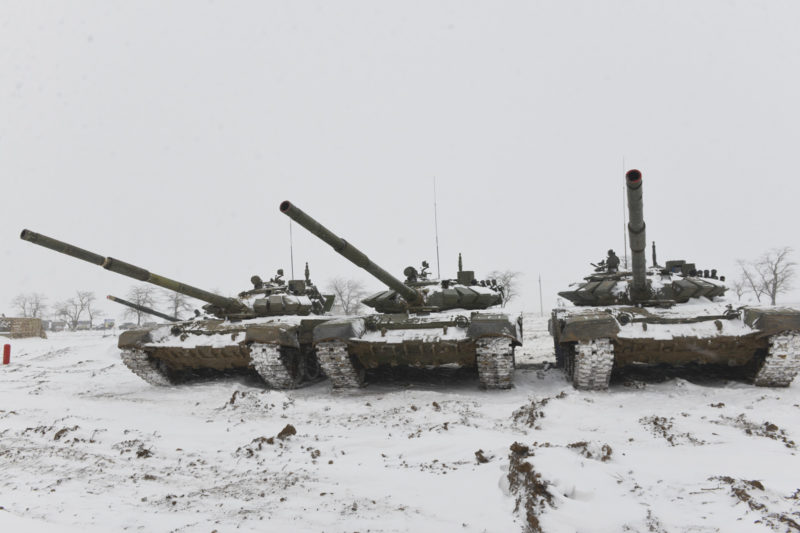 Russian T-72B3 tanks of the 49th Combined Arms Army (Southern Military District) during their training training in Adygea in late January 2022. Photo: mil.ru
Russian forces have changed their assault tactics after experiencing failures with the current offensive structure. A Ukrainian military officer (in reserve) with a pen name Tatarigami analyzes the latest tactical decisions of the Russian military command based on the official manual of the Russian armed forces that was captured by Ukrainian soldiers.
Since the beginning of the Russian full-scale invasion of Ukraine, Russia's General Staff has relied heavily on Battalion Tactical Groups (BTGs) to carry out offensive operations on the foreign land. A BTG is a combined-arms maneuver formation that brings together troops and equipment from different units to complete particular operational objectives.
The elements of Russian battle order and tactics of offensive are outlined in detail in the document captured by Ukrainian soldiers. The setbacks on the battlefield and heavy losses in Ukraine made the Russian military command change the stance on the ordinary structure of the assault units in the Russian armed forces. Nowadays, the BTGs in the Russian army are getting replaced with a new unit called the "Assault Unit" or "Assault Detachment."
Assault units of the Russian army
Based on the captured Russian manual, the Assault Unit (or Detachment) is a battalion-sized force designed to perform assaults in fortified tree lines and urban environments. It is essentially a reinforced battalion with a specific focus on assault operations.
The Assault Detachment is customizable to mission requirements and consists of two or three assault companies, a command unit, an artillery support unit, and other groups:
reconnaissance
tanks
electronic warfare gear (EW)
air defense systems (AD)
fire support
unmanned aerial vehicle (UAV)
Medical evacuation (Medevac) unit
operators of flamethrowing weapons
assault engineering unit
reserve and equipment recovery groups.
The armament of a Russian assault unit comprises the following elements:
three T-72 tanks
two anti-aircraft mounts Zu-23 (Soviet towed 23×152 mm anti-aircraft twin-barreled autocannons)
three man-portable air-defense systems (MANPADS)
12 man-portable flamethrowers
six self-propelled artillery systems 2S9 (SPGs)
six towed artillery guns (D30)
two automatic grenade launchers AGS-17
two machine guns Kord HMG
two anti-tank guided missiles (ATGMs)
two sniper pairs
repair and recover vehicle that (BREM-L) that tows damaged or stuck BMP-3 armored fighting vehicles from the battlefield.
The main unit of a Russian assault detachment is an assault company consisting of a command unit, a UAV team, assault platoons, a tank group, a reserve section, artillery support platoons and a medevac section.
Russian assault company armament consists of the following elements:
Four BMP or BMD-2 armored fighting vehicles
one T-72 tank
two automatic grenade launchers AGS-17,
two machine guns Kord HMG
two ATGMs
two sniper pairs
two mortars
either a 82-mm or 120-mm mortar
one towed artillery gun D30 or a self-propelled artillery system 2S9.
The primary component of the Russian combat formation is an assault platoon, which may consist of an advance party, safeguard, command group, and fire support platoon strengthened by additional firepower:
automatic grenade launchers AGS
mortar
D-30 gun
armored group and evacuation squad.
A Russian assault platoon comprises 12-15 members, divided into tactical groups of three people. It is equipped based on mission requirements. A reserve section can supplement the platoon with additional firepower, such as a machine gunner, assistant machine gunner, and riflemen.
Tactics of Russian assault units
Main assault provisions of Russia's assault units are stipulated in detail in the Russian manual. The offensive game plan of an assault includes the following key instructions:
The pause between the assault and artillery fire on fortified positions should be no longer than one minute
Using UAVs for reconnaissance is advised, but it is not recommended to use them for battle monitoring in order to avoid the loss of an UAV

Occupying abandoned trenches is prohibited because they may have been booby-trapped or could have been prepared as targets for artillery strikes.

Assaulters cannot evacuate the wounded themselves; they must relay the wounded's coordinates to the evacuation team.
During the assault on Ukrainian positions a platoon commander controls mortar fire.  Apart from that, the platoon/company commander picks up artillery targets. However, only a unit commander can provide the air support. A recommended firing method for the automatic grenade launchers AGS-17 is an indirect fire, with a preferred firing range of 600-1700 meters.
When an assault begins, a Russian armored group can act as a whole or be redistributed between platoons. The platoon's mortars that provide the artillery support are distributed between assault platoons, while artillery gunners report directly to a commander.
During the treeline assault, the platoon should move in a diamond formation. It is prohibited for an assault company or platoon to move through open spaces; they should move solely within the treeline instead.
The Russians are transitioning from larger structures, such as BTGs, to smaller, more agile assault units. However, they still rely heavily on the artillery support. It is uncertain if they have enough scarce weapons like self-propelled artillery systems 2S9, mortars, automatic grenade launchers AGS, and ammunition to equip all units. Unlike a BTG, assault detachments do not seem to have proper logistics or multiple rocket launchers (MLRS) in their structure.
The decision to change combat formation and assault tactics seems to be influenced by the advance of the Russian mercenary group Wagner in the Bakhmut area in Donetsk Oblast (eastern Ukraine) and the depletion of vehicles and weaponry caused by Russia's heavy losses during one year of its all-out war against Ukraine.
Related:
Tags: battalion tactical groups (BTGs), military aid to Ukraine, PMC Wagner, Russian Army, Russian invasion of Ukraine, Soviet tactics