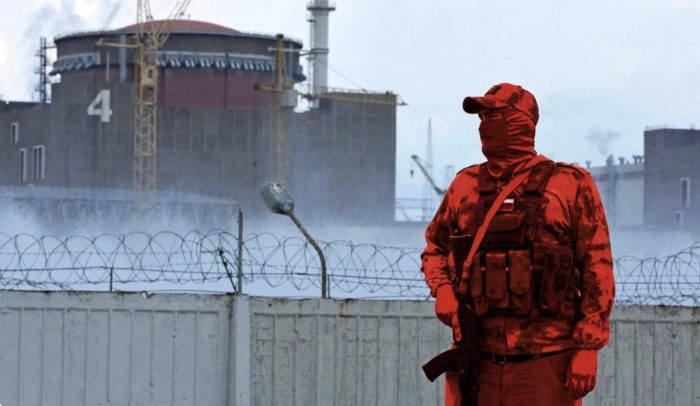 Russian occupier against the background of one of the ZNPP's blocks, an illustrative image/ Source: armyinform.com.ua 
The diplomatic efforts to return Zaporizhzhia nuclear power plant (ZNPP) to Ukrainian control have thus far been unsuccessful, stated Minister of Energy of Ukraine Herman Halushchenko during a United News telethon.
According to the Energy Minister, the situation has reached a stalemate, as Ukraine's position on all international platforms is that any negotiations on ZNPP must be predicated on:
First, the plant's demilitarization
Second, the withdrawal of Rosatom personnel from ZNPP
Third, Ukrainian personnel must be able to operate the nuclear facility without being subjected to pressure
"However, in response, we received a null and void decree from Putin stating that ZNPP is 'federal' property, along with the registration of a company named Zaporizhzhia Station in Moscow," Herman Halushchenko explained.
The minister stated that Ukraine receives alarming signals from the International Atomic Energy Agency (IAEA) mission at ZNPP. In particular, the Russians are acting in a highly unprofessional manner.
"The IAEA mission confirms that the Russians are operating the plant in such a way that the condition of its equipment and facilities is deteriorating dramatically. We [Ukraine-ed.] suspect that one of the invaders' goals is to render it inoperable after de-occupation," said Halushchenko.
It is important to remind ZNPP, which has been operational for a year, has experienced five total blackouts. During the blackouts, diesel generators were connected to power the reactor zones, spent fuel pools (SFP), and spent fuel sites.
Read also:
Ukrainian NPP unit shut down, damage to energy objects "significant" after Russia's 10 February attack
Russia blocks access of IAEA to Zaporizhzhia nuclear plant – Ukraine's Foreign Ministry
Russia drains water from Ukraine's reservoir, endangering cooling system of Zaporizhzhia nuclear power plant
Tags: Russia energy blackmail, Russian occupation, Zaporizhzhia NPP