The total amount of military aid provided by the US to Ukraine in the year since the beginning of the full-scale invasion has surpassed the average annual amount spent on the Afghanistan war, as reported by Ekonomichna Pravda referencing data from Kiel Institute for the World Economy.
According to analysts, Ukraine has already received $46.6 billion in military aid. In contrast, the average annual expenditure on Afghanistan from 2001 to 2010 was $43.4 billion.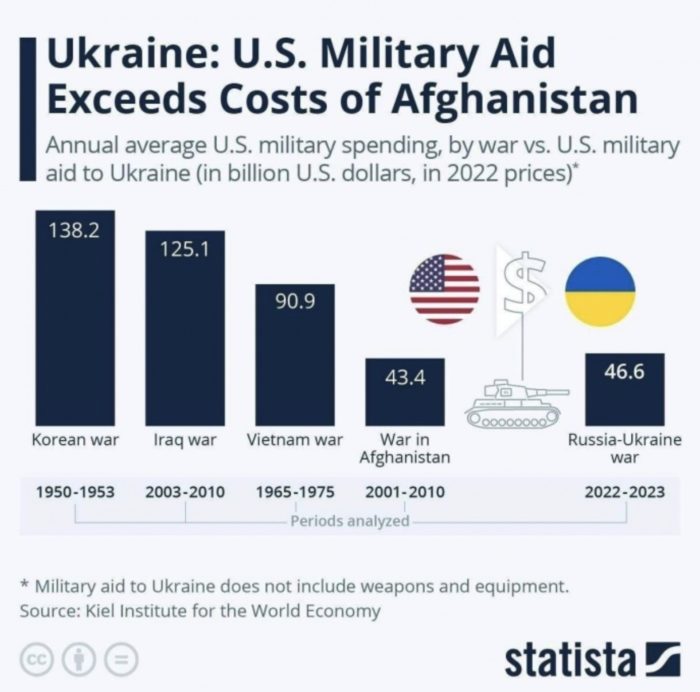 The researchers also provide information regarding the US military spending on:
The Vietnam War between 1965 and 1975 cost $90.9 billion per year
The Iraq War between 2003 and 2010 cost $125.1 billion per year
The Korean War between 1950 and 1953 cost $138.2 billion per year
It is important to note that military aid to Ukraine does not include weapons or military equipment.
Read also:
US announces $2 bn aid package for Ukraine, including drones, ammunition, electronic warfare
Biden announces USD 500 mn in new military aid to Ukraine during surprise visit to Kyiv
US announces USD 2.175 bn worth aid for Ukraine, confirms it includes longer-range rockets