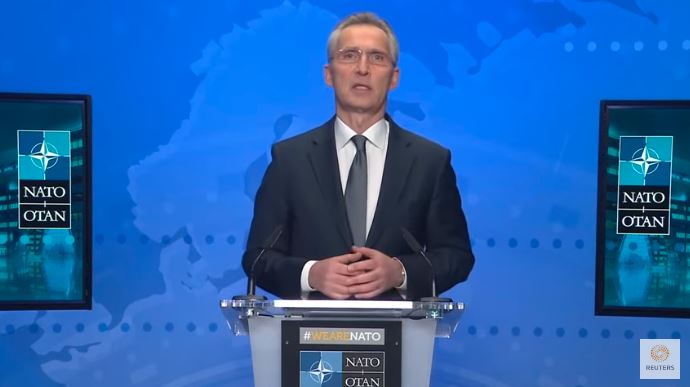 NATO Secretary General Jens Stoltenberg speaks at a press briefing after delivering a written response to Russia's demands to "Security guarantees." Screenshot from broadcast of briefing 
Ukraine will join NATO on one condition, NATO Secretary General Jens Stoltenberg said during the briefing on 15 February 2023, Ukrinform reported.
"On Ukraine, NATO's position has not changed. We have reiterated many times that Ukraine will become a member of the Alliance, but the focus now is to ensure that Ukraine wins the war," Stoltenberg said.
Ukraine can get closer to becoming a member of NATO only if it prevails as a sovereign nation, Stoltenberg added. NATO Secretary General urged all allies of Ukraine to intensify military support and help Ukrainians repel the Russian invasion.
"The main focus of the allies is to ensure that Ukraine gets the weapons, the ammunition, the supplies they need to push back the Russian invaders," Stoltenberg said.
Record-high 86% of Ukrainians support country's accession to NATO, poll shows
NATO is working hard to help Ukraine switch from Soviet-era weaponry, doctrines, and standards to NATO standards, according to Stoltenberg. The improvement of interoperability in security and defense will help Ukraine get closer to the Alliance, Stoltenberg added.
Stoltenberg noted that the doors of NATO remain open, stressing that such Balkan countries as Montenegro and North Macedonia joined NATO despite Russia actively resisting their accession. Russian neighboring countries Sweden and Finland are on the way to joining the Alliance, although Russian officials have repeatedly claimed that it may pose security risks to Russia, Stoltenberg concluded.
Related:
Tags: #NATOforUkraine, Finland, NATO, NATO expansion, Russian invasion of Ukraine, Ukraine-NATO relations