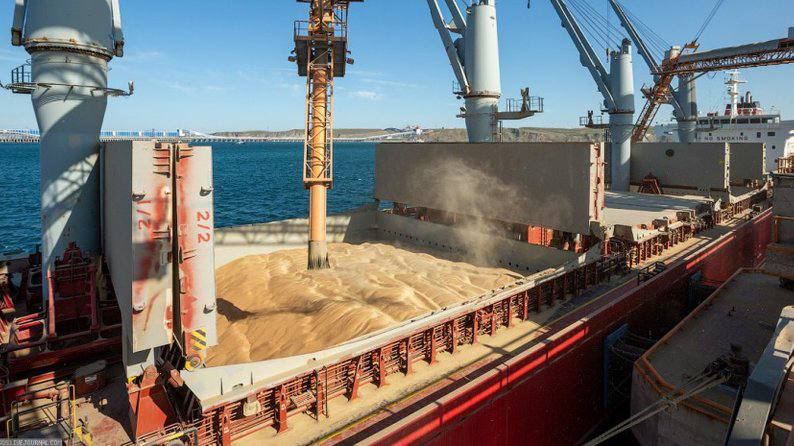 A vessel with Ukrainian grain departs the Port of Odesa, an illustrative image/ Source: Source: Twitter, @ Alex Rem 
To increase food exports in the face of Russian sabotage of ship inspections, Ukraine is increasing ship tonnage as part of its grain initiative, as reported by Ekonomichna Pravda, referencing a press release by the Ministry of Communities, Territories and Infrastructure Development of Ukraine press office.
The volume of exports through the ports of Greater Odesa increased by 152,000 tons compared to the previous week. During the past week, 25 vessels exported 1,1 million tons of agricultural products to African countries.
Simultaneously, the ministry emphasizes that the rate of new vessel loading requests continues to decline. The ports of Greater Odesa only received 16 vessels last week and 25 the week before. The Russians at the Joint Coordination Center (JCC) in Istanbul have been sabotaging the inspections required for the vessels to pass through.
According to the the Ministry of Communities, Territories and Infrastructure Development of Ukraine "the Russians have deliberately sabotaged the inspections for the third month in a row, using various unreasonable and sometimes absurd excuses. In this regard, as of the 12th of February, 145 vessels were awaiting SCC inspection, 122 of which were bound for Ukrainian ports with agricultural products."
Currently, 18 ships are loading 584,500 tons of food in the ports of Greater Odesa. After the inspection, only one vessel moves along the "grain corridor."
"In order to increase export volume under current conditions and reduce downtime, the Initiative will increase the tonnage of participating vessels. Specifically for grains – from 20,000 to 25,000 tons, and for oil – from 6,000 to 10,000 tons," stated the ministry's statement.
Considering that the average number of inspections of the incoming fleet is 2.5 vessels per day, the volume increase can be anticipated in one and a half months.
According to the Ministry, 732 vessels have left the ports of Greater Odesa, exporting 21 million tons of Ukrainian food, since the inception of the grain corridor. This quantity could have surpassed 35 million tons if the initiative had been effective.
Read also:
Grain initiative: European businesses urge the UN and Turkey to increase vessel inspections
Grain initiative: Greater Odesa ports send seven more vessels, with two bound for African countries