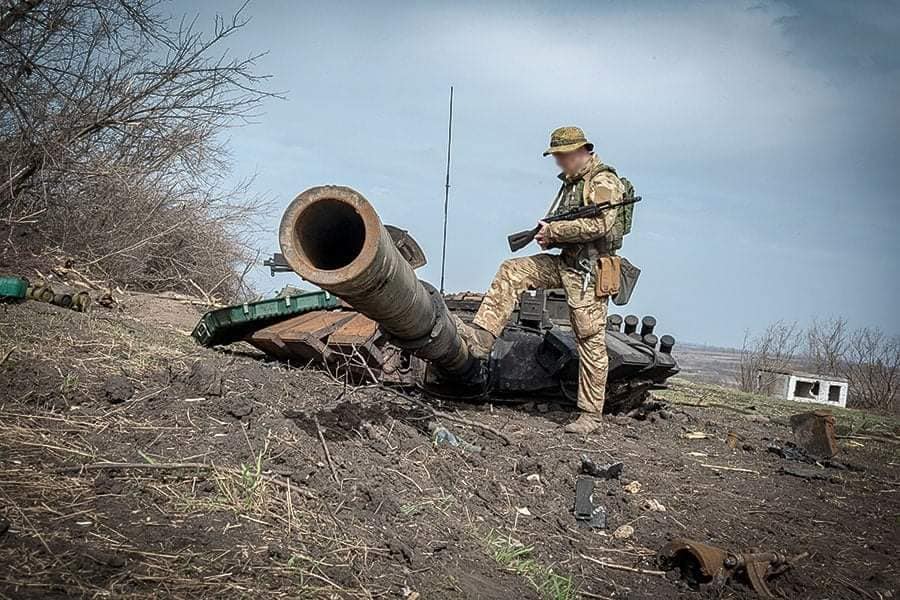 A Ukrainian soldier stands next to a destroyed Russian tank. Photo: General Staff of Ukraine 
Russian forces lack the resources to launch a large-scale offensive against Ukraine within the next few weeks, according to Andriy Chernyak, representative of the Main Intelligence Directorate of Ukraine's Defense Ministry.
Although rumors are spreading about a large-scale Russian offensive planned for 24 February, the Russian command does not have enough resources for massive offensive operations, according to Ukraine's military intelligence reports, Chernyak told Kyiv Post.
"Russia has already launched a full-scale offensive on 24 February last year, which is still ongoing. Right now Russia is trying to find weaknesses in our defense," Chernyak said. "The main goal of Russian troops remains to achieve at least some tactical success in eastern Ukraine."
Earlier this month, Ukraine's Defense Minister Oleksii Reznikov claimed Russia was possibly gathering more than 300,000 mobilized soldiers at the Ukrainian border and could be planning a major offensive to mark the first anniversary of the full-scale invasion of Ukraine.
Related:
Tags: Main Intelligence Directorate (HUR), Russia war, Russian invasion of Ukraine