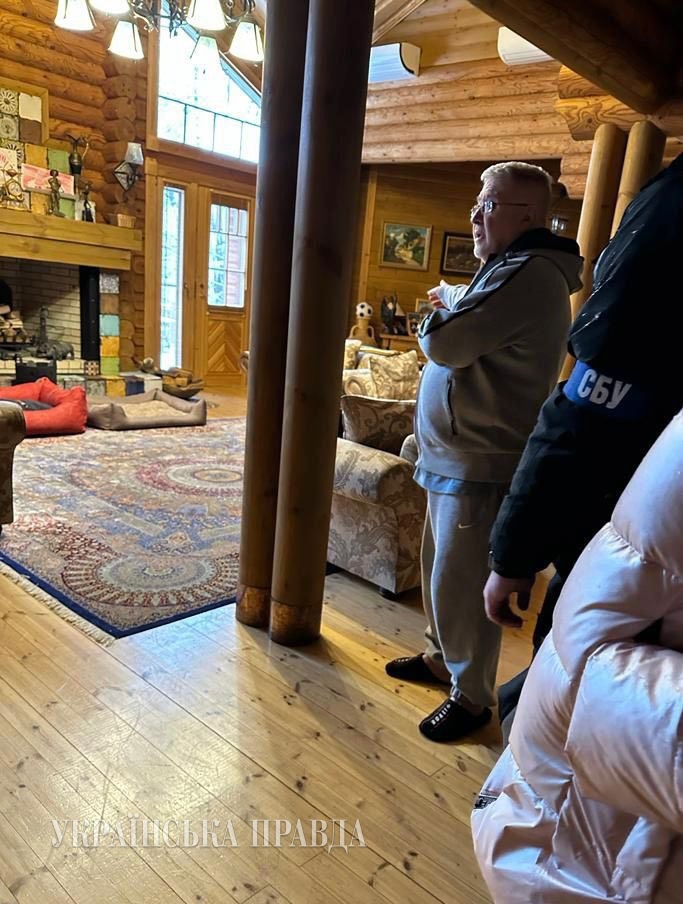 Oligarch Ihor Kolomoiskyi in his Dnipro home during searches by law enforcement agencies on 1 February 2023. Source: Ukrainska Pravda 
The Security Service of Ukraine (SBU) and the Bureau of Economic Security are conducting a search at the home of US-sanctioned oligarch Ihor Kolomoiskyi (or Kolomoisky) in Dnipro City, the Ukrainian news site Ukrainska Pravda reports referring to its unnamed source in law enforcement agencies. The investigation concerns fraud in oil companies Ukrtatnafta and Ukrnafta, UP says.
According to the UP source, Kolomoiskyi has allegedly been charged with embezzling oil products worth 40 billion hryvnias (about $1 billion) and evading customs payments in significant amounts.
Officially, law enforcement agencies have not yet reported on the searches. Ukrainian Pravda contacted Kolomoiskyi for comment, "but he has not yet read the message." Also, the SBU has not yet responded to RFE/RL's questions about the search.
Last fall, the National Anti-corruption Bureau searched Kolomoiskyi's home in the Ukrnafta case.
Read also:
National Anti-corruption Bureau searched the home of Ukraine's oligarch Ihor Kolomoyskyi, who was considered Zelenskyy's TV air sponsor during elections

Detectives retrieved data related to alleged unlawful seizure of property of Ukrnafta company in 2015. https://t.co/hVmbdsOSW8 pic.twitter.com/4qVAnkAuHw

— Euromaidan Press (@EuromaidanPress) September 18, 2022
The FBI on Tuesday raided the Cleveland offices of a company with ties to a Ukrainian oligarch Ihor Kolomoyskyi. Optima is a conglomerate of companies across the United States that has interests in real estate in Cleveland.https://t.co/EkUOFYDt0E

— Euromaidan Press (@EuromaidanPress) August 6, 2020
Tags: Anti-corruption, Ihor Kolomoiskyi / Kolomoyskyi / Kolomoisky / Kolomoiskyy, SBU