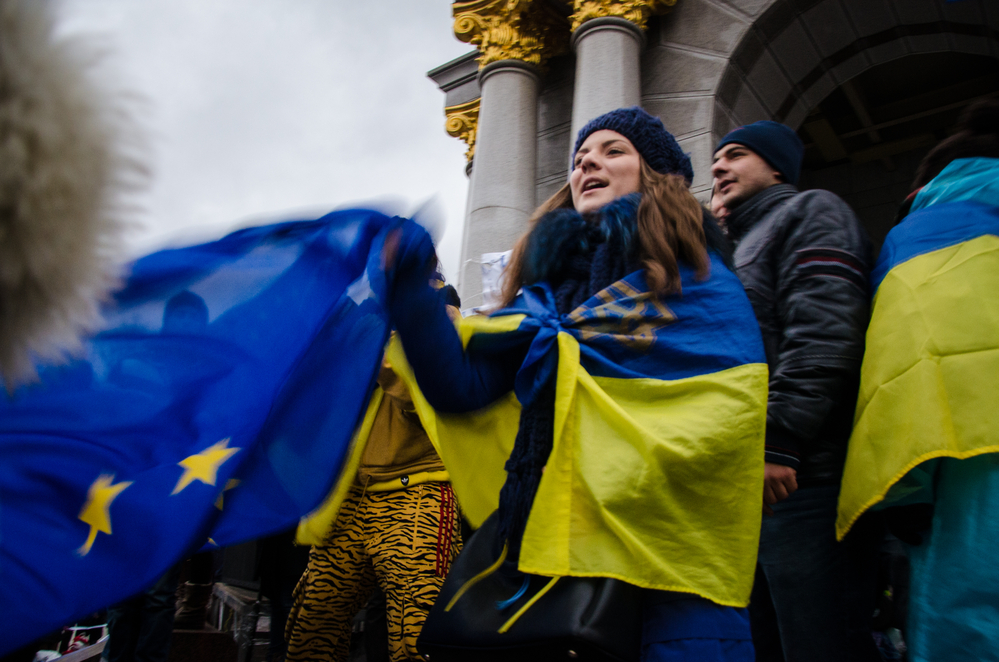 Students wave EU and Ukrainian flags on 26 November 2013 in Kyiv, during the first days of the Euromaidan Revolution.  
Ukraine wants to secure membership in the European Union within the tight timetable of two years, Ukraine's Prime Minister Denys Shmyhal told Politico a few days before the EU-Ukraine summit that will take place in Ukraine on 3 February 2023.
The upcoming EU-Ukraine summit in Kyiv will be the first one to take place on Ukrainian soil in the history of Ukraine's relationship with the European Union.
"We have a very ambitious plan to join the European Union within the next two years. So we expect that this year, in 2023, we can already have this pre-entry stage of negotiations," Shmyhal told Politico.
Currently, no one within the EU believes that a tight two-year timetable for securing Ukraine's membership in the EU is realistic, according to Politico. Last year, the President of France Emmanuel Macron said that "it could be decades" before Ukraine can get a real chance to join the EU.
On the other hand, many argue that the European Union has a particular responsibility to Kyiv, as the Ukrainian people have paid and keep paying a high price for their Transatlantic aspirations.
Ukraine is now an EU candidate. What happens now? When will it become a member?
After all, the discontent of the Ukrainian society with the decision of Ukraine's President Viktor Yanukovych to pull out of a political and economic association agreement with the EU due to the immense pressure from Russia's President Vladimir Putin triggered the Maidan uprising of 2014 and set the stage for the Russian invasion of Ukraine, according to Politico.
"Ukraine is the only country where people got shot because they wrapped themselves in a European flag," the European Commission President Ursula von der Leyen said early before supporting Ukraine's cause.
They thought we are cave people: stereotypes Ukrainian refugees face in Europe
Ukraine's close allies in the EU, such as Poland, Lithuania, Estonia, and Latvia, strongly support the membership of Ukraine in the EU in foreseeable future, according to Politico.
Related:
Tags: #UkraineExplained, Eastern Europe, EU, EU-Ukraine Association Agreement, Euromaidan anniversary, Prime Minister of Ukraine, Russian invasion of Ukraine