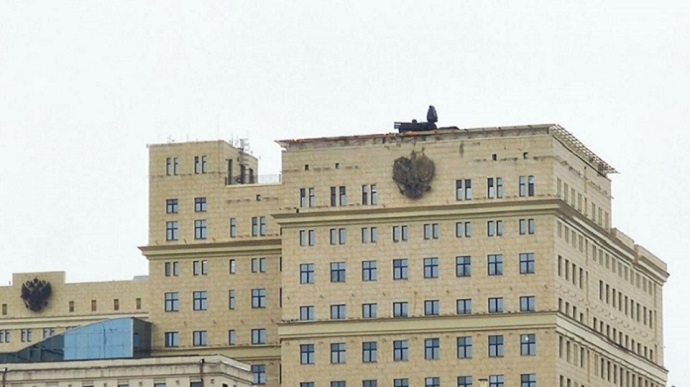 Anti-aircraft gun on the roof of the Ministry of Defense of the Russian Federation, Photo: Michael A. Horowitz 
The Kremlin is likely intensifying its efforts to present Russia's invasion of Ukraine as an existential war to set informational conditions for a protracted war in Ukraine, ISW assesses.
Russian and social media sources circulated images on January 19 and 20 showing Russian officials installing air defense systems on the roof of the Russian Ministry of Defense building in Moscow and elsewhere near the city. Some Russian milbloggers responded to these images with satisfaction that Moscow residents would finally be aware that Russia is involved in a "difficult war" in Ukraine.
The Kremlin likely deployed the air defense systems in Moscow to generate inflammatory images that portray the war as more threatening to the Russian public. It is unlikely, however, that the Kremlin believes that Ukraine would target Moscow and it likely engaged in this ostentatious play to support intensifying information operations to prepare the Russian domestic information space for a protracted war in Ukraine and further sacrifices.
"This demonstration is also likely a part of the emerging information operation to contextualize the war in Ukraine in the Russian mythos of the Great Patriotic War, which is likely meant to increase Russian support for the war effort and further mobilization by absurdly portraying Ukraine as threatening Moscow and the rest of the Russian heartland in a way to the way Nazi Germany did during its invasion of the Soviet Union," the report says.
Tags: air defenses, Russia