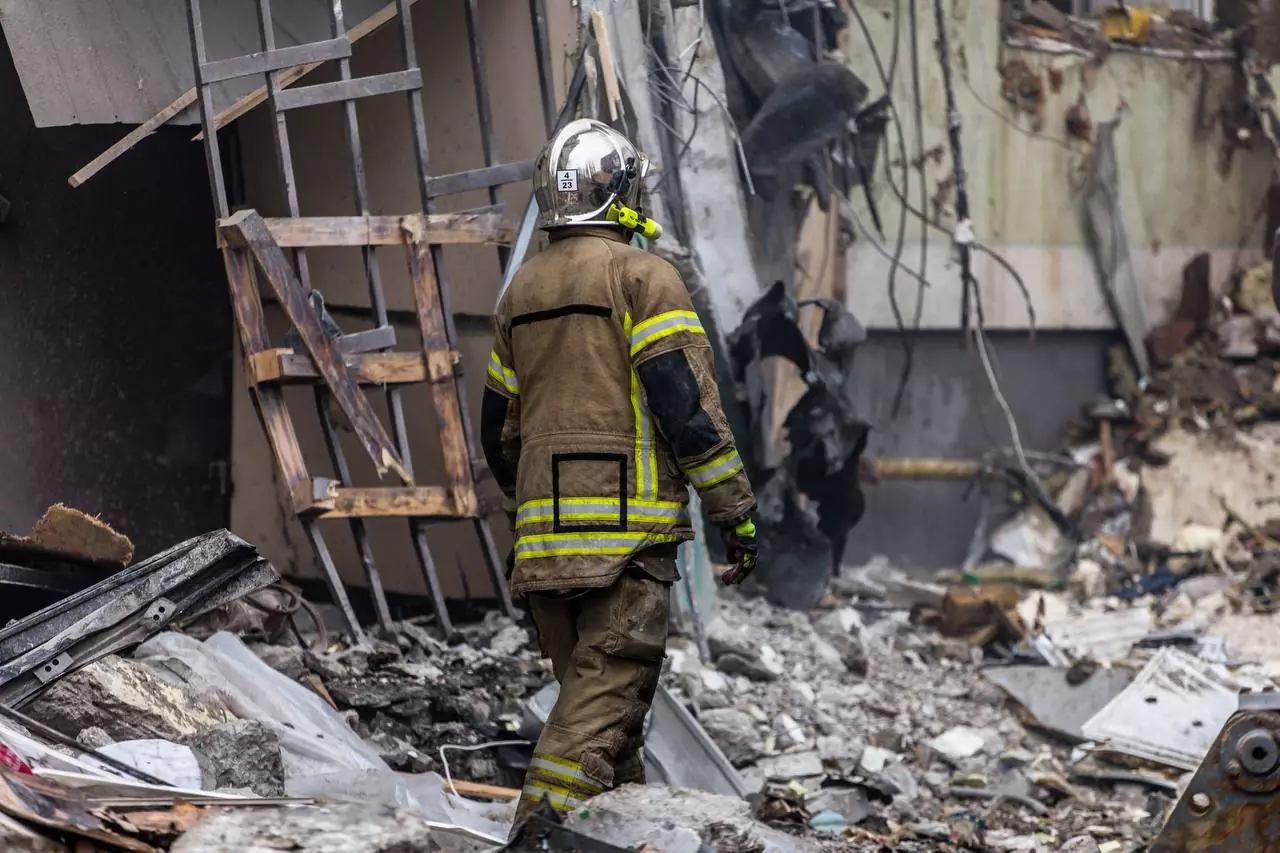 Rescuer walking through the rubble at the scene of Russia's Jan 14 missile attack on an apartment complex in Dnipro. Photo: Telegram/Valentyn Reznichenko 
The search and rescue operation in Dnipro continued through the night as rescuers found more bodies of those killed in the Russian missile attack on the apartment block that destroyed the entire section of the nine-storey building on 14 January.
As of 7:17 on 16 January, as the search and rescue operation continued for about 40 hours, the death toll of the attack rose to 35, Head of Dnipropetrovsk Oblast Military Administration Valentyn Reznichenko reported.
He said there are two children among those killed in the Russian attack. The missile strike injured 75 people including 14 children, and 39 people were rescued.
"The fate of 35 other residents of the house remains unknown. The search for the people under the rubble continues," he added.
Previously, Ukraine's Air Force said that the apartment building was struck by a Russian Kh-22 missile and that Ukraine lacks the air defenses to shoot down this type of missile. The Kh-22 was developed back in 1960s to destroy aircraft carriers in the open seas, and is known for its inaccuracy.
Update:
"As of 10:30:  36 people died (including 2 children); 75 people were injured (including 15 children); 39 people were rescued (including 6 children)," National Police reported.
Update:
At about 12:00, the Dnipropetrovsk Oblast authorities told Suspilne that the death toll of the Russian missile attack has risen to 37, there are three children among those killed, and debris clearing continues.
Update 14:00:
According to Suspilne, the death toll reaches 40 as rescuers have found 37 bodies, and body fragments of three other people under the rubble.
Read also:
Russians demolished Dnipro highrise with Kh-22 missile that Ukraine can't shoot down
Head coach of Ukraine's boxing team of Dnipropetrovsk Oblast killed in Russian missile strike
Tags: Dnipro, Kh-22, Russian missile attack