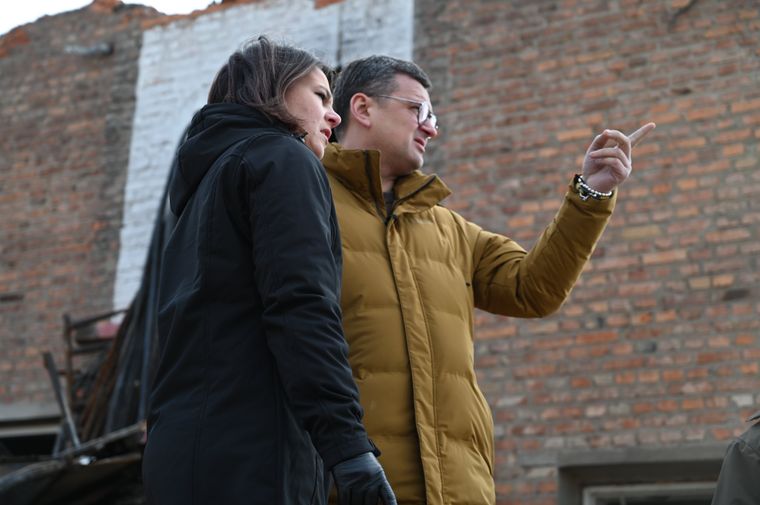 Anna Baerbock and Dmytro Kuleba in Kharkiv. Credit: Dmytro Kuleba's Twitter 
German Foreign Minister Annalena Baerbock paid an unannounced visit to Kharkiv, a city that suffered greatly from Russian artillery strikes, on 10 January. She is the first German official to visit the east of Ukraine.
Baerbock traveled to Kharkiv upon the invitation of her Ukrainian counterpart Dmytro Kuleba, "to get an idea of the situation here in Kharkiv today and, above all, listen to the residents who are struggling with the war in this bitterly cold winter."
She called Kharkiv "a symbol of the absolute insanity of the Russian war of aggression in Ukraine" and noted that Ukrainians can count on German support, from winter supplies to further arms deliveries.
"It's important to me that we don't lose sight of Ukraine's place in our European family even in this winter of war. Ukrainians fight every day for the right to live independently. They see their future in Europe, in the EU. That is why I would also like to talk about the progress made in the accession process. As the federal government, we want to make concrete offers to Ukraine to make progress in strengthening the rule of law, independent institutions and the fight against corruption, as well as in aligning with EU standards," she added.
During the trip, she announced that Germany will donate EUR 20mn to purchase 10,000 Starlink satellite internet stations, a third of which will be used by the army.
"Starlink closes a gap where there is no longer any access to the Internet due to destroyed civilian infrastructure.[…] Real-time communication allows Ukrainian soldiers to coordinate their defense of their homeland and better protect themselves against Russian attacks," the German Foreign Ministry said in a press release.
Today, @ABaerbock and I visited wartime Kharkiv where Russia caused enormous suffering. Kharkiv is now a symbol of successful Ukrainian counteroffensives which prove Ukraine will win with sufficient support of partners. I have no doubts further German military aid will come. pic.twitter.com/iCErESAW2J

— Dmytro Kuleba (@DmytroKuleba) January 10, 2023
(this article was updated to include information on Starlinks)