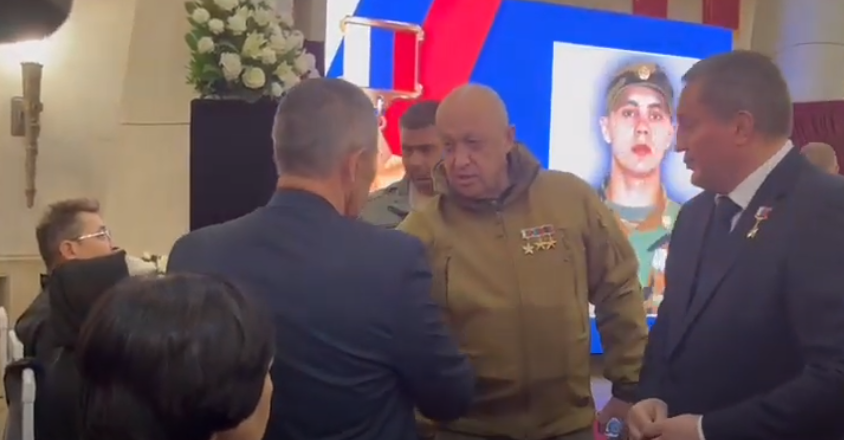 Wagner owner Yevgeny Prigozhin appeared at a funeral wearing a "Hero of Russia" medal, as well as similar medals issued by Russia's proxies in Ukraine's Donbas region, the Donetsk and Luhansk "people's republics" now annexed by Russia. Photo: screenshot from video 
Russian President Vladimir Putin's ally Evgeny Prigozhin, who is the owner of the private Russian military company Wagner Group, strives to take control of salt and gypsum from mines near the Ukrainian-held city of Bakhmut in Donetsk Oblast, the US White House official told Reuters on Thursday, January 5.
The obsession with which the odious mercenary group Wagner attacks Bakhmut may be explained by Prigozhin's interest in capturing natural resources worth millions of US dollars. The vicinities of Bakhmut and Soledar (both are located in Donetsk Oblast, eastern Ukraine) have large deposits of salt and gypsum.
Russia unlikely to achieve significant breakthrough near Bakhmut in coming weeks – British intel
Wagner Group, along with the forces of the regular Russian army, has been assaulting Bakhmut since August 2022, without major success. Currently, heavy fighting takes place in the suburban areas of the city. Recently, the Russian forces started to lose ground in this area due to a number of successful Ukrainian counterattacks, according to the Institute for the Study of War.
https://twitter.com/EuromaidanPress/status/1610108827013156870
The United States has previously accused Russian mercenaries of the Wagner Group of exploiting natural resources in the Central African Republic, Mali, and Sudan to help fund Russia's war against Ukraine.
Out of its force of nearly 50,000 mercenaries, Wagner Group has sustained over 4,100 killed and 10,000 wounded, including over 1,000 killed between late November and early December 2022 near Bakhmut, the US official told Reuters.
Related:
Tags: Bakhmut, friends of Putin, PMC Wagner, Russian invasion of Ukraine