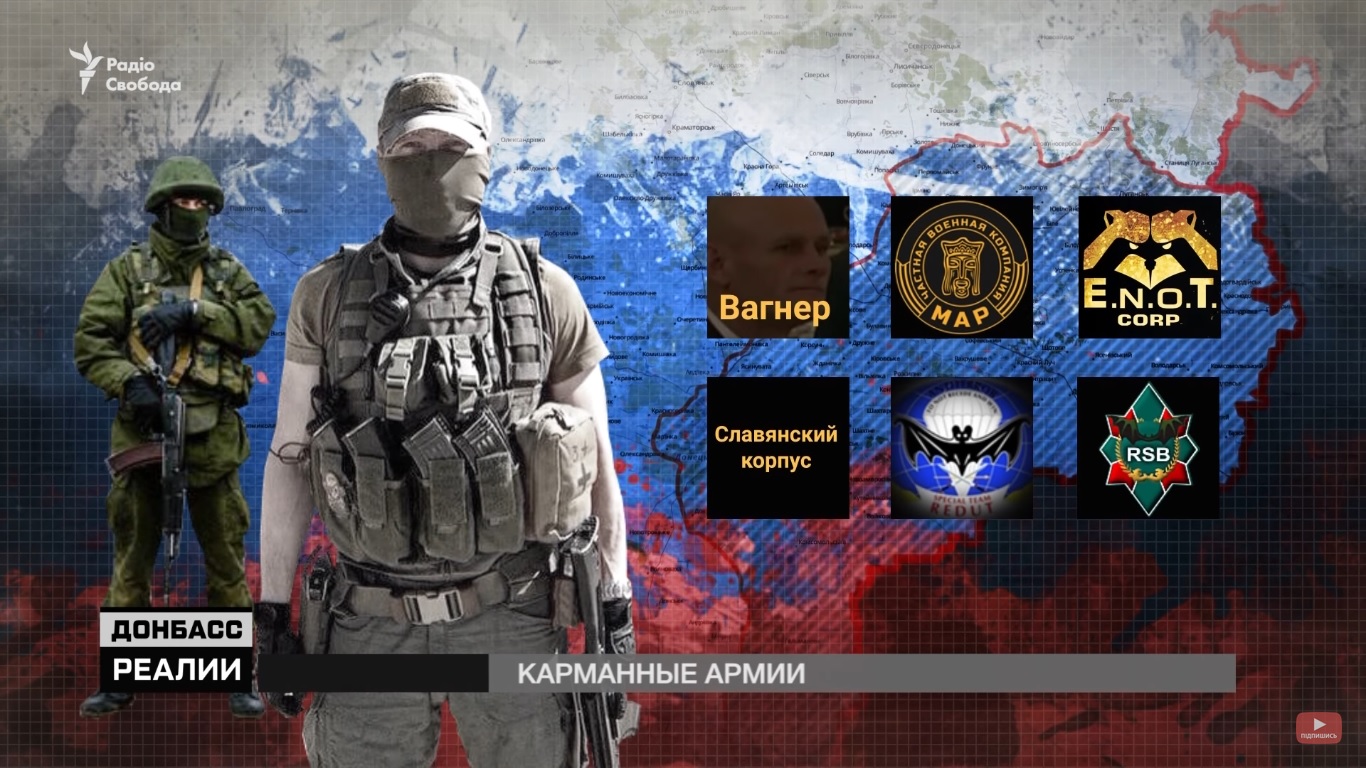 Russian private military companies (Wagner, MAR, E.N.O.T Corp, Slavyansky korpus, Redut, and RSB) that have been instrumental in Putin's military aggression in Ukraine (Image: video screenshot / Radio Svoboda) 
After the Wagner disaster in Syria, Russian and Western journalists reported about its training facility near Molkino where members of that "private" armed grouping were trained. But the Ukrainian portal Obozrevatel observes that "it would be naïve" to assume that there is only one such site in Russia and points to the existence of three more.
In the shadowy world of which such facilities are a part, this report should be treated as indicative rather than definitive; but it provides some important clues on where Moscow is currently training mercenaries and even terrorists whose existence it can often successfully deny.
The first of these is the Wolf International Center for Special Training which has branches "not only in Russia but also in Hungary, Serbia, Switzerland, Italy, Germany, Greece and Taiwan," according to its website, Obozrevatel says. The head of this group is Denis Ryauzov, a military man who in June 2017 was included on the US sanctions list.
The second is the Kadyrov Center in Gudermes, Chechnya. It came into existence in 2015 after Ramzan Kadyrov declared that he would open "'the most up-to-date international center' for the preparation of special forces." Kadyrov said it would train "not only people from Chechnya but from throughout Russia."
And the third is the Partisan Center in St. Petersburg. In contrast to the heads of the other centers, Obozrevatel says, Denis Vasilyev, the head of the Partisan Center, "does not conceal the fact that he is preparing militants for war in the eastern part of Ukraine," not surprising since he himself fought for the pro-Moscow forces there.
According to some sources, the Ukrainian site says, the Partisan Center has already prepared some 400 people to be dispatched for such service.
These three are only the largest and most prominent. There are numerous other centers across the Russian Federation including in Pskov, Taganrog, Shakhty and even in Moscow oblast, Obozrevatel continues.
Read More:
Tags: Donbas war (2014-present), International, Military analysis, PMC Wagner, Putin regime, Ramzan Kadyrov, Russia, Russian mercenaries, Russian militants, Russian private military companies, Russian state terrorism, Russo-Ukrainian War (2014-present)