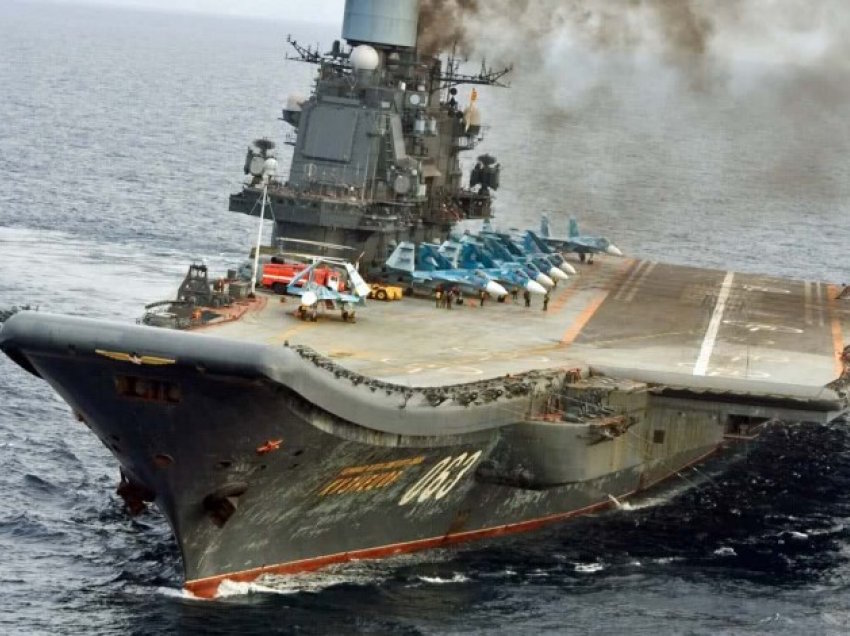 As much of Soviet-era military equipment inherited by Russia from the USSR, its only aircraft carrier, Admiral Kuznetsov, was built in Ukraine. Here it is on its way to Syria in October 2016 to participate in Putin's campaign to defend the dictatorial Assad regime. The ship was built over 1982-1991 at Ukraine's Mykolayiv South Shipyard. (Photo: social media) 
Last weekend, Beijing announced that its second aircraft carrier had begun sea trials, an especially disturbing development from Moscow's point of view where analysts are wondering when or even if Russia's only aircraft carrier will in fact be refit and made operational again.
But that is hardly the only bad news the Russian navy has received in the past few days.
First and most serious, Russian analysts say that China's naval buildup is leaving Russia in the dust: At present, China is launching five new frigates every year, while Russia is currently building one every ten.
Second, The Times of India has announced that Delhi has "consciously diversified its arms imports" away from Moscow because "Russia doesn't make deliveries on time, raises prices during the course of the contract, blocks the transfer of technology, and is "insufficiently reliable" in delivering spare parts.
And third, Russia's own Audit Chamber announced that in 2016, the Russian military misused 544.5 billion rubles (nine billion US dollars), much of that coming in high-priced naval construction where corruption is easiest and has long been a major brake in Russian ship building.
According to Vladimir Tuchkov of Svobodnaya pressa, China is set to increase its advantage relative to Russia and other countries. Some 5,000 highly trained specialists were involved full time in building its new aircraft carrier which is technically far superior to Russia's Admiral Kuznetsov.
The average age of these specialists is 36, far younger than at Russian yards. "And this means," Tuchkov says, that these people not only are ready to bring their energy and up-to-date knowledge to bear on developing the Chinese navy but will be able to do so for two decades or even more into the future.
Read More:
Tags: China, Chinese Navy, defense industry, Economic crisis, India, International, Military analysis, Russia, Russia-China relations, Russia-India relations, Russian militarism, Russian military, Russian military spending / budget, Russian military threat, Russian Navy