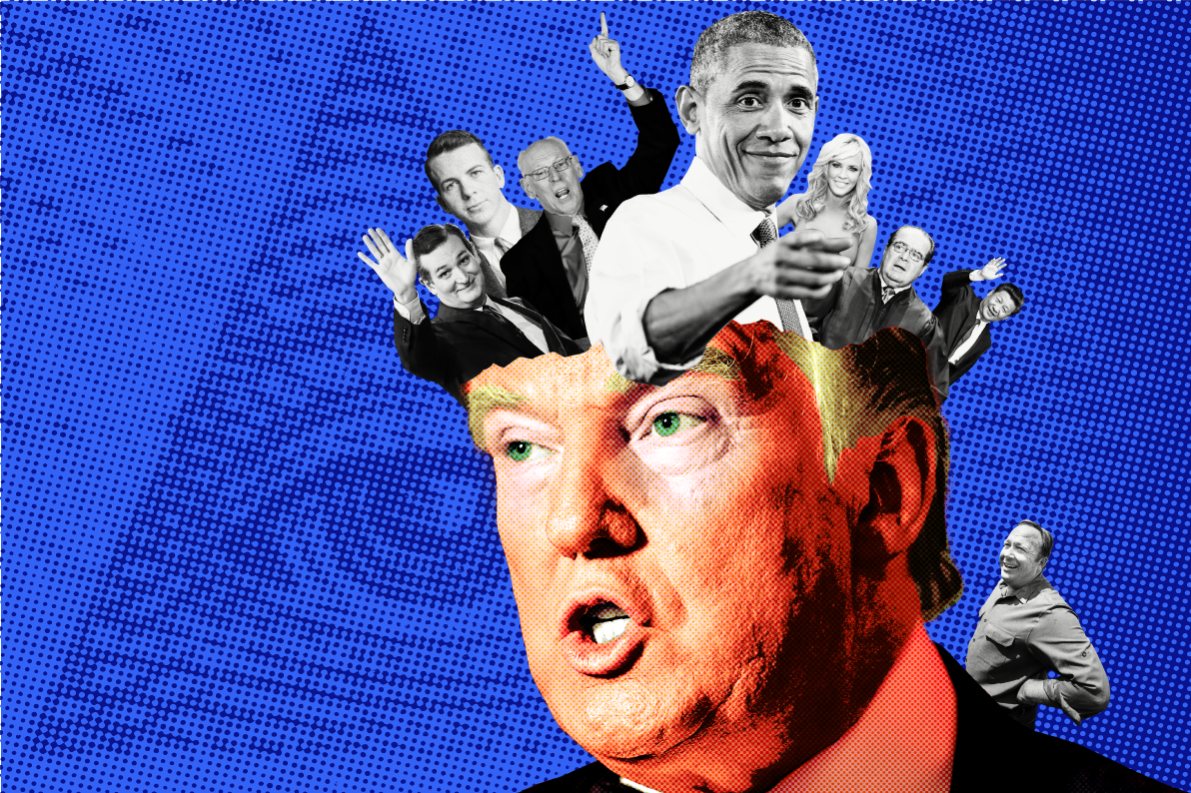 Illustration: R. A. Di Ieso 
On Saturday President Donald Trump made yet another scandalous statement. During a fundraiser with Republican Party donors in Florida, he openly admired the authoritarian leader of China, Xi Jinping, specifically the fact that Xi was able to maintain his authority for life.
"He's now president for life. President for life. No, he's great. And look, he was able to do that. I think it's great. Maybe we'll have to give that a shot some day."
For those who follow the American president's politics, this statement is not at all surprising. Trump's every attempt, as his Russian allies noted, to "take control" of all key American institutions– including the courts, the press, the Department of Justice, and all the intelligence agencies–is nothing short of an attempt to establish his own personal authoritarian regime. However it is naïve to think that these expressed revelations would somehow negatively influence the supporters of this president.  And that is precisely the most interesting yet disturbing aspect I'd like to examine here.
In his recent article about Russian officials' cocaine scandal, Novaya Gazeta author Kirill Martynov used the term "post-lie"–by which he means a total denial of incontrovertible and previously proven facts. In contrast with "post-truth," i.e. the inability of discerning truth from lie, "post-lie" does not even pretend to be truthful or logical.
The author notes, "Just as rational arguments are powerless against Russian post-lies, so are obvious facts, and this is what our current geopolitical grandeur is built upon. The West is frankly lagging behind us again: traditionally they think that if they caught an official red-handed, they need to launch an official investigation."
Martynov's insights apply perfectly to political climate in the United States. In addition to the many traditional American institutions that continue to try to dig down to the truth, a stubborn part of American society rather confidently accepts living under "post-lies" rules.
For over a year now, one Trump lie after another is regularly refuted daily, sometimes hourly.
We are constantly learning new facts about the crimes of Trump's inner circle, their contacts with Russian intelligence, secret meetings with Kremlin envoys about
kompromat
on their political opponents, details of money laundering,
amounts of loans
they received, and so on. Trump openly engages in obstructing the investigation, and these attempts are being exposed too. We know about Russia's efforts to aid Trump not only from intelligence reports and journalists' reports, but also from the official record of charging documents, pleas and indictments released by Special Counsel Robert Mueller. Some individuals have been charged, some have pleaded guilty and have made deals to cooperate with the Special Counsel's investigation.
Despite a staggering amount of information, Trump and his followers continue to, quoting Kirill Martynov, "confidently call every event fake."
This total denial looks especially paradoxical given that America still has independent courts and law enforcement agencies, and an independent a free press. There is no "RosKomNadzor" [Russian state censorship body over media and internet — Ed.] here that blocks undesirable news sources, no repression of opponents of the current administration in power. In the US, information circulates freely and is backed up with legal documentation. There is no isolation here, or group pressure as in cult-like organizations, no informational vacuum or obstacles in receiving alternative information. Moreover, Trump's behavior does not exhibit "Chekist-like craftiness" (Chekist being an agent of NKVD, Stalin's notorious secret police and death squads during 1930s) normally ascribed to Putin. There's no creativity in his lying, nor mastery of clandestine operations. His lies are mostly primitive, hysterical and easily disproven, and his words and deeds speak for themselves. Yet, despite all that, an entire third of our huge country still supports him and appears to simply ignore entirely the realm of abundantly available facts.
In fact, today's America exemplifies a previously unknown phenomenon – the creation of an illusory reality for masses of people not in totalitarian regime but in a free society. This phenomenon resembles not a dictatorship or a destructive micro group but a departure from reality more akin to gamers and other similar subcultures. No one isolates these people from the surrounding world, but they reject it willingly, preferring a made-up world of virtual "Middle Ages" to the reality that's boring and unsuitable for them. They prefer to live in the virtual "Middle Ages" where real historic characters battle mythical dragons and evil sorcerers.
Some of these people actually begin to believe in their dragons and sorcerers – at minimum as part of the actual history of humanity.
Genuine historical facts or events are meaningless to them. They deliberately choose their own world, one they are comfortable in, a world with walls that reliably protect them from the unpleasant truth of our time. And the more this world resembles the real one, the easier it is for people to believe in its reality.
Putin's propaganda has successfully created such a world in Russia. His is a parallel universe where Russia is surrounded by enemies intent on destroying it, Ukraine has been taken over by fascists conducting genocide of the Russian-speaking population, etc. The foundational element of this reality which makes myths especially effective are phobias – fears that reach a state of panic, and extreme demonization of the opposition. And this "opposition" is chosen carefully – from categories of people whom Russians are already comfortable considering their natural enemies.
Many Russians already expressed resentment toward Ukrainians for the fact that their "younger brothers" chose a different direction independent of Russia. They decided to orient themselves towards the West, and in so doing, they "betrayed" Moscow.
It's the feeling akin to a master who's jealous of his slave because they slave dared to free himself.
Similarly, Russians have maintained a hatred toward Americans at an almost "genetic" level since the Cold War, and today this hatred compensates for the deep feelings of inferiority Russian citizens feel in the face of obvious American superiority and progress in science, technology, and general quality of life issues. Sexual orientation and religious minorities, anarchists, and other movements, including the Russian intelligentsia have always been marginalized and fewer in numbers in Russia, and thus do not invoke the empathy of the masses.
Of course, in Russia, apart from ramming phobias down everyone's throats and picking "convenient enemies," this parallel reality universe is maintained by serious acts of repression by the state. The American experience, however, demonstrates that for at least a portion of the population, it is enough to invoke phobias and pick the corresponding "virtual evil" and "alternate reality" to sustain it without any persecution at all!
For Trump fans these phobias manifest themselves most often in fear of immigrants and women's emancipation.
For the older generation, it's fear of communists, the most "convenient" enemies for this demographic. That is precisely why for this segment of the electorate–one that isn't satisfied with hearing mere populist slogans and promises, and which does at least sometimes read longer articles–a multitude of conspiracy theories are pushed regularly. One such theory is that the FBI's and Mueller's investigations are nothing but part of a communist conspiracy plot to destroy America.
'Conservative' media offer publications which contain some of the most ludicrous "connecting of the dots." For instance, Nellie Ohr, an employee at Fusion GPS, the firm that hired Christopher Steele who authored the infamous Trump-Russia dossier, studied at Harvard and worked at Stanford University during the years when supposedly those institutions were overtaken by "revisionism." The majority of revisionists, according to the article, were "Marxists and Stalinists." Ohr also dared to write research papers on the USSR. Moreover, despite the fact that in her dissertation about the Soviet Union Nellie Ohr directly states that "The Stalinist state tortured and executed completely innocent citizens" (a quote which even the ultra-right author of the article could not avoid), he, nevertheless, by some incomprehensible logic calls her a "Stalin apologist," and labels MI6 agent Steele a "Socialist" (a term which in American ultra-right parlance has become synonymous with "Communist").
Since Trump fans automatically classify all their opponents as "Communists and Leftists," what then emerges is a "leftist conspiracy by Stalinists against capitalist America," in which the FBI gets ascribed the role of the Soviet NKVD, and Trump gains a halo as the lone savior of global capitalism.
The author continually fear-mongers with quotes like: "These campus Marxists will soon dominate history departments at every American university…" using Russian propaganda's favorite device – to generate a catastrophic perspective of a calamity from which only Putin or Trump (pick one) is capable of protecting you.
In practice, as I have mentioned many times before, the American political landscape is very heterogeneous. The ranks of Trump's opponents include a large number of moderate conservatives, including former Republican Party elites, moderate centrist Democrats who comprise the majority of the Democratic Party, moderate socialists which are far more conservative than their European counterparts, and then at the extreme end of the political spectrum – radical socialists with communist tendencies, some of whom by the way voted for Trump specifically because of the neo-bolshevik style of his speeches. But most importantly – the majority of those who work in intelligence and counterintelligence conduct their work independent of political allegiances.
However, the "alternate universe" does not have room for such complexity. In it, you'll find a "communist conspiracy," "the deep state," "secret admirers of Stalin" rising from the past and renewing their attempts to attack America. And, of course, this mythical world has its own "villains and dragons," ghosts of Stalinists who were "raised from the world of the dead." And, of course, Clinton and Obama are ever present, even though as a factual matter they don't have anything to do with events happening today yet whose presence remains virtually perpetuated and maintained by Trump and his propaganda, much the same way that Russian propaganda creates the mythology of a pervasive CIA presence behind every action of the opposition. One need only look at the obsession with which Trump demands Clinton be investigated (again!), which not only is indicative of his authoritarian desire to punish his political rivals, but it's also a means to infuse the media landscape of his fictional world with this fantasy.
Paradoxically, the walls of the alternate universe shelter one from the truth as reliably as informational isolation and fear of repression. Conspiring with enemies, constant lies, authoritarian conduct, corruption schemes, money laundering – all this boring reality pales in comparison with the virtual game filled with heroes in medieval armor and semi-mystical but so familiar and thus exhilarating "villains."
Any facts contradicting this picture of the world are outright rejected or simply not perceived.
As a result, every Trump's pronouncement about a Russian conspiracy with the Democrats, which seems absurd to a normal person (since the exact opposite has already been shown), appears perfectly natural in this "alternate universe." The state of "being surrounded by enemies" erases all moral norms, ends justify the means, and constant insults Trump hurls at his critics appeal to the basest instincts of his supporters. In such an agitated state, no logic of any kind is necessary. Further propaganda is directed not at detailing their concocted phantasmagorical picture, but at heightening its emotional appeal: shrieks, slogans, memes, photoshopped pictures, ever new absurd yet emotionally rich lies – as if literally constructed by Goebbels.
What's bizarrely amusing is that while talking about the alleged conspiracy with Russia, Trump's followers repeat Putin's followers' behavior almost exactly, not only imitating them in militant fascist ideology, justifying corruption, dictatorial behavior, humiliating and smearing the opposition with the exact same propaganda techniques, but they even actually end up quoting Russian propagandists directly and consciously. And while doing that they are oblivious to any contradiction, since the Russia that we know – aggressive, militant, fascistic, corrupt and actively exporting radical right-wing ideology – simply does not exist in their alternate world. In the Radical Right's "dark ages" an entirely different Russia exists – Communist, Bolshevik, and thus inextricably tied with the illusory American "conspiratorial Stalinists."
Knowledge of the truth does not interfere at all with the ability of these people to believe in lies – much like our mortal world is incapable of interfering with a gamer who is ardently fighting magical dragons for days on end.
In other words, retreating into alternate reality–already a challenging problem of our time–has entered a new phase. Now those who choose this reality don't aspire to confine themselves behind a wall of non-participation. Quite the opposite: they strive to force everyone else to live according to the absurd, illogical, yet for them pleasurable rules of the game. Today, alternate reality strives to supplant actual reality, not on the level of lost teenagers but on the level of governments of entire countries. Unfortunately, the antidote for this destructive phenomenon has not yet been created.
March 8, 2018.  San Francisco, California.
Read More:
Tags: American politics, Conspiracy theories, Donald Trump, Op-ed, post-lie, post-truth, Russian propaganda