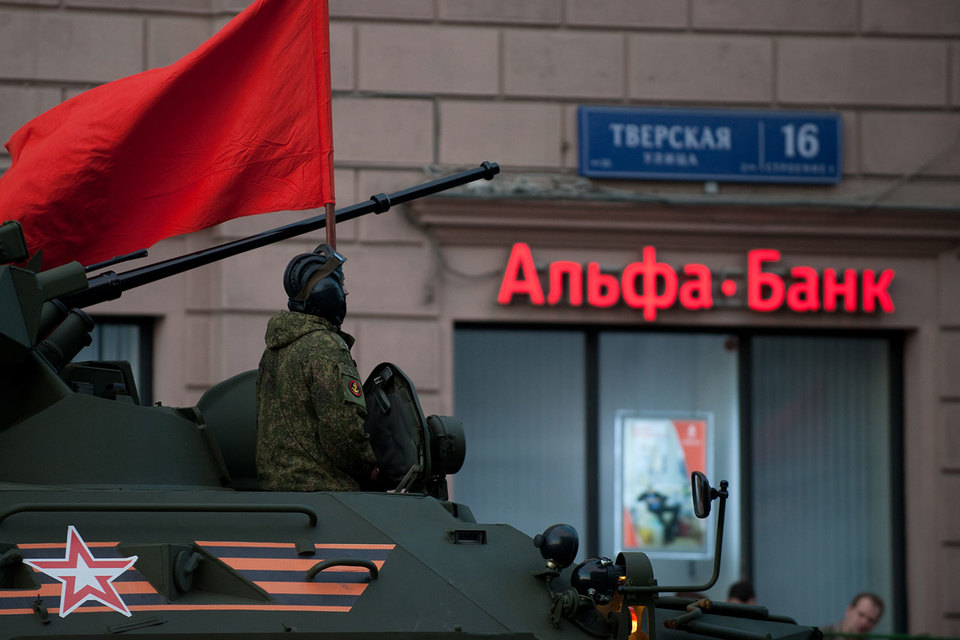 A Russian military vehicle in front of an Alfa-Bank office in Moscow, Russia (Image: vedomosti.ru) 
Oleg Sysuyev, the deputy head of Alfa-Bank, Russia's seventh largest bank by net assets, says that his institution will no longer provide services to Russian defense industries that have fallen under US sanctions, even though historically loans to them have formed a large share of the bank's credit portfolio.
Economist Andrey Nechayev says that the bank's decision will not have a significant influence of the defense industries involved because they can still get credits elsewhere and particularly from state banks that provide them with most of their financial needs.
But this action by Alfa-Bank is potentially significant, because it may lead other Russian banks, fearful of running afoul of the sanctions regime, to take similar actions, thereby making the West's sanctions regime even tougher for Russian companies already listed.
Read More:
Tags: banking sector in Ukraine, Crimea, EU sanctions against Russia, International, Russia, Russian banks, Sanctions, Sanctions against Russia, SWIFT, US sanctions against Russia