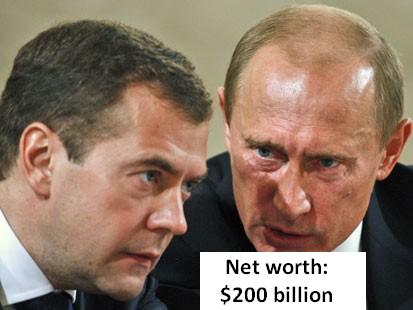 Experts estimate Putin's net worth at $200 billion, gotten through plundering state resources (CNN)
Article by: Andrey Shipilov
One bank official from Cyprus* explained to me why top Russian officials, such as Medvedev, Kostin, etc., responded so nervously and irrationally to reports of a possible disconnection of Russia from SWIFT.
The fact is that while the other Western sanctions affect the Russian economy as a whole, a disconnection from SWIFT would primarily affect them personally.**
Russia's economy without SWIFT will continue to operate, albeit with difficulty. But they–personally–without SWIFT will not be able to control their personal anonymous assets in Western banks and will lose access to them.
At present, they control their accounts in Western banks anonymously through a chain of front firms, which are impossible to trace. But their operations are completely dependent on SWIFT for operation. All of current money-laundering and anonymization schemes are dependent on SWIFT. Other such operations simply do not exist at present, and new ones can not be developed in a month. Nor in six months, either. And it is not clear that they would be possible at all.
When disconnected from SWIFT, the [corrupt elite] will either have to give up control over their anonymous assets or assume a high risk of losing their anonymity.
* Cyprus is a major offshore tax heaven for Russian cash. For more information, read Quartz's
What Russian money sloshing back to Cyprus teaches us about tax havens
.
**For more information about corruption amongst the top Russian elite, watch  CNN's interview with Bill Browder, the CEO of Hermitage Capital Management, formerly Russia's largest foreign investor, and a once supporter of President Putin. He describes the dynamics between power and wealth in Russia, claiming that during "the first eight or 10 years of Putin's reign over Russia, it was about stealing as much money as he could. And some people, including myself, believe that he's the richest man in the world, or one of the richest men in the world, with hundreds of billions of dollars of wealth that was stolen from Russia."
Translated by: A. N.
Tags: international, money-laundering, Op-ed, Putin's elite, Russia, Russian corruption, Russian elite, sanctions against Russia, SWIFT