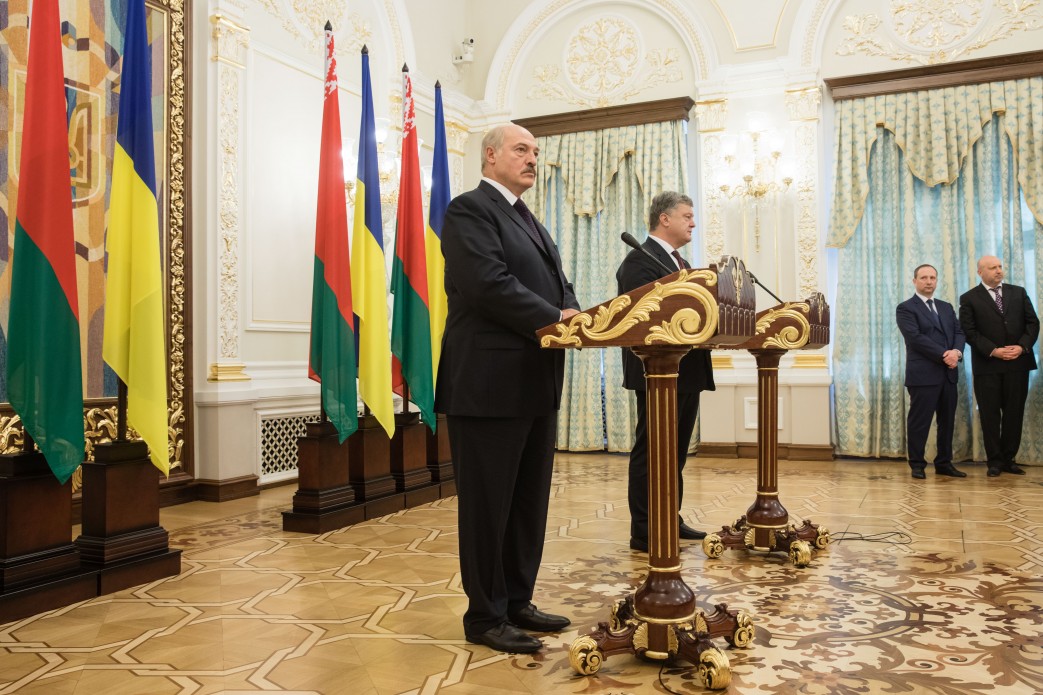 President of Belarus Aleksander Lukashenko and President of Ukraine Petro Poroshenko. Kyiv, 21 July 2017. Photograph: president.gov.ua 
Belarusian President Alexander Lukashenka traveled to Kyiv on an official visit on 20-21 July. Both Belarus and Ukraine, for different reasons, are seeking to reinvigorate direct dialogue between their leaders, which they resumed three months ago in the Chernobyl zone.
The 'age-old friendship' (in Lukashenka's terms) between Alexander Lukashenka and Petro Poroshenko may appear paradoxical: the former is authoritarian and pro-Russian while the latter is democratically minded and pro-European.
Ukraine is resisting Russian aggression while Belarus remains Moscow's closest military and political ally. It seems that simplistic political clichés do not capture the two nations' complex relationship.
A means to boost trade
Lukashenka attended Poroshenko's inauguration in June 2014 and returned again to Kyiv in December of the same year on a brief working visit. However, a lengthy hiatus of highest-level encounters followed. An attempt to arrange a meeting between the two leaders before the end of 2016 fell through, probably because of the Ukrainian elites' displeasure at the Belarusian move against the Ukrainian resolution at the United Nations.
The two presidents finally met on 26 April 2017, at the site of the Chernobyl NPP in Ukraine, and continued their talks at the village of Liaskavichy in Belarus. Lukashenka's top priority was to boost business ties; Poroshenko's greatest need was assurance of Belarus's continued neutrality regarding Ukraine's conflict with Russia.
Despite a twofold drop in bilateral trade turnover in recent years, Ukraine remains Belarus's second-largest trading partner, and Belarus is Ukraine's fourth-largest. What's more, the growth in trade resumed in 2016 (+10.5%, up to $3.8m) and accelerated in January-May 2017 (+26.7%).
Managers of about 90 Belarusian and over 380 Ukrainian companies attended a Belarusian-Ukrainian business forum held on the sidelines of Lukashenka's recent visit. They signed contracts amounting to $68m to supply petrochemical products, fertilisers, trucks, harvesters, tyres, lifts, and other goods to Ukraine.
The two leaders agreed to intensify Belarusian-Ukrainian inter-regional ties – in particular by holding annual inter-regional forums. The first such event will soon take place in the Belarusian city of Homiel. The Belarusian government wants to adapt its trade relations with Ukraine to the latter's decentralisation policies. The Ukrainian regions now have more power and money: thus, direct contacts may prove to be more efficient.
Venturing into foreign markets together
Ukraine's association agreement with the European Union will pose new challenges to bilateral trade with Belarus as Kyiv starts reorienting towards the European market. At the same time, this situation offers new opportunities for Minsk to promote its products in Europe through their higher localisation in Ukraine. The latter is also interested in exporting more to Belarus and its EAEU partners, especially in the context of reciprocal sanction regimes with Russia.
In Kyiv, the Belarusian leader spoke about 'thousands of goods' that Belarus and Ukraine could jointly produce and sell. 'We want to work together in the Distant Arc, in other countries… We will create high-tech goods and we will sell them together in foreign markets', Lukashenka stated.
His Ukrainian host was slightly more specific. 'It is important that there is now a mutual interest in the creation of new joint ventures. By this I mean aircraft engineering, transport, and agricultural machine building', Poroshenko said.
According to Belarusian Deputy Prime Minister Uladzimir Siamashka, Belarus now has seven knockdown assembly plants in Ukraine, and Ukraine has six such enterprises in Belarus. Belarus's strategy is to combine Belarusian preferential loans with Ukrainian subsidies to farmers and to increase localisation of goods in order to boost sales in Ukraine and third countries.
Energy projects: Moscow will not be happy
Importantly, Lukashenka and Poroshenko discussed cooperation in the energy sector, calling it an extremely promising avenue. Ukraine wants to supply more electrical energy to Belarus. However, they still disagree over the exact terms of the contract.
Poroshenko also announced that the two leaders 'agreed to consider the possibility of expanding supplies of energy resources [to Belarus], especially crude oil, using the unique transit potential of Ukraine'.
Thus, on 23 May in Minsk, Gomeltransneft Druzhba (Belarus) and Ukrtransnafta (Ukraine) signed an agreement on the use of the oil pipeline Mazyr-Brody. The pipeline would allow the transport of Azerbaijani and Iranian oil from the Ukrainian port of Odesa to Belarusian refineries.
Currently, about 60% of Ukraine's total import of petrol and 40% of its diesel fuel comes from Belarus. They are both made from refined Russian oil. Ukraine hopes to get an even better deal and increase the purchase volume by supplying crude oil for refining.
For Belarus, securing alternative oil sources would mean mitigating its energy dependence on Russia. However, this would require strong political will and significant investments; such a scheme may not be economically viable given the advantageous oil prices Moscow still offers Minsk.
Lukashenka's assurances according to Poroshenko
In Kyiv, Alexander Lukashenka carefully avoided making any statement which could be interpreted as him taking sides in the Ukrainian-Russian conflict. He spoke about Belarusians, Russians, and Ukrainians as a 'civilisational core in this part of the European continent'.
The Belarusian leader stressed repeatedly that he would go no further in his peace-making efforts than Putin and Poroshenko asked. He also announced an increase in humanitarian assistance to the Donbas region.
In the presence of Lukashenka, Poroshenko told the press about his counterpart's assurances that 'the territory of Belarus, friendly to Ukraine, will never be used for aggressive actions against Ukraine, and the Ukrainian-Belarusian border will never become a border of war'.
The Ukrainian government and Ukrainian society remain extremely worried that Russia could use the upcoming military exercise West-2017, involving the Russian and Belarusian armies, to launch an offensive against Ukraine. The exercise will be held in Belarus on 14-20 September.
Poroshenko had already spoken of Lukashenka's assurances in similar terms at their April meeting. However, the promises of the Belarusian leader apparently failed to convince certain factions in the Ukrainian government. Following Lukashenka's visit, Defence Minister Stepan Poltorak refused to rule out the possibility of 'provocations from Russia under a false pretext' in the context of West-2017.
The meeting in Kyiv demonstrated that Lukashenka and Poroshenko have developed a close personal rapport. The two countries' governments share an interest in stronger economic ties; they also have a fairly good understanding of how to build them. Belarus will never willingly endanger Ukraine's security. Ukraine understands that it cannot realistically expect more than Belarus's neutrality in the Russian-Ukrainian conflict.
Despite the fact that they belong to opposing geopolitical alliances, Belarus and Ukraine still need each other to withstand Russia's pressure. Their close bilateral cooperation will be instrumental in making both countries stronger.
---
Read more:
Tags: Alexander Lukashenko / Alyaksandr Lukashenka, Belarus, News, Petro Poroshenko, Ukraine