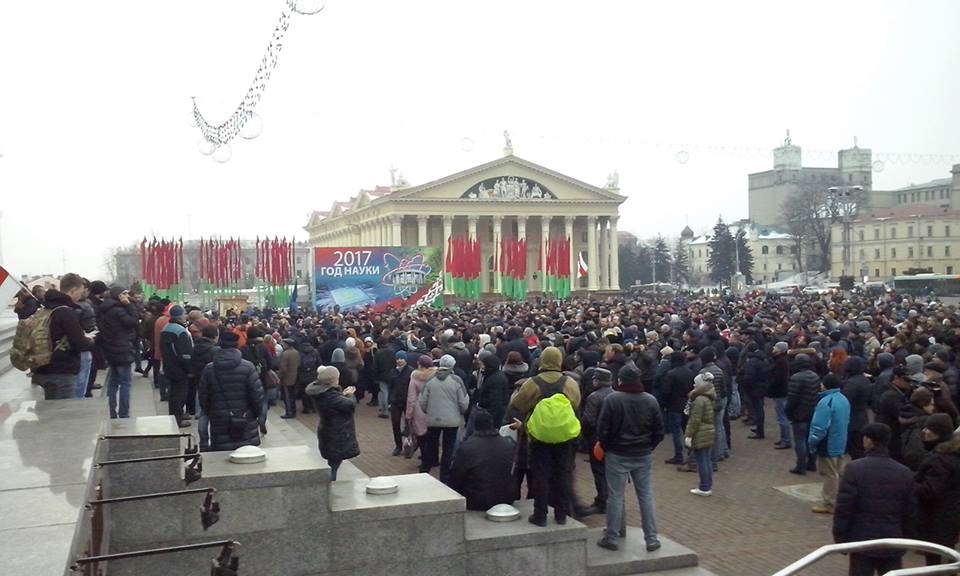 Anti-government protest in Belarus, February 23, 2017 (Image: belprauda.org) 
Only 51,600 of the more than 470,000 Belarusians – roughly five percent of the country's population – who have been billed for Minsk's new vagrants tax have refused to pay, an indication of just how angry the Belarusian people are at this recrudescence of a Soviet practice and how much danger Alyaksandr Lukashenka is now in.
Some of them have appealed to the courts, but so far, Lukashenka's judiciary has turned them down arguing they do not have standing to sue. But as Gennady Fedynich, the head of the Belarusian Radio and Electronics Industry Union, points out, no one has the right to prevent suits against the tax authorities.
His union is helping those the government seeks to extract the vagrants tax from to sue because it recognizes that this Lukashenka action has become "the last drop which overfilled the cup of people's patience" given that it came on the heels of an increase in retirement age, increases in communal services rates, and problems with various industries.
The vagrants decree simply "eclipsed" all these other problems because it "touched a significant part of the population" and people have gone into the streets as a group rather than as individuals, Fedynich says. If the regime were smart, it would suspend the decree "for an indefinite period."
Given how angry people are and how they feel they have found their collective voice via the demonstrations, the union leader continues, any further "tightening of the screws" could have unpredictable consequences. But one thing is now clear, no one is willing to go back where they were even a month ago.
The government isn't doing anything to help the population, and its propagandist claims fall flat when people know the truth. An official in Brest oblast said that 13,000 people there had been freed from paying the vagrants tax; but then it turned out, Fedynich says, that "more than 12,000" of these work abroad and thus weren't subject to it to begin with.
Belarusian commentator Svetlana Metelkina, writing in the opposition paper Salidarnasts concurred. She argues that there is "one hero" in the current dramatic confrontation between the Belarusian people and Lukashenka — the wallets people keep their money in and can use to measure reality against his promises.
For all groups in the population, "our wallets are the most important indicator of the capabilities of the Belarusian economic model! The basic measure of the correctness of the course that has been chosen! And no matter how much Lukashenka makes fabulous promises, our wallets allow us to understand that these are [nothing but] fairy tales."
---
Related:
Tags: Alexander Lukashenko / Alyaksandr Lukashenka, Anti-government protests in Belarus, Belarus, International