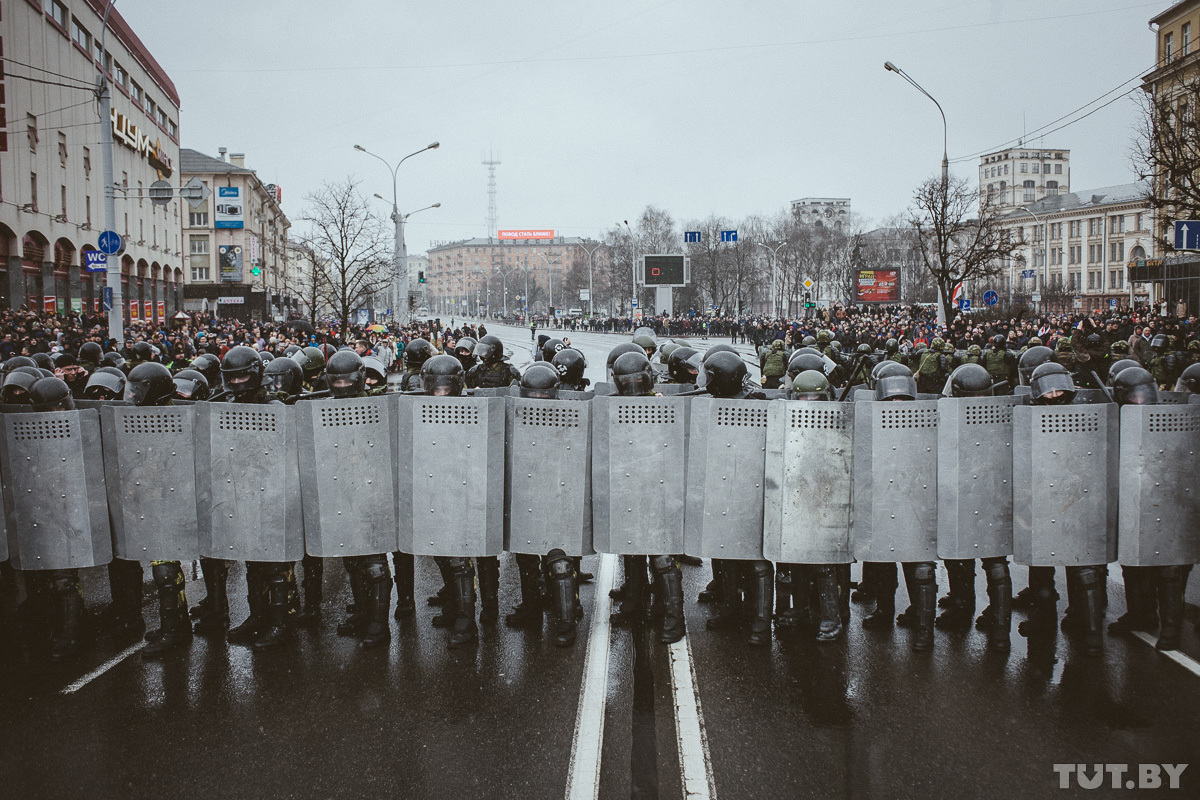 A police cordon in Minsk gets ready to detain protesters on 25 March 2017. Photo: tut.by 
Protests have been engulfing Belarus for more than a month. They started with rallies against a tax on the unemployed, dubbed the "tax on social parasites," which involved people from different social strata living both in the capital and the countryside. This is a relatively new development for protests in Belarus posing an existential danger to the regime of dictator Lukashenka, and the government has cracked down hard, with the epicenter of repressions falling on Freedom Day demonstrations in Minsk on 25 March 2017. Then at least 700 had been arrested on the day and 150 on the next day, at demonstrations to release activists taken at previous arrests, according to the Viasna center. And in the previous month of protests, over 300 were detained, had their homes searched, or fined.
But this crackdown is composed not only of the overt actions of a police state. It also involves a covert campaign to clamp down on protest and dissent with a number of tools and strategies designed to preserve the power of the regime. These strategies and plans are common for repressive regimes, so take note of them, just in case. Here is a summary of the analysis by Belarus in Focus.
Create a conspiracy
On 21 March, President Lukashenka suddenly discovered a "putsch" – allegedly, several busloads of armed militants prepared in Belarus, Poland, Lithuania, and Ukraine were planning "provocations" with far-reaching plans to overthrow the government. This sensational announcement, dismissed by Polish, Lithuanian, and Ukrainian authorities, was followed by an escalation in the crackdown on activists.
Launch a fake news campaign
Lukashenka, first of all, invented a narrative that would frighten the populace and intimidate its opponents – frightening them with the "Ukrainian scenario" of a Euromaidan revolution which has been already demonized by the Russian media, influential in Belarus, allegedly prepared by militants financed by the "evil West" – in this case, American and German funds through Lithuania and Poland, and that the ordinary protesters were "being used" by these (imaginary) coupsters – frightening ordinary people and prompting them to support the authorities.
Next, fake announcements calling to not attend the rally on 25 March were spread in the name of the opposition politician Nikolai Statkevich, causing further confusion.
Fragment the opposition, intimidate their support base
Only two of the five rallies which were held on 25 March were authorized. Even though they had done everything on time, the organizers in Minsk weren't given permission to hold the major rally in the capital through multiple administrative delays and beating around the bush. Authorities had permitted Freedom Day meetings in regional centers around Belarus – apparently to prevent locals from joining the main action in Minsk.
The regime aimed to isolate potential leaders and organizers of the rally, undermining their credibility or discrediting them. Many were arrested or detained, and Nikolai Statkevich went missing (later it turned out he was secretly detained on 23 March, 2 days before the rally).
Distract, interfere, block
During the protests in Minsk, the Belarusian security services switched off the 3G Internet in central Minsk, to prevent journalists and participants from livestreaming, which is a very popular way to spread information about the protests. The protestors had access to low-speed (2G) mobile internet, but it was not enough for video streaming, which limited the potential of the protesters to resist to police brutality.
To reduce the number of potential protesters on Freedom Day, the authorities resorted to well-known tricks: many schools and companies had organized compulsory events at the same time as the protests, like a spring cleaning.
In a pretty clever trick, the authorities attempted to intercept their opponents' ideological symbols. The Belarusian authorities, who root in the Soviet ideological heritage, suddenly became preoccupied with the state of the people's memorial to the victims of the communist genocide in Kurapaty – as the pro-government Federation of Trade Unions invited citizens to come together and clean the location, where opposition protest actions had also been held recently.
Intimidate, detain, arrest
Last but not least is physical action, or the threat of it. Armed policemen in public places, demonstration of special equipment and troops transfer, as well as the mounting amount of detainments in the preceding month.
As a result of all these actions, the authorities succeeded in breaking off a part of the protesters' support base. A facebook post of a popular blogger revealed that many seemed to be frightened of the coming crackdown, admitting that they were afraid of being beaten, arrested, or losing their jobs. Yet others were disenchanted by the opposition.
Have these measures killed Belarus' protest potential? Andrei Yeliseyeu, Research fellow at the Eurasian States in Transition (EAST) research center, told Euromaidan Press that not all of it, and not yet:
"It is yet to be seen how effective those measures were in lowering the protests. Obviously, a part of potential protestors will be discouraged in joining protests after seeing this  variety of repressive measures used by the authorities. However, the main reason of mass discontent, namely the poor economic policies and further deterioration of economic well-being, remains in place. So new protests across the country will follow in the coming months, though possibly not as numerous as they were in the past two months. In fact, after mass Saturday detentions, hundreds of protestors took to the streets on Sunday, in Minsk as well as in other Belarusian cities, once again.

The problem is that the opposition structures are disunited and disorganized. If the protests are not organized and structured, they will not pose an imminent threat to Lukashenka. However, recent events have shown that Belarusians were able to coordinate themselves through social networks. In case new protest leaders arise and some mechanism of nation-wide coordination arises, the protests will cause serious domestic inconvenience for Lukashenka."
This article was updated with information about the limitations to internet during the protests, and had information on reported blocking of communication channels of separate activists removed, in accordance with expert commentary.
Dear readers! The times are changing and we are too – Euromaidan Press is planning a website overhaul. And we want to know what you want to see on our site and how it could be improved.
Please fill out this short form so we can bring you the stories YOU want to read. Thank you!

Tags: Alexander Lukashenko / Alyaksandr Lukashenka, Belarus, Dictatorship, Disinformation