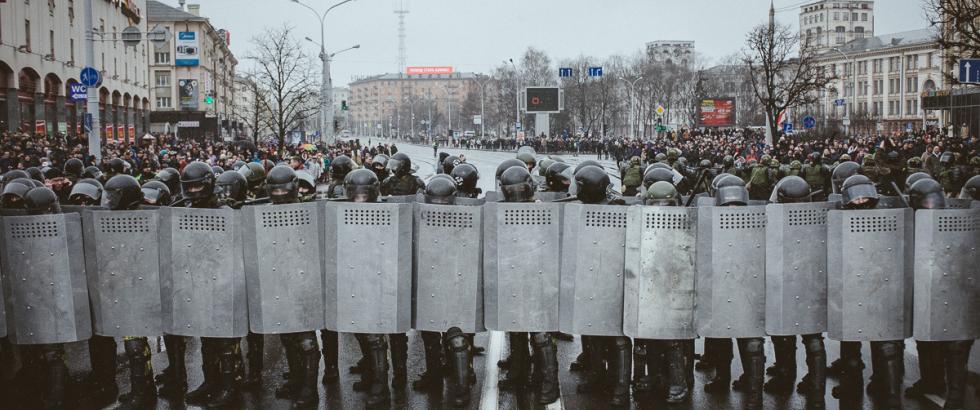 The OMON riot police block main steet in Minsk. Photo: Alyaksandr Vasyukevich, TUT.BY
After the month of protests against the "Social parasites tax" and the Belarusian regime's crackdown on the Freedom Day rally in Minsk on 25 March 2017, the authorities have succeeded in halting street protests, mobilizing the power machine, and bringing a wedge between the opposition's new human rights agenda resulting from the crackdown and the popular economic demands.
Read also: 5 things you need to know about Lukashenka's crackdown on Minsk protests
Participants in the officially unauthorized Freedom Day rallies who were detained on 25-26 March have been subjected to fines and administrative arrests for up to 25 days. Despite the increasing repressions, Belarusian society is demonstrating a high level of self-organisation through networking and solidarity and is not returning to political apathy. The initiative BYhelp helps crowdfund the fines imposed on the activists. Today they reported that they have collected $33,400 out of the $35,000 goal.

However, $35,000 is unlikely to cover all the expenses of detained activists. One of the coordinators Laksiej Lavončyk told Euromaidan Press that there are 21 political prisoners arrested under accusations of carrying out a coup, and it is unclear how their release will cost the campaign.
Moreover, for each day of administrative arrest, a fine of EUR 6 is imposed. 224 people have been sentenced to 1o days of administrative arrest in average.
The solidarity effort is international, and there are already coordinators of the effort collecting donations personally in London, Warsaw, Prague, Vilnius, Kyiv, Frankfurt am Main, Dusseldorf, Italy, Sweden, Denmark, The Netherlands, Finland, Barcelona, Dublin, Paris, New York, Los Angeles, San Francisco, Toronto, and Israel.
According to the NGO Belarus in focus, tension and mutual accusations are growing among the opposition parties and the Belarusian leadership is likely to continue to apply pointed repressions in relation to street protests and pressure the independent media. With the arrests, the authorities managed to refocus the opposition on human rights issues, while the protest movement at large was driven by social and economic issues.
Dear readers! The times are changing and we are too – Euromaidan Press is planning a website overhaul. And we want to know what you want to see on our site and how it could be improved.
Please fill out this short form so we can bring you the stories YOU want to read. Thank you!

Tags: Belarus, international, News