For the first time in Ukraine's history citizens will be able to control how political parties spend their funds, as well as who finances their activities. At the same time, Ukrainians will now pay 14 UAH ($0.50) per year for budget funding of political parties.
On 1 July 2016, the Law on Prevention and Counteraction to Political Corruption (2123a) came in force. Many believe transparency and state funding will help end parties' slavery from oligarchs to whom politics is the most profitable business. However, this reform needs to go hand in hand with other structural changes in order to prevent loopholes and misuse.
Related: Behind the scenes of civic society's battle with corruption in Ukraine
Ukrainian parties are oligarchs' projects
According to the opinion polls, Ukrainian citizens indicate tackling corruption as one of the most important tasks, Taras Shevchenko from Reanimation Package of Reforms (RPR) stated during the forum.  Without changes in counteracting corruption, all other reforms will most probably be ineffective, the expert said.
The Ukrainian power model is grounded in an oligarchy that control parties, Shevchenko explained. In Ukraine, the parties are actually political projects that are being created for earning money and are designed to win the elections, not for representing the people.
"The President is declaring deoligarchization and claims we need changes. But we don't see these changes. Deoligarchization remains one of the most difficult topics for Ukraine now," Shevchenko said.
According to him, the model which will assure transparency in financing the parties creates a chance that the parties will start representing interests of the taxpayers.
The law was adopted in October 2015 by 227 votes (which only slightly outnumbers half of the parliament) and came into action on 1 July 2016. However, Ukraine's National Agency on Preventing Corruption (NAPC) still hasn't finished work on the form of the financial report, which may cause a delay in launching the law's implementation.
The controlling body which was launched with scandals and delay still lacks members and logistical support, its chief Natalya Korchak explained during a public Forum on counteraction to political corruption Parties' Finances Under Control, which was held in Kyiv on 11 July. NAPC is considering switching to e-declarations in the future, but so far Korchak is worried they will receive "trucks of documents."
What the new law is about
The law provides that starting from 2017, parties that earned at least 5% of votes from the 2014 election will receive state funding to cover their statutory activities, as well as partial reimbursement of election campaigning costs. For the anticipated elections in 2019, the threshold will be lowered to 2%.
Party funds may not come from state authorities, other countries, and foreign individuals. Parties may receive donations from other political parties or organizations; however, the latter must be only registered within the EU. Amounts of money donated by private enterprises, as well as private persons, is limited by this law.
Violation of these norms shall be punished with up to three years in prison, whilst financing parties from fake entities is punishable by administrative and criminal charges. Failing to report on party funds will lead to fines. Control over financial activities will be performed by the Central Elections Commission, The Accounting Chamber, and NAPC.
For an ordinary citizen, funding parties from the state budget will cost 14 UAH ($0.50) per year. All information regarding donations and expenditures will be available on the NAPC website, on the portal on the public finance e-data.gov.ua, as well as on the official portals of the parties.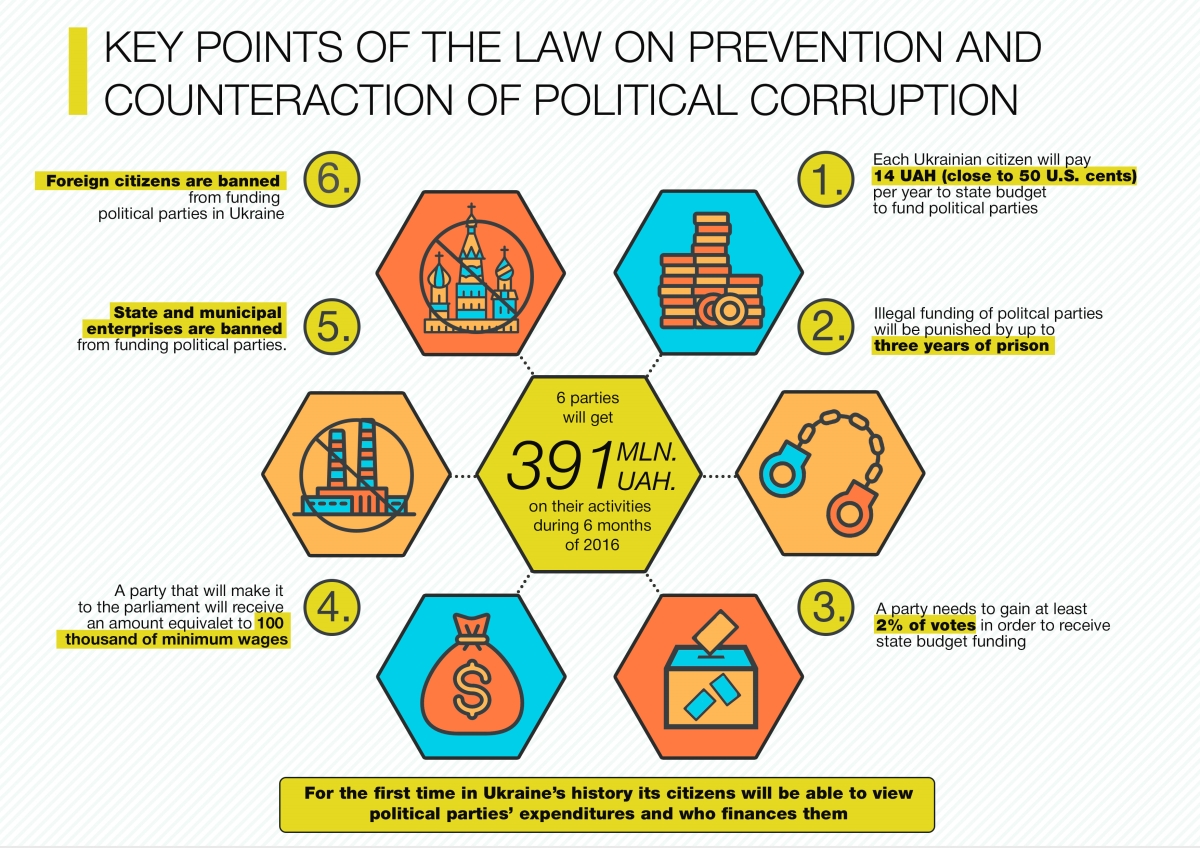 Ukrainians long wanted to control finances of political parties
Yuriy Sereda from the Institute Respublica stated at the Forum that Ukrainians have extremely high demand on controlling the parties' finances. In one of the regions where the Institute did a project on citizenship involvement, up to 10 thousand signatures were gathered under petition demanding the elections candidates disclose information about party finances.
[quote style="boxed" float="left"]Currently, Ukrainian parties work like joint-stock companies with the key owners [/quote] Activists, experts, and political parties who voted in favor of the law believe this is the way to tackle political corruption and change the way Ukraine's political system works. On 11 July at the Forum on counteraction to political corruption
Parties' Finances Under Control,
representatives of four parties (Petro Poroshenko Bloc, People's Front, Samopomich, and the Radical Party) declared readiness for the changes.
"This is the reason why Petro Poroshenko Bloc keeps receiving accusations regarding deoligarchization and deshadowing. We need a reform of conscience, so that our party life stops being an opportunity to get to power through elections or to protect own interests," Iryna Fryz from the Petro Poroshenko Bloc commented.
Yaroslav Yurchyshyn from Transparency International said that, currently, Ukrainian parties work like joint-stock companies with the key owners. They are not transparent public organizations aimed at representing interests of the voters. This law will be a marker on whether parties only declare fighting corruption for populist matters, or are ready to open up. This process, Yurchyshyn explains, has started long ago, however only in 2015 the initiative made it all the way to the parliament and was adopted.
Society not ready to pay for politics
The law in current formulation is far from perfect, its creators admit and declare intentions to amend it as soon as it is possible. For instance, the fine for delaying or even failing to report means that parties will be able to legally buy off their shadow financing.
Ihor Popov from the Radical Party (which didn't support the bill) said that this law makes lives of oligarchs easier, since their investments will now be reimbursed from the state budget. "We all know who finances whom, but this information will unlikely appear in the electronic declarations," he said at the Forum.
Implementation of this law will be first of all sabotaged by the oligarchs who earn much more on politics than on trading oil or metals. It is the political parties that arrange loopholes for corruption, Serhiy Taran from International Democracy Institute said. That's why it is the society that needs to take control.
However, the people are not ready to pay for politics. They believe politicians have to solve their day-to-day problems, such as building roads, installing water pipes, and providing people with food (like it often happens during election campaigns). That's why a strong and broad information campaign along this reform is needed. Thanks to the public control over the parties' funds, Ukraine will be able to recruit a qualitatively new political class.
[hr]
Read also: