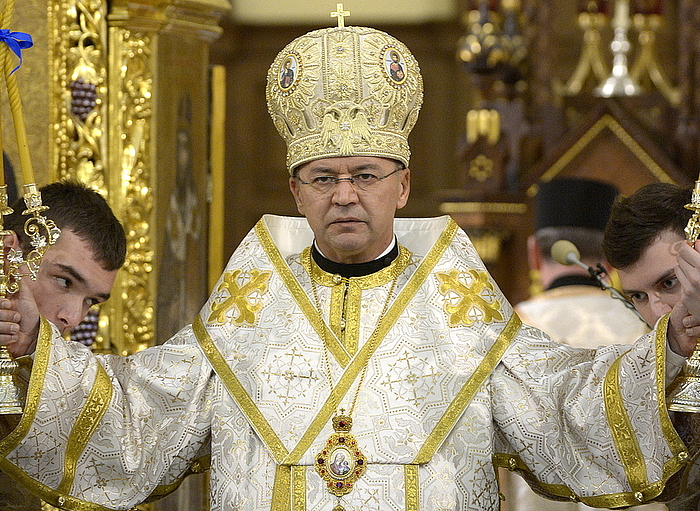 Przemysl and Warsaw Metropolitan Archbishop of the Greek Catholic Church Eugeniusz Popowicz, photo from Deon,pl 
Polish Metropolitan Archbishops called for unity with Ukrainians and holding a dialogue regarding the difficult common past.
On 2 June 2016, Ukrainian religious and political leaders, as well as representatives of intellectual elites, addressed the Poles in an open letter of "repentance and forgiveness."
In the appeal, Ukrainians ask Poles to unite and forgive old wounds from mutual cruelties of the past, namely – the Volyn tragedy. The letter states that any strife between the two brotherly peoples only serves to the benefit of the common enemy, meaning the Kremlin.
On 8 June, the Catholic portal Deon.pl published a response from Polish religious leaders of all confessions.
"I consider this letter in the context of Jubilee of Mercy, during which Pope Francis appealed for us to open the gates of mercy in our hearts. As believers, we can't stay indifferent to this letter that deals with the tragic cards of our common history," Lublin Metropolitan Archbishop Stanislav Budziak said.
He reminded that the Poles share even more tragic historical events with the Germans, and about the initiative of uniting that Polish and German bishops came forward with 20 years after WWII. The initiative was held under the slogan "We forgive and ask forgiveness."
"Historical matters are painful and difficult, but there are no issues which we as Christians couldn't solve and forgive," Budziak stated. He suggested leaving historical battles to professionals and called upon Christians to follow the road of unity, especially while Ukraine goes through difficult times with war in the East and economic crisis.
The fact that the letter was signed by chiefs of Ukraine's two main churches, Orthodox and Greek Catholic, signals about an ongoing process  of religious unity in Ukraine, just like it is happening in Poland between Catholic and Greek Catholic churches.
Przemysl and Warsaw Metropolitan Archbishop of the Greek Catholic Church Evheniy Popovych called to remember about the challenges Ukraine is going through, emphasizing that Poland should never grow indifferent to them. "It is important that the appeal mentions the murder of innocent people, which has no excuse. We will never bring back to life those who tragically died, and murder will never have any excuse or sense," Popovych said and asserted that conflicts can only be resolved through dialogue.
The Archbishop added that "the only way to solve such difficult historical lessons is to pray and to ask for forgiveness," and called for educating the young generation to ensure that such a tragedy will never repeat. He emphasized the growing number of both Ukrainians and Poles, including non-believers, that participate in prayers for victims on both sides of the conflict. Popovych also noted his appreciation for the appeal addressing politicians and pleading for them to not build political capital upon people's tragedies, using hate speech.
"Ukraine is fighting for its integrity, dignity, and rationale as a nation and state… Ukraine is conducting a dialogue with Poland and would like the same dialogue with Russia, which, however, rejects the outstretched hand," said Metropolitan Archbishop Evheniy Popovych.
---
Related:
Tags: History, News, Poland, Ukraine, Ukraine-Poland relations, Ukrainian history, Volyn, World War II / WW2 / Second World War (1939-1945)