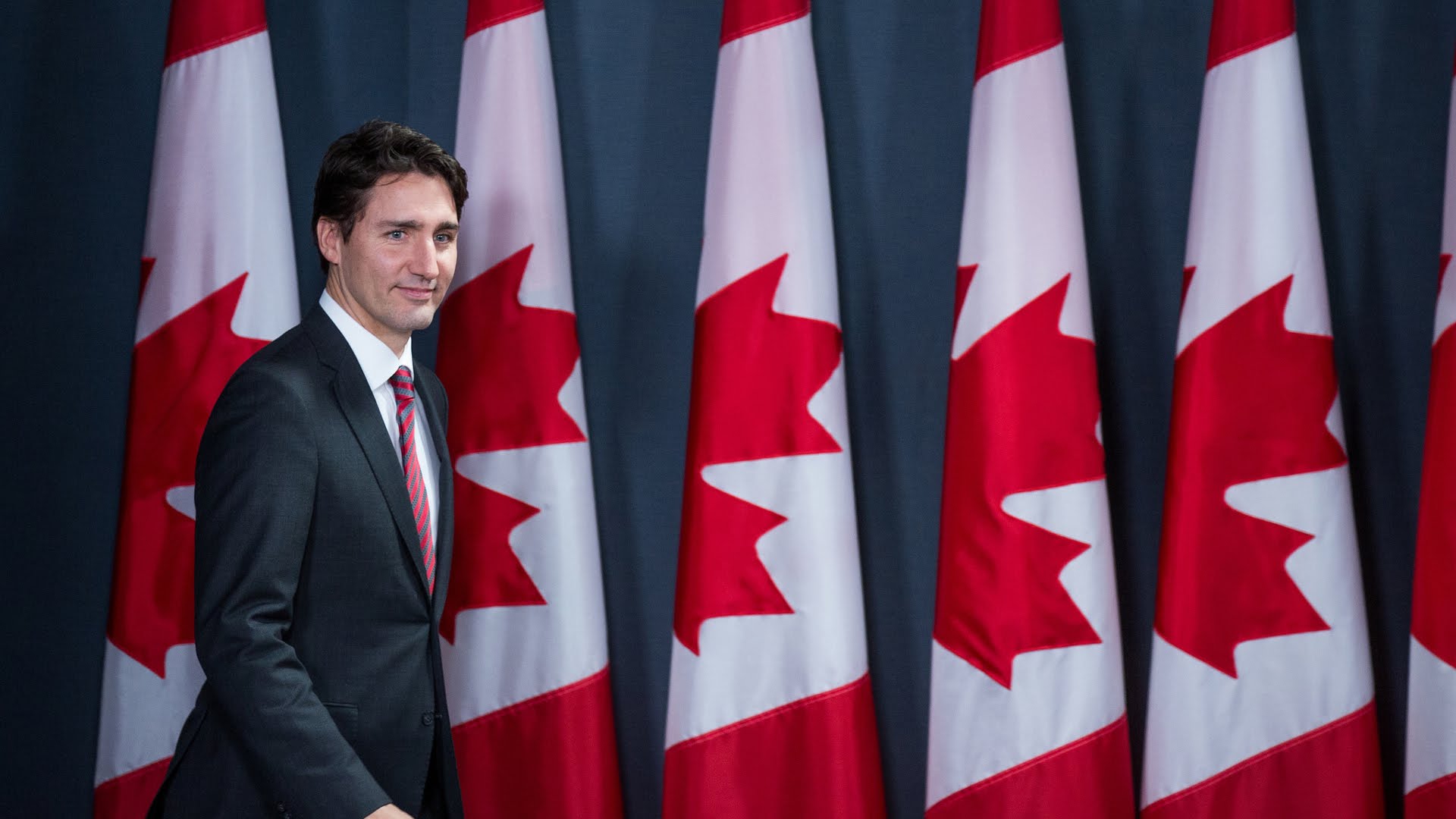 Justin Trudeau, Prime Minister of Canada. Photo: Screengrab from video. 
For many months, warnings signs have emerged indicating a dangerous shift in Canada's foreign policy vis-a-vis Russia. Last week, these predictions came true, when Canada's Foreign Minister, Stephane Dion, announced his intention to block passage of a law targeting Russian human-rights violators.
The proposed legislation, which seeks to freeze assets and ban visas of Russian human-rights violators, is modeled on the Magnitsky Act which was passed in 2012 by the US Congress. A similar sanctions list was later passed unanimously by the European Parliament.
Sergei Magnitsky was a lawyer for American-born businessman Bill Browder, head of a successful Moscow-based hedge fund, which corrupt Russian officials expropriated in 2005. In 2007, Magnitsky was arrested and subsequently died in prison after he accused Russian officials of large-scale corruption and tax revenue theft. Seriously ill, Magnitsky was denied medical treatment and, following severe beatings by prison guards, died while incarcerated.
The American version of the law prohibits entrance to the United States and usage of the US banking system by the individuals Washington deems responsible for the death of the Russian lawyer. Human rights activists in Russia view the Magnitsky law as a positive piece of legislation which protects its citizens against abuse of power by corrupt officials. The legislation is particularly relevant, since it would target Russian officials guilty of kidnapping, prosecuting, and incarcerating political prisoners, such as captured Ukrainian pilot Nadia Savchenko, filmmaker Oleg Sentsov, and many others.
Prior to Canada's October 2015 general election, all parties in the House of Commons had unanimously supported a motion advocating a Canadian version of the Magnitsky Act, put forth in Parliament by Canada's former justice minister, Irwin Cotler.
Despite the defeat of the ruling Conservatives, Canadians expected the Liberals to keep their pre-election commitment to enact the legislation. Last week, when Ukrainian-Canadian parliamentarians James Bezan, a Conservative MP, and Senator Raynell Andreychuk introduced a bill modeled on the Magnitsky Act, Canadians expected support from all parties.
But instead of upholding its election promise, after intense lobbying by Kremlin-backed proxy organizations, the Trudeau government announced it would refuse to support the bill. The move was immediately praised by "Sputnik," Moscow's propaganda news site.
The Liberal government's maneuver has not only distanced itself from the other parties in parliament, but has also caused a rift among Liberal Members of Parliament. Prominent Liberal politicians like former Ontario Premier Bob Rae and former justice minister Irwin Cotler have accused Dion of sending the wrong message to the world by tarnishing the government's commitment to uphold human rights. While Liberal MP Borys Wrzesnewskyj, Chair of the Canada-Ukraine Parliamentary Friendship Group, has endorsed the legislation, his parliamentary colleague, cabinet member Chrystia Freeland, has been silent on the matter. So the question remains: will the politician once dubbed the Ukrainian-Canadian community's "star candidate" chose to place her career interests over her convictions? Hopefully not.
In the aftermath of Russia's illegal annexation of Crimea and war intervention in eastern Ukraine, Stephen Harper's Conservative government had largely pursued a policy of isolating and sanctioning the Putin regime. By contrast, in a scathing editorial published this week in Canada's national newspaper, The Globe and Mail, Browder has called Foreign Minister Dion's new policy towards Russia a "deplorable appeasement of a dictatorial regime."
And why is the Trudeau government refusing to support this important piece of legislation? According to Canadian press reports, Mr. Dion fears that the passage of the law will antagonize Putin at a time when Ottawa is planning warmer relations with Moscow.
Dion's spokesmen have claimed that a new wave of sanctions would jeopardize renewed relations with the Kremlin and could hurt Canadian companies pursuing business ventures in Russia.
Certainly, these developments should not come as a surprise to the Ukrainian diaspora. Many Ukrainian-Canadians naively presumed that because there were MP's of Ukrainian origin in the Liberal caucus, they would automatically speak up and influence the new government.
The diaspora mistakenly believed that, even with the change of government, so long as there were Ukrainian-Canadians in the governing Liberal Party, they would ensure the continuation of the previous government's pro-Ukraine policies.
What they failed to realize is that the opinions of a few Ukrainian-Canadian MPs would carry little weight, if the new leadership of the governing Liberal Party was prepared to abandon a vision of international relations founded on core Canadian values.
Signs of a potentially troubling shift in Canadian foreign policy were already apparent in April of last year, when photographs emerged showing Canada's former Liberal Prime Minister, Jean Chretien, in a mysterious private meeting in Russia with Vladimir Putin. The April 30, 2015 tete-a-tete between Chretien and Putin took place at a residence of the Russian president in the Novo-Ogaryovo estate near Moscow. The images of Chretien drew comparisons to other Putin apologists, such as Silvio Berlusconi and Gerhard Schroeder.
At the time, Chretien's secret trip had caught the Conservative government by surprise, and Liberal MP's likewise knew little about the shadowy mission. But comments made later by Russian government officials should have been an indication of things to come.
Kirill Kalinin, Second Secretary at the Russian Embassy in Ottawa bragged that the meeting was warm and positive. In a TASS news agency report, Kremlin spokesman Dmitry Peskov was quoted as saying that Chretien and Putin "have friendly relations or relations of partnership."
In other words, long before the October 2015 federal election in Canada, Chretien was paving the way for the new government's policy of "re-engagement with Russia."
It should therefore come as no surprise to hear the new Canadian Foreign Minister, Stephane Dion, call the previous Prime Minister, Stephen Harper, "a dangerous ideologue." Dion does not view foreign policy through the prism of right versus wrong, of democracy vs. kleptocracy, of human rights protection versus foreign business deals. Canadian values would have to compete with the Kremlin's interests, no matter what the consequences.
What Dion has failed to realize, is that, at a time when authoritarian regimes such as that of Vladimir Putin, threaten civil society at home and international stability abroad, having a Canadian Prime Minister who is an ideologue bound by democratic convictions, is an asset rather than a detriment. Politicians who do not hesitate to stand by their principles, and are unafraid to sanction foreign leaders who violate international law, is the only peaceful way of holding authoritarian bullies to account.
Corrupt regimes, such as the increasingly belligerent rulers in the Kremlin, need weak western politicians who embrace the "politics of pragmatism and re-engagement" to get away with human rights abuses at home and expansionist ambitions abroad. The deeper our business entanglements in a corrupt Russia, the easier it will be for the Kremlin to erode human rights within Russia and obfuscate its threat to Ukraine, NATO and EU unity.
When Ukrainian NGO leaders ask Canadian government officials what practical consequences the politics of re-engagement with Russia will have, they refuse to provide details, opting instead to repeat what has become a standard mantra – "Canada will continue to support Ukraine."
But recent developments tell a different story. While Ottawa attempts to appease the Ukrainian diaspora with talk of free trade and Canada-Ukraine business forums, the Trudeau government is simultaneously exploring ways to facilitate Russian-backed business ventures. It is profoundly troubling that CERBA, the pro-Kremlin Canada Eurasia Russia Business Association, is being allowed to participate in a proposed aerospace trade mission to Ukraine from May 22-25. CERBA's Board of Directors includes Kremlin apologists such as Christopher Westdal and Piotr Dutkiewicz, who has publicly stated that the Russian military intervention in Ukraine's Crimea region "was not an invasion." Why has a business association whose members include representatives of joint ventures with Russian companies such as Rosneft, been invited by the Government of Canada in collaboration with Export Quebec and the Aerospace Industries Association of Canada to participate in a trade mission to Ukraine?
At a time when Russia continues to be an interventionist agent of instability in Ukraine, should the Canadian government be helping a pro-Kremlin NGO build partnerships with important players in the Ukrainian aerospace industry, such as Antonov, Motor Sich, and Yuzhmash?
While in opposition, the Liberal Party criticized the previous government for failing to add two individuals to the Canada's sanction list: Vladimir Yakunin, the powerful head of Russian Railways, and Igor Sechin, the head of Russia's state-owned energy company Rosneft.
Why is the Liberal government now dragging its feet? Is it because proxies for Rosneft, which owns about 30 percent of an Exxon Mobil Corp. oilfield in Alberta, have made lobbying inroads into the heart of the Canadian government?
And what about the Liberal Party's promise to sanction Vladimir Yakunin? Anti-corruption crusaders in Russia have named Yakunin and his partners as part of Putin's inner circle. Using a network of real and fictitious companies and offshore accounts, Russian Railways has acted like an organized crime syndicate, moving billions of dollars for oligarchic clans and government officials. So are Yakunin's close ties to Canadian transport manufacturer Bombardier the reason for the government's inaction? Bombardier was recently named in the Panama Papers in connection with billions of dollars in transactions involving major Russian railroad projects. According to Canadian press reports, Yakunin has himself described his close friendship with Bombardier CEO, Pierre Beaudoin, as resembling a "family" relationship.
Canadians need to know whether Beaudoin, who regularly lobbies the Office of the Prime Minister and Global Affairs Canada, has morphed into a facilitator of Russian interests.
As rumors fly that Bombardier is seeking millions of dollars of Canadian tax payer investment, it is essential that not just the Ukrainian community, but every Canadian take an interest in this story. The Ukrainian Canadian Congress, as well as every NGO, should demand that every Ukrainian-Canadian parliamentarians in the governing Liberal Party speak out, by insisting that Prime Minister Trudeau widen sanctions against Putin's inner circle, such as Yakunin and Sechin, and immediately reverse the government's position on the Magnitsky Act.
In fact, every parliamentarian should be polled and their position published for the public to know where they stand.
Likewise the Ukrainian diplomatic mission in Canada must not accept token platitudes of "support for Ukraine," when the political reality indicates a dangerous shift in foreign policy marked by a new willingness to appease and accommodate the Kremlin. Ukrainian diplomats must make it clear that rewarding an aggressor state with business deals, all the while ignoring its human rights record, flagrantly contradicts the notion of "support for Ukraine."
Moreover, Canada's small but outspoken Russian community must also take a public stand. It is important that Russian-Canadian activists echo the sentiments of the late Boris Nemtsov, who was an adamant supporter of the Magnitsky Act – arguing that such a law is beneficial to Russian society, because it protects the Russian people against abuse and corruption.
Canada has always occupied a respected place on the world stage. Now is not the time to deviate from a long history of principled positions. By blocking the Magnitsky law in the name of "re-engagement," we are in fact trading Canadian convictions for Russian business interests. By rewarding an authoritarian state and abandoning important legislation targeting those who engage in human rights abuses and corruption, the Canadian government will forsake the very values that all Canadians share – democracy, the rule of law, and basic human rights.
Lesia Shymko
holds a Master's Degree in Political Science from the
University of Toronto
. She is Chair of the
Canada-Ukraine Parliamentary Centre
and President of the
LUCW
, an affiliate member of the
International Council in Support of Ukraine
Related:
Tags: Canada, International, Magnitsky, PM of Canada, Russia-Canada relations, Ukraine-Canada relations, Useful idiots, Western appeasement