The referendum in my country rejecting the EU Association agreement with your country must have raised some bitter feelings with you about European double standards, and in the Netherlands in particular, on Ukraine's place in Europe and your genuine aspirations to share our basic human values of dignity, democracy and human rights. This was, I know, the message of millions of Ukrainians sent so powerfully during the Maidan revolution, where many Ukrainians paid the highest price for it to be heard.
Apparently, the Dutch were unable to hear it, blinded by their own misgivings with Brussels and blissfully content to vote in a consultative referendum that would have no direct consequences whatsoever for their own comfortable lives. The initiators even admitted before the vote unashamedly that this referendum had nothing to do with Ukraine. Incidentally, even their name "Geen Peil," which could be translated as "Clueless," betrays their ignorance and indifference to a large country in Europe, which is desperately trying to free itself from the shackles of the post-communist empire. The EU Association agreement is nothing more than a compass on your difficult transition ahead, where the efforts of the Ukrainian people, including to rid themselves from corruption, will make for you all the difference in the end. Which direction Ukraine may go doesn't seem to matter much to those compatriots of mine, who voted no. All that they seemed to relish in after the vote was beer and the "triumph" of Dutch democracy, which excluded 68% who did not bother to vote or, intentionally as I did, boycotted the vote.  
I sincerely hope that the rest of Europe will ignore this setback and give the Dutch government a hard time in finding their way out of the referendum mess. But to my friends in Ukraine, my advice is: please, don't feel discouraged for one moment and redouble your efforts on the road you have chosen for yourself. With time you will prove your critics wrong. But before that, don't hesitate to show your true feelings of disappointment at my compatriots, who let you down.  I wouldn't mind if you lightly sting us back by avoiding Dutch tulips this spring or preferring French cheeses for a while. To the Ukrainian government I also have a question: can you still entrust your financial interests in the hands of a government that failed to convince its citizens to support you?  I have in mind Ukraine's membership in the Dutch led constituency with the IMF and World Bank. As the first Dutch ambassador to newly independent Ukraine, I helped to promote this important connection between our two friendly countries, without a clue at the time that this friendship would be tested by this clueless referendum.  
Robert Serry
April 9, 2016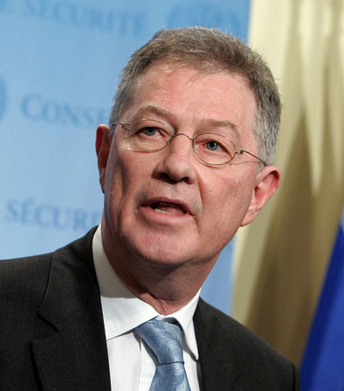 Robert H. Serry is a Dutch diplomat who served as the United Nations Special Coordinator for the Middle East Peace Process and the UN Secretary-General's Personal Representative to the Palestine Liberation Organization and the Palestinian Authority from 2007 to 2015. He was the first Dutch ambassador to independent Ukraine. Following his Ukrainian posting Serry wrote a book about his experiences as an ambassador there, titled Standplaats Kiev, available in the Dutch and Ukrainian languages.