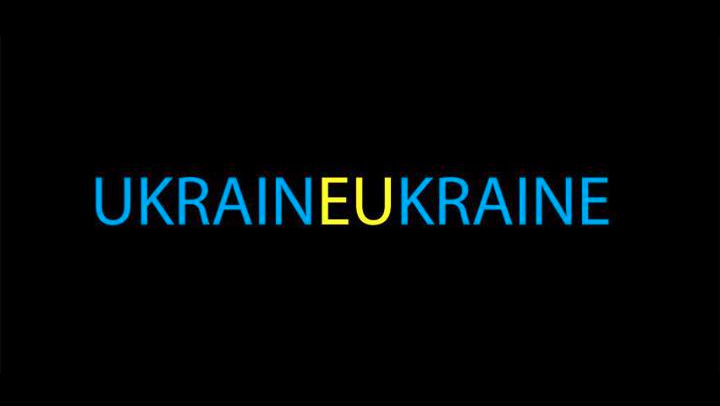 First of all, I did not read the whole text but only a brief summary of the treaty. And I do not have the illusion that I can oversee the international situation in all its complexity and that I understand it all.
I am not a politician and I speak only for myself, respecting people who have another opinion, such as quite a few loved ones around me. I've read a lot about the referendum, and talked much about it even here in Ukraine where I regularly work.
And I've been able to see the manipulation of media, points of view, information and images. We do not not only face a military war but the powers in charge are fighting hard about who is to to determine the image in my head and the heads of my fellow peple. That feels like war: there are hardly any restrictions in the kind of weapons one uses.
And ironically I am writing this post on the plane from Kyiv to Amsterdam. Literally hanging in between two countries that are dear to me.
There are many reasons to vote against the treaty. I'll mention a few of them.
Of course it is true that international companies, power politicians and banks in the Netherlands and Europe seize the opportunity to do "their thing." They do this with every country we work with when there is a situation of inequality: a corrupt government, poor infrastructure and/or a weak economy. We see that happen in Europe and beyond. It is ultimately a form of "looting" and they do it together with parties in the country that are often primarily focused on their own interests and not those of ordinary people. I therefore doubt whether the ordinary people in the Netherlands and Ukraine will get any economic benefit from this treaty. "What else is new?"
And Putin's Russia does not want Ukraine to be closer to Europe. So the treaty will make Putin angry and can evoke aggression. Understandably, we are afraid of further escalation and war. There is already a bitter war going on in Ukraine on the eastern border of Europe against Russian expansion and the Middle East is a battlefield of countries such as Russia, USA, Turkey and the Netherlands who all choose a different position. Civilians are killed and bombed massively towards Europe.
I dislike "demonization" of leaders, peoples, countries, and groups. Everyone has "butter on his head" and a responsible part in the situation. And in every person, nation or country I see good and bad, sick and healthy.
But I see all over the reinforced emergence of a certain kind of politics and politicians. They use fear and resentment and behave aggressive, expansionist and discriminatory. Examples include Le Pen, Geert Wilders, Erdogan, and Trump, but you see it almost everywhere: in Europe and beyond.
The responses of governments (as in the Netherlands, England and France) and Europe as a whole seem weak and motivated by self-interest and opportunism. They move to the right to neutrilize populists, and try to solve problems by pushing thema aside or into the future. Meanwhile, not only the Middle East falls apart, but we also see the desintegration of Russia. Europe seems to be held together by Germany and France alone. More oil on the waves looks unwise.
Of course, Ukraine is corrupt. And the Ukrainians had to fight it much earlier and faster themselves instead of pointing to others, such as Russia, Europe and America.
And especially for my friends Hoorn: paintings were stolen, according my Ukrainian friends, by a criminal gang in Eastern Ukraine and removed from there by another semi-criminal militia. Which was protected by someone "high person in the political hierarchy" like all criminal groups in Ukraine are. However: this story has been playing for several years. And the protector of the militia was one of the last, chased government. I mean, whatever is the truth: do not accuse too easy. Although one thing is certain: there is no stable rule of law in Ukraine As I know from my work in forensic psychiatry and the prison-system.
Related: Stolen paintings, the Netherlands and Ukraine
And my party, the Socialist Party strongly opposes the treaty, as you can read in the statements of our MP Harry van Bommel. Not easy for me to choose a different position on such an important issue.
I vote "yes" because in this "broken" and corrupt world I choose for the positive and restorative powers.
We are no better and more honest people than the Ukrainians. I do net have any illusions about the moral standards of the Netherlands and other Western countries. But we are a sovereign country for a long time and we are a wealthy, stable democracy. Ukraine always has been enslaved and suppressed. For them the fight for sovereignty and democracy is a powerful but relatively "new" goal to fight for. Peoples smothered by domination deserve my support. And I do not believe the polls about numbers of Ukrainians wanting to become part of Russia: a vast majority does not want that!
The events on Maidan (yesterday the two-year anniversary was celebrated) , were impressive and mark a historic moment and a movement which will probably need two generations to turn Ukraine into a healthy and mature country.
Many young people are heroically killed in that battle, and many still fight corruption today and battle for their future.
As I experience it, this is a powerful, sustainable development in Ukraine. I believe in it. Every day Ukrainians are killed in the fight against Russia. I have spoken with many young Ukrainians in recent years. They are intelligent and passionate and they are Western-oriented and belong to the generation of my children. They feel themselves citizens of the world, They deserve my support. Because I believe today you cannot say "own people first" and I believe in solidarity with everyone who is entitled to basic human rights and autonomy?
I work in projects that deal with human rights and I work together with government officials, the Ombudsman of the Parliament, NGOs and "ordinary people" working in psychiatry and prisons. And I work with colleagues from a country like Lithuania, which had a situation almost as bad as Ukraine 10-15 years ago. Lithuania since then has developed in an enormously positive way. My heart goes out to the forensic psychiatric patients in their pyjamas, incarcerated for decades without treatment and humane conditions. And detainees often arrested for possession or use of a small amount of soft drugs. And they are taken away from their families for years. Good people work hard to do something about their human rights. I observe a hard and difficult struggle between the "good" and "bad" in this country. The "good guys" deserve my support.
Related: Appeal of former political prisoner to the Dutch population: vote "yes"!
My vote "Yes" is not an economic vote, not a vote for immediate self-interest for anybody. It is a psychological vote, a vote for solidarity with the positive forces in Ukraine. People I compare with the resistance in the Netherlands during the Second World War. These people did not want to grow up their children under a fascist dictatorship and sacrificed their own safety for it. Many other Dutch people responded with fear and passivity or turned into traitors. A small group stood up against the occupiers. Today everyone wants to identify himself with them, and they are often seen as those who have fought for our current situation. People like them deserve my support.
And "last but not least": what happens when we vote "no"?
It will be a psychological kick in the back of the good forces in Ukraine. A blow, which could finally push them back into the arms of mighty Russia.
But also in the Baltic states, Georgia and many other countries, a "No" will be experienced as a sign that they stand alone against the Russian Bear. The fear in these countries smells different from ours. We are afraid to lose our comfortable prosperity and exceptional safety, but the countries in Eastern Europe remember still very well the lack of freedom, oppression and torture of a few decades ago. A situation which by now is again fully there in Russia itself.
A "No" will not only limit opportunities to trade, but also the chance to exchange knowledge and support the fight against corruption. It will end the joint defence of human rights. And Putin will get a strong wind in the back, which can be costly for us on the long run.
And what about ordinary Ukrainians? They will probably feel like a drowning man who sees us standing on the side with a lifebuoy.. And hears us yelling: "You do not deserve me getting wet clothes. You should had taken swimming lessons when you could!"
Related:
Ukraine-EU Association Agreement endangered by Dutch referendum
With Dutch referendum, Ukraine becomes a tool of populist politics
Dutch referendum blessing for Putin's "useful idiots"
Voting "no" in Dutch referendum means abandoning Eastern Ukraine
Russia wants to discredit Ukraine by Dutch referendum – president of Netherlands Business Club
Dutch business waits for easier cooperation with Ukraine – business club president
Frans Douw worked for forty years in forensic psychiatry and prisons. the last 30 years he was a director of prisons. Since 1995 he is involved in human rights projects in the juridical systems in Russia, Eastern Europe, the Carrabiien and the US. Since 2012 he is involved in projects in Ukraine with the Global Initiative on Psychiatry, the Council of Europe and AFEW. He was member of the city-council in Hoorn for the Socialistic Party and advisor of the parliament on Juridical issues. Follow him at 
fransdouw.wordpress.com
Tags: Association Agreement, Dutch, Op-ed, Referendum