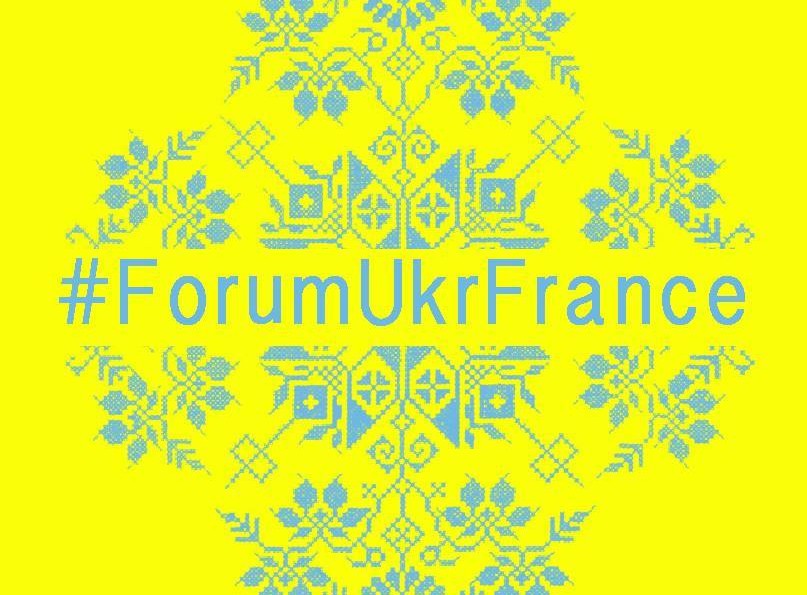 Promotional poster for the First Forum of French-Ukrainian initiatives by Alina Wolf 
On 23 January 2016, the first Forum of French-Ukrainian organizations took place in Paris, gathering nearly 40 associations and initiatives and some 400 participants, Ukrinform reported. According to Igor Reshetnyak, a Ukrainian activist in France, the Forum should become an annual event that would deepen connections between Ukrainians all over France. The Forum was opened by Ukrainian ambassador to France Oleh Shamshur and Head of the representative committee of the Ukrainian community in France Taras Horishniy.
The Forum took place in the Ukrainian cultural-information center in Paris, provided by the French embassy in Paris. "The Forum will allow to unite the Ukrainian community in France and channel ambitions into implementing specific projects, and also will allow Ukrainians a unique opportunity to showcase their traditions, culture, and cuisine, and also to understand each better and coordinate our mutual efforts into deepening the bilateral relations between the two countries," said Oleh Shamshur, the Ukrainian ambassador to France, as reported by Ukrinform.
The forum covered a broad scope, exploring opportunities for collaboration in the sphere of culture, education, art, humanitarian affairs, business, travel, civic activity and others.
The forum was attended by many French partners, according to Ukrinform. In particular, the president of the Joyeux Petits Souliers ("Merry little shoes") François Blanchet  spoke about the organization of the annual French tour of the Lviv children's dance school. "We support Ukrainian talents and each year organize a seven-week tour of children's dance groups in the French province." UNESCO is a partner of this event. Among other things, the association supports pediatric hospital in Lviv.
French documentary filmmaker Bertrand Normand came to the forum to talk about his own film project about Ukraine and Ukrainians. According to him, the film is 70% ready. Its characters are simple Ukrainians from Lviv, Kyiv, Odesa, and Donetsk (those that left the occupied territories). "Very soon I will conclude talks with French TV about the upcoming broadcast of the documentary," he said, adding that at the Forum he met several people who may become the new heroes of his film.
The French assistant deputy Jérôme Ragenard  and film producer Christophe Delord attended the forum to find new partners and participants for future a Ukrainian festival which will be financed by private European structures. "Ukraine is a unique country which is little known here in France. Through the festival we plan to open the eyes of the French to the potential of your country and its inhabitants. No politics, only the benefits of the mentality, strength of spirit, traditions, and history of your people," said Ragenard.
The Forum hosted a variety of cultural events – master classes of traditional Ukrainian jewelry, pysanky Easter eggs, and also heard the performances of the Ukrainian choir of St.Volodymyr and the Ukrainian singer of Georgian origin Nebo Nutsubidze, the finalist of the competition Voice of Ukraine-2015.
Tags: Archive, France, Help Ukraine, Stories