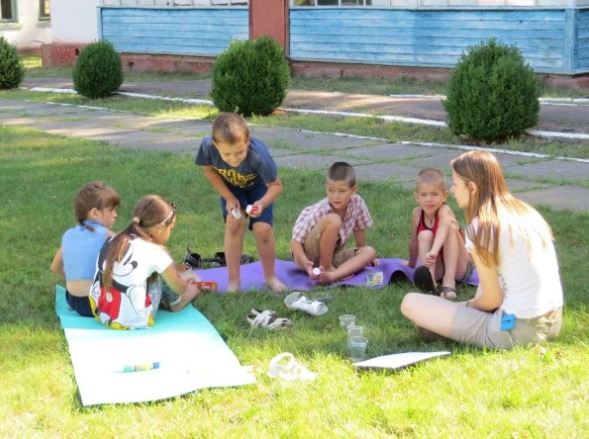 Displaced children at the camp that the UYA ran in 2015. Photo: UYA 
Volunteers from the Ukrainian Youth Association (UYA) are fundraising to send children displaced from Ukraine's Eastern regions to camp this summer.  These children have been displaced due to an ongoing incursion by Russia into Ukraine.
While UYA runs educational and recreational summer camps throughout the world for all ages, last year the organization initiated a new summer camp for a special group of children; those displaced by the war in eastern Ukraine. According to a recent UNICEF report, more that half a million children are currently being affected by the ongoing violence in Eastern Ukraine. This year, UYA is initiating a second camp for them.
"This charitable camp aims to offer displaced children in Ukraine the opportunity to meet new friends and leave behind the ravages of war, at least for a few weeks," UYA coordinator Natalia Anna told Euromaidan Press.
This year's camp will be based in Chervonohrad, Lviv Oblast, Ukraine, and will involve  volunteers from around the world. With a camp motto of  We are Ukraine, it will take place from  1st-12th of August, 2016. The organizers aim to double the number of participants, from 75 to 150 children and youth.  The Canadian executive of the UYA has pledged to cover costs for at least 20 to 25 of the 150 participants.  
The price of sending a child to a two-week camp is between $250-$300 CAD depending on the value of the Canadian dollar. This cost includes 3 meals and 2 snacks, travel costs for all campers to and from the camp, and any and all activities planned.
Last year, the participants took part in sporting, culture, recreational activities and day trips throughout the region. Trips included visits to museums and historic sites and a visit to the city of Chernihiv to explore and learn about its history (see below, all photos by YUA):
This year's summer camp aims to teach the participants about Ukrainian history through a cultural lens. Camp activities will include meeting with Ukrainian music icons, learning traditional songs and learning about Ukrainian Martial Arts from a Master along with excursions to Lviv, Ukraine's Cultural Capital and various historic sites and parks.
"I have been fundraising in some way, shape or form for over 10 years, and this is the first time that we have had issues with reaching our goal. People are becoming apathetic toward Ukraine and those suffering there. We very much appreciate any assistance in circulating this information,"  Natalia explains.  This is a personal endeavor for her, as many of her family and friends have been irreparably affected by this war.
You can find more information about the camp and donate at its Indiegogo site.