A recollection by Ukrainian military chaplain Fr. Andriy Zelinskyi from January 2015 gives a glimpse at Ukrainian Christmas at the front. One year later, little has changed: Ukraine's defenders are dying daily in the regular violations of the so-called ceasefire, taking three lives on New Year 2016 – 
Ruslan Yurchyshyn
, 
Sashko Koval
, 
Nazar Holyuk
.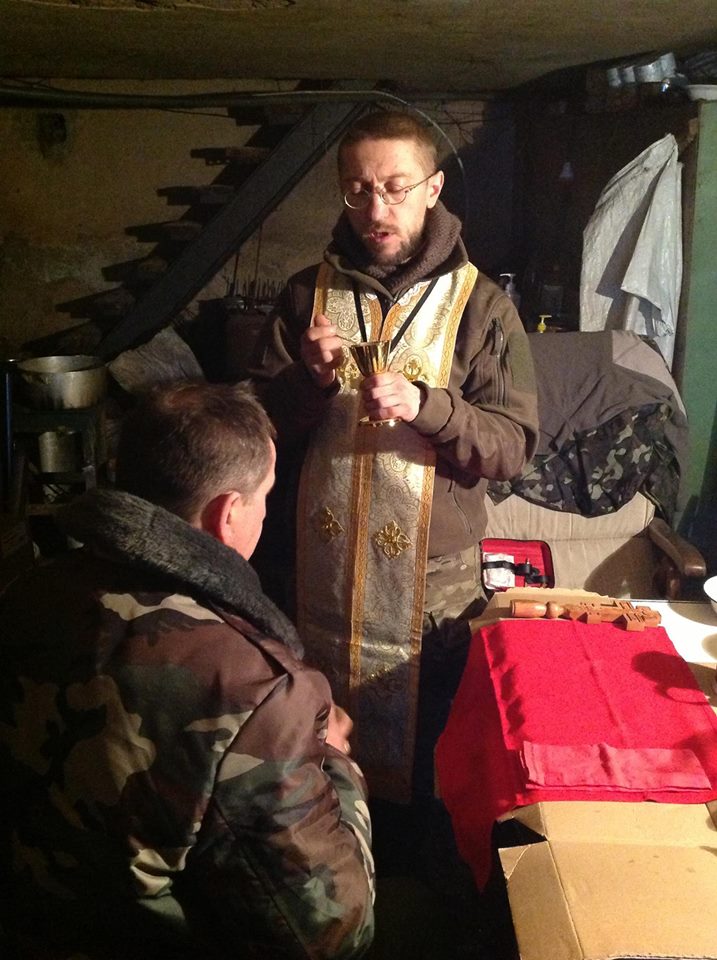 There was a time when I only knew such things by reading about them in books, or watching them in movies. I never imagined that I myself would become a participant in a small way of this profound mystery: hearing confessions in an attic, and all the while a constant sound could be heard, the menacing rumble of grenade launchers, fired one after another, and the steady volley of mortars; and distributing Holy Communion underground, littered everywhere with heaps of rubble and metal, the consequence of several months of resistance, underground in this cold, dark, cramped location; the road just to get here to celebrate Christmas had been exposed to the shellfire of Grads, which were travelling above me, heading toward the Donetsk airport.
None of this was in a movie; all of it was real: real bombardments, real missiles, real blood, as real as the courage and bravery of those who willingly have taken up weapons in defence of their very lives. I never would have imagined…. History has such a tendency to repeat itself.
On the morning of the day before Christmas, I was distributing the communion bread to those along our positions. The situation is simple: here it is safe to walk, there anything could happen – whether it be a sniper, or grenades, some from the enemy, ours in reply. Then suddenly, a volley of mortars begins directly in front of me, from one of our positions, which provokes a storm of return fire. It was a moment of intense personal stress, one's senses are overloaded, and it is impossible to find one's bearings, to understand from where is the shooting and to where you should run for cover!
It seems as if the sky itself is crashing down upon your head, and the open air around you has become fierce with fire and a mortal threat. I managed to duck down and squeeze through a gap in the outer concrete wall around the fence. There I was, hiding behind this fence, somewhere in a snow-covered field, wishing I were in one of those underground shelters where I have sought protection on the past when the really serious bombardments would begin.
This time, I was exposed to shells of every calibre, with just a brief pause between rounds , droning steadily above my head. Peace and quiet held such a sweet appeal for me in those micro-moments between volleys of fire!!! I was surprised at the experience of calm and absence of panic within me, on my knees in the snow, unable to stand up straight because of the danger, and not daring to lie down in full armored uniform. I began to pray… calmly, and spared of the chaotic racing of panicked thoughts, an unlikely and unnatural calm given the circumstance in which I found myself. I was simply conversing with my Creator… Uncertain perhaps of exactly what to pray for at that moment, vulnerable to being hit by a random bullet… My mind was steady with the repetition of the words to my favorite prayer: "Lord, I am yours…." For the rest of my life I will remember that freshly fallen snow, and those trees, snow like tinsel covering their branches, that silence and that quiet and peaceful communion with the Creator of the Universe, in a place suspended from time and space, witnessed only by that fresh now, those trees covered with snow like tinsel, and that tentative calm, callously riddled with every imaginable type of military grade insanity… The temptation now is to remain motionless, to stay still at a spot that has proven to be safe…. Love does not try to be a hero, but humbly, completely at peace, and even very naturally, raises one up to continue down that path which seems impossible to travel…
I desire to be a beacon of divine hope in the chaos of this fierce destruction. Not to be confused with being a dispenser of shallow psychological-ideological phrases like "everything must be alright," I want to be an authentic witness of true hope, born from the promise of Him who is love itself – a sincere and generous love, constant in faithfulness, revealed in the flesh and blood of human history, homeless in Bethlehem, crucified on Golgotha, who has risen from the dead and is eternally alive, who makes no pretensions against human freedom, creates no fog of delusion, a love "which is not self-seeking" (1 Corinthians 13:5), but rather from one who "humbled himself, taking on the nature of a slave," (Philippians 2:7), as a guarantee of always remaining authentic. In the ideology of warfare, the lure of the enduring conquers existence…
Christmas can be celebrated in various ways. It can even be celebrated with cold pickled tomatoes and stale bread for one's Christmas Eve meal when kutia and other dishes are unavailable, accompanied by the sounds of machine gun fire from tanks and the noise of artillery instead of Christmas carols. We had no stars here, but instead there were tracer shells with tails like comets, lighting up the surrounding area. There was constant clattering of everything everywhere. During the holy day of the birth of the Messiah, death was expanding its reach above our heads and all around us by the firing of bullets and mortars from out of the impenetrable darkness. When a human being goes mad, it's as if the entire universe hides in the darkness of night. The final frontier where darkness conducts its unwaning battle is in the heart of each individual… The human heart is the final fortress that must be defended from the enemy at all costs, our Bethlehem, where despite the darkness of despair, hopelessness, and fatigue, God himself is constantly looking to be born, to become a human being…
It is frightening to come back to the road that you have been on before and on which you have been under attack in the past. Part of the traumatic experience is the uncertainty of never knowing when or from where the next bombardment will be launched. However, it is often the case that there is no other choice… One cannot succumb to these very real fears, to be turned as it were into a pillar of salt before them, or to allow them to transform slowly within you into a violent hatred. To endure fear while retaining one's humanity means that we are called by that humble certainty of faithful love to pick ourselves up and keep on going. It is possible to look directly into the eyes of that repeated experience of danger, into the eyes of death. There is only one enduring path, and that is the way of sincere and generous love, faithful to the end!
Fear coerces us into hatred, forces us into despair and hopelessness, to distrust in and a hardening of our own sense of self-confidence, finally wrecking the entire construct of our individuality. We must never allow ourselves to become prisoners of our fears…
This story is part of our series "People of Ukraine," where we tell about "ordinary extraordinary" people of Ukraine who inspired us by their everyday miracles. For more stories, see our
photo album
.