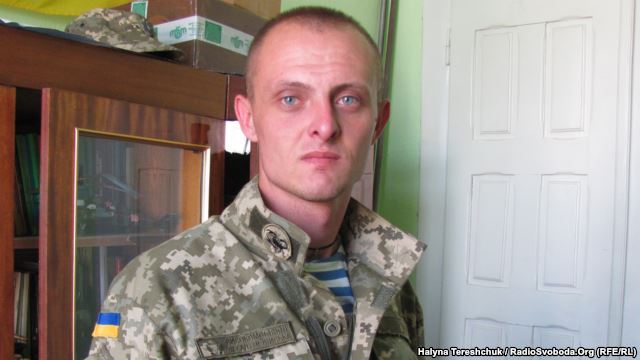 "They beat us with pipes, stools, and table legs. We were struck on the head, in the groin. They burnt our hands with a red-hot iron. But the worst was when they broke a prisoner completely."
Lviv – For 197 days Ukrainian paratrooper, Oleksandr Mashonkin from the 80th Lviv Airborne Brigade was held prisoner by a group of "DNR" terrorists. On August 6, three soldiers were exchanged. Oleksandr has been home for a few days, but he still cannot believe it. How did the Cyborg survive these six months? In what conditions were the prisoners held by the "separatists"? How was his spirit not broken under such conditions?
Oleksandr Mashonkin tries to sleep, but sleep is not at all peaceful. He tries to get used to the idea that he is finally home, but it is difficult. He tries not to think of his experiences, but it is impossible as speaking about it certain words calls forth memories… and the horrors that he lived through.
"I'm not used to getting out of bed normally. I still thing I'm lying on some kind of shelf. It will take some time…. I open my eyes and see that I'm home." he says.
On January 21, Oleksandr Mashonkin was captured by a group of so-called "DNR" militants. He had been defending Donetsk Airport for two weeks. During the battle, concrete slabs fell and covered him completely. His helmet and armored vest saved him from severe injury. He recalls that at that moment a thought flashed through his head – Better to end it all now…. "I lay under all that rubble and such thoughts kept running through my head. No one could get to me and I couldn't move. I lay there, trapped for ten hours – I couldn't move my head, body and arms. Finally I managed to crawl out miraculously. I don't know how, but I did it." recalls the Cyborg.
"They pressed a red-hot iron onto my hands…"
Oleksandr was taken prisoner along with fourteen other soldiers. His ribs were broken; the other fighters, too, were in serious condition. They drove quite a distance in an Ural vehicle, were taken first to see Givi, the commander of a militant unit. "When we arrived before Givi, we were given fruit juice. They wanted to show us how nice they were. After that we drank water from the tap."
Then the Ukrainian POWs were taken to the leader of the "DNR", Oleksandr Zakharchenko. The seriously wounded soldiers were taken away by ambulance. "We were made to kneel… they asked us who is who. They took away our badges."
Then the violence began… the Ukrainian prisoners were escorted to a basement room, where a military division under Motorola was stationed. Oleksandr recalls that the prisoners were beaten and tortured from eleven to twenty hours.
"They brought in a few of our men, beat them and took them away. They brought in a few more, and then more. It lasted the whole day. They hit us with anything and everything – pipes, stools, and table legs. They beat us all over – on the head, over all parts of the body, in the groin. They took a red-hot iron and held it to our hands until the skin sizzled. But I didn't really feel the pain. The worst was when they actually completed breaking a man's spirit. They didn't let you fall to the ground; if you fell, they beat you even more. Motorola arrived in the evening and chased them all away." says the Cyborg ".
After ten full days of torture and cruelty, the Ukrainian Cyborgs were transferred to a basement in the former SBU office in Donetsk. They were treated for heavy fractures in the medical ward. The boys were placed in an old archive room where they shared six-tiered metal shelves.
"They gave us some other clothes as our uniforms were completely scorched. We were handed just about anything. One fellow got a woman's coat, another something else… thank goodness they didn't distribute skirts." says the young man. "We stayed in that basement with no windows for a week or two. We were fed twice a day – kasha or soup. Then we were transferred to a common cell where other prisoners were being detained."
"We were used as slaves…"
44 soldiers of the Ukrainian Armed Forces and civilians were lodged in this cell. They were all under a lot of psychological and physical stress; beatings and torture were inflicted on and off.
"When they beat us, they demanded that we join their ranks. But, they just wanted to have fun, they really wanted to break our spirit, it was a kind of moral pressure. We saw Russian mercenaries and Chechens, who were the most brutal, and people from Donetsk. We also had informers ("shestiorky") among us in the cell. As soon as we caught on, we were quiet and didn't say anything. Investigators promised the informers that they could earn points and be released sooner. Several men earned them and got away." continues Oleksandr "The terrorist gunmen told us that we'd been brainwashed and that we were fighting against our own people. But, we knew we had a different goal. We were not fighting against the people from Donetsk. We went to fight because Ukraine's sovereignty had been violated. It's impossible to prove this to these guys. I understand that they're completely brainwashed. They say that the Ukrainian radio lies, and theirs tells only the truth. They don't build or plan anything in the Donbas and continue to believe that their country will remain within our country. They want to be in Russia and Ukraine, others want an independent state. Each person wants something else…."
"We were forced to work every day – cleaning the city, the military headquarters. They called us slaves from Ukraine. Before the arrival of journalists, they tried not to beat us so that no bruises were visible. When the journalists asked me how I felt about the Ukrainian authorities abandoning us, I replied that I couldn't say anything as it had been quite a while since I had access to information."
The prisoners were allowed to listen to the radio in the former SBU cell, but Ukrainian stations were often jammed. After about a month of captivity, some volunteers brought clothing, books, water, medicines, and handed out parcels from home, but not everything arrived. Oleksandr was able to call his wife and parents. The investigators allowed the prisoners to call home. The phone was in the basement and several men per day could speak with their relatives.
Some months after January 21, a few Ukrainian servicemen were exchanged. Oleksandr Mashonkin refused to be released in favor of another soldier who was much younger and in serious condition. He does not regret this, and had to wait five months for his release. "What kept me going? I'd simply promised my family that I would be back. I knew that no one would forget about me."
"Separ" in a cassock
Faith also kept the men going. Among the prisoners, there was a Ukrainian priest, a military chaplain. The soldiers made a small chapel in the cell – they pasted icons on the walls, put an embroidered cloth, a cross and candles on the table.
"We gathered together and prayed; it became easier for the soul. There was one time when we were in Motorola's office, we were being beaten, and a priest came in with a cross. I think he belonged to the Moscow Patriarchate. He beat us over the head with his cross, perhaps thinking that our sins would be absolved and saying that we were not humans. A priest in a cassock with a cross … He broke this wooden cross on a prisoner's head, then returned with a metal cross and continued beating us. I've only seen such priests in horror films. I then understood that he was not a priest but a "separ" in a cassock. Everything became more peaceful. I felt God's presence and His support."
The first thing that Sergeant Oleksandr Mashonkin wants to do is go to confession. "A lot is weighing on my soul. But, each person will be rewarded on merit. There will come a time. Life will be better… ".
How will this happen? Oleksandr has no idea. A year ago, on August 13, he was mobilized in Busk, Lviv region, left his family and job, aware of one thing only: "Young 18-to-20-year old guys were being called up to serve in the army; many were sent to the combat zone. What was I supposed to do? Just sit home and watch as they died?"
Oleksandr came home from the Donbas with severe contusions, 197 days of captivity, beatings, torture, hard labor, humiliation, and a nightmare experience. He remembers when the terrorist groups took him and other prisoners to Donetsk Airport, where the Cyborg had to pull the remains of his fellow countrymen from under the rubble. He will undergo treatment in the hospital for constant headaches and fractured ribs. And… he has to learn to live after all that he has gone through…
Oleksandr will also have to face all sorts of bureaucratic obstacles to get demobilized and receive status as an ATO veteran. It will be a psychologically painstaking process. But, Oleksandr's spirit has not been broken by his many months of captivity, and he is confident that he will overcome these difficulties, because, as he says: "I have always had, have and will have my own opinion. No one can convince me that black is white… that didn't work for them and it won't work in the future. Many guys are still in Donetsk. I got out, but they didn't."
For Oleksandr Mashonkin, the most important thing is for another prisoner exchange to take place as soon as possible so that his friends can finally return home.
Tags: DNR ("Donetsk People's Republic"), Donbas war (2014-present), Russian mercenaries, Russian military crimes, Torture, Treatment of Ukrainian prisoners, Ukrainian prisoners of war (POWs), unbroken