A month ago on 27 December 2017, 73 Ukrainian hostages were released from captivity in the occupied Donbas. Men and women, military persons and civilians, Donbas residents and inhabitants of other Ukrainian regions were among them. Some of the former prisoners are still undergoing treatment, others are getting back to normal life and try to look for work and accommodation. In interviews with the Ukrainian media outlets, they uncover chilling details of their illegal imprisonments. Here are a few stories told by the released Ukrainians.
Read the prisoner swap story: Largest prisoner swap in Donbas: 73 Ukrainians released from captivity of Russian-run "republics"
Three years behind bars in his occupied hometown
Yenhen Chudnetsov, a resident of occupied Makiivka and a volunteer of Ukraine's Azov battalion, was captured in February 2015 amid the battle for Shyrokyne, a small resort village on the Azov Sea coast near Mariupol. Shortly after, two videos emerged in which he had a black eye and claimed that he had voluntarily surrendered to the "DNR militia," was not willing to be swapped, and voiced typical Russian anti-Ukrainian narratives for the Russian media outlets.
Now Mr.Chudnetsov told Ukrainian media how the captors forced him into making such confessions:
"You can see there that I had my teeth knocked out. But their beatings isn't the worst thing. There are other means of influence which are impossible to refuse. Everyone has his own ones – someone has relatives, others have something else." He recalls, "They 'prepared' me well so I would tell what they needed. […]they said 'We'll now bring your mother piece by piece, nothing personal, you've got your job, we have ours'"
Chudnetsov explained, "Watch closely and compare [the videos of me] to the videos of our [other] captives. You'll notice it at once – we all voiced the same phrases, 'soldiers desire to overthrow [President] Poroshenko,' 'foreign mercenaries,' 'American weapons.' I was told before the press conference what and how I should reply."
In his interview with BBC, Yevhen explained how he lost his teeth, "With nippers. They didn't pull them one by one, they just gave a blow with nippers and the teeth fell out. Then another character comes and tells them: 'What are you doing? We were told to deliver him intact.'"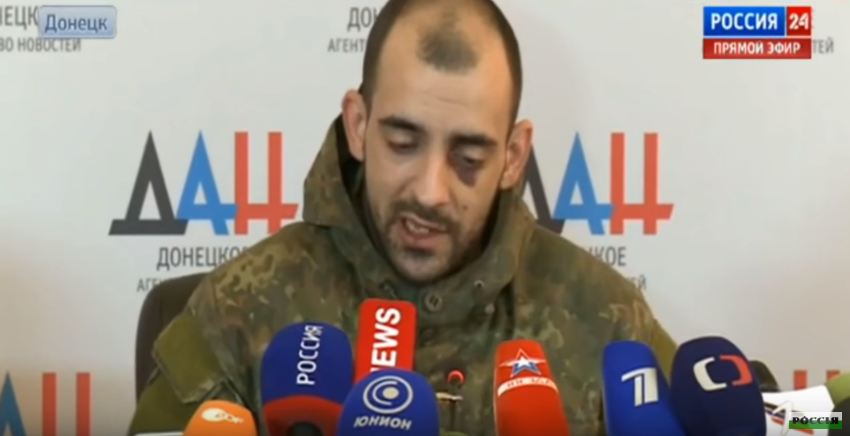 "I had much better conditions than others, since I was broadcast on TV early on," told Mr.Chudnetsov. "I did incur different things – a battering, a damaged ear, broken ribs. But I think those are little things…[…] Later, the conditions became more or less normal. The beatings stopped, they could give a blow to the ribs, and that's all."
While he was in captivity, Chudnetsov lost 14kg, his mother and grandmother died. His younger brother and sister still live in the occupied territory. Nevertheless, Yevhen plans to resolve his health issues and return to his military unit.
FC Zorya ultras found new jobs in Kyiv
Vladislav Ovcharenko and Artem Akhmerov, fans of the football club Zorya Luhansk, were arrested in the fall of 2016 for the pro-Ukrainian photographs they took in occupied Luhansk, their hometown.
Read also: Russian proxy "republic" sentences two pro-Ukrainian football fans to 13 & 17 years
Back in 2016, a few videos were published by the Luhansk occupation authorities featuring Zorya fans "confessing" of working for the Ukrainian special services.
Vladislav Ovcharenko explained how such videos were made:
"They brought us from the basement up to the room, locked up the door, and guys in balaclavas with assault rifles came. They give us two sheets, [told us] 'Read and learn' and gave us the stickers we had posted all around – the Azov, nationalist, ultras' ones… 'Learn the texts, in ten minutes we'll record it and you go back [to the basement]. If you don't want to, we'll force you'."
Torture was used to force the hostages to make fake confessions about themselves. Mr.Ovcharenko told:"After the MGB [security service in both Russian-run 'republics' – YZ] captivity, my eyesight was significantly impaired. The brain concussions reminded of themselves. I had two. One time, a chair was broken on my head."
"The hardest part was when they brought my parents, my girlfriend to those MGB guys. You know, it's possible to bear any physical harm, but you can be broken psychologically," Vladislav admitted.
Now Vladislav Ovcharenko and Artem Akhmerov are employed by the Football Federation of Ukraine. The Federation's President Andrii Pavelko has offered them jobs.
"Artillery spotter"
30-year-old civilian Ihor Yakovenko, whose son and wife still remain in occupied Debaltseve, was captured on 9 August 2015 in the occupied city of Horlivka as an "artillery spotter." Mr.Yakovenko told:
"They tortured me with electricity and pressured me psychologically, up to promising to send bullets through my hands and legs… They created a fait accompli, 'Either you tell us something, or we'll cut your throat, cut your head off.'"
Ihor Yakovenko was held hostage more than two years until he was released in December 2017.
Hoping to return
47-year-old Luhansk local Eduard Nedeliaiev was arrested by the "LNR" special services in late 2016 on suspicion of spying and later sentenced by a kangaroo court to 14 years in prison. After his release, he told about the torture methods used in the MGB:
"Mainly, they beat with fists, rubber truncheons, torture with electricity. There's a device generating electricity. They connect one contact to the handcuffs, another to ears or genitals, and begin rotating it to electrocute. They threatened me with it but, thank God, it didn't come to that. They inject psychotropic substances, I didn't remember the names [of the drugs]. A kind of truth serum. If someone doesn't tell something a long time, they can make an injection to break his will." 
Mr.Nedeliaiev has lost his home and an electronics workshop in Luhansk, but not his optimism, unlike many internally displaced persons:
"I'm sure that I will return there; the only question is – when? I know that Ukraine will be there again. I'm sure, but when is the only thing I don't know. It may happen this spring or next. But I think it won't stretch out for a very long time. I feel certain of that," tells Nedeliaiev.
One more hostage free
After President Poroshenko had pardoned a woman who earlier killed two national guards with a grenade and lost her limbs and she reached the occupied territory, Donetsk's occupation authorities handed over another Ukrainian serviceman, Roman Savkov. The soldier of Ukraine's 92nd brigade was captured last year near the Ukraine-controlled town of Krasnohorivka in a battle when he was wounded and three of his comrades-in-arms were killed. Roman's diabetes exacerbated in captivity because of stresses and lack of medic care in a prison in Makiivka, a Donetsk suburb city, where Ukrainian captives are illegally held.
The second stage of all-by-all swap
Volodymyr Zhemchuhov, a Ukrainian hostage released in 2016 who addresses the issues of prisoner exchanges, wrote "29/74 exchange" on his Facebook page on 1 February, implying that 29 Ukrainian hostages are to be released by the self-proclaimed "republics" in Dnbas in exchange for 74 separatists. Unfortunately, no additional information on the swap date has been published or voiced by him or by the Ukrainian representatives in the Trilateral Contact Group for settlement in Ukraine, which negotiates swaps.
---
Read more: