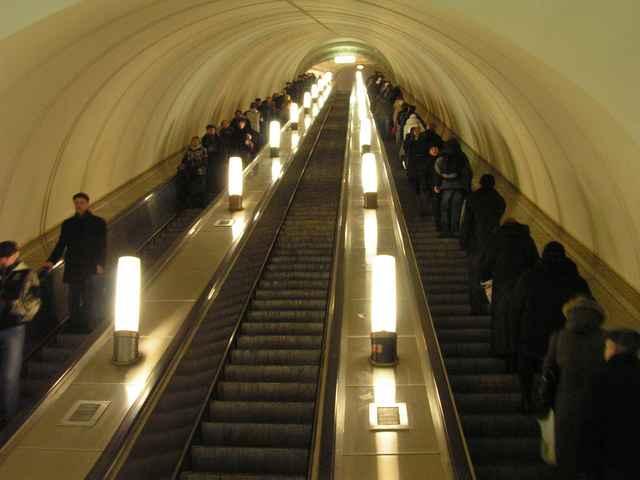 Ukraine will end 2015 with its worst ever rate of economic growth. Vladimir Putin might be feeling triumphant. No wonder he tirelessly "poured gasoline" on Ukraine, annexed Crimea, and started slaughtering people on Donbas. Now everyone can see for themselves what Maidan must really mean. If you go out to protest, then your territory will be taken away, you'll see war, your national currency will fall. But where there are no protests, life is just fine for the docile and responsible…
Only now life for the docile and responsible is no better than that of the troublemakers. In the rankings of economic declines, Russia is right down there with Ukraine.
Both countries have almost the same decline in GDP: Ukraine – 4 percent as compared with the fourth quarter of last year. In Russia it's 3.5 percent. And this despite the fact that Ukraine has lost territory, while Russia has acquired territory. This despite the fact that there is a war in Ukraine, while in Russia there is peace. This despite the fact that Ukraine has no energy to export, while Russia has both oil and gas. Nevertheless, the Russian economy is going to hell in a handbasket!
You say it's because of the sanctions? Don't make my Iskander missiles laugh! You said yourself that sanctions have not had a serious impact on the economy, and indeed – they hardly touched the gas sector, and oil is still being bought. You say, it's because of the fall in oil prices? But at the same time you increased sales of oil. And still it is unclear why the decrease in Russia's economy is equal to that of Ukraine, which has no oil sales whatsoever. It is strange, isn't it?
I will happily explain everything to you. The fact is that Ukraine prior to its "revolution of dignity" was run by stupid greedy thieves who never for a moment thought about the future. These thieves plundered and destroyed the country.
Ukraine isn't exactly run by angels today, but these less-than-angels are now forced to listen to the recommendations of international financial organizations and pay attention to the mood of the population.
This is precisely why, even during war, a fallen national currency, and a rather sluggish pace of reform, Ukraine's GDP has only declined 4 percent.
But in Russia, GDP decline is a close 3.5%. In Russia there should not have been such a decline. There are no objective reasons for it. There are of course plenty of subjective reasons. Russia continues to be run by stupid greedy thieves, very similar to those of Ukraine's recent past. By the way, Ukraine's thieves also moved on to Russia, but fortunately for the Russians, they don't run anything any longer, they just give interviews. About how they love ostriches. But for the final robbery and destruction of the Russian economy, Russia has enough of its own thieves.
If it is true that even the chairman of Russia's Investigative Committee, the high and mighty Bastrykin, is appointed on the recommendation of crime bosses, you can appreciate the full extent of the gangster occupation of the country. This is no exaggeration. It is even an understatement of the problem. Because it turns out that when a Bastrykin fights with the Tsapkys [a notorious Russian gang — Ed.], this is not a war between the state and the gang, but a war between the big gang and the little one. All of Russia is such an enormous colony of thieves legally inside the Kremlin and the White House [in Russia it houses the State Duma, the Russian parliament — Ed.], the master gangsters in the FSB and the State Duma, and their servants – the television propagandists. And you say – 3.5 percent!
What will happen next? The same thing of course, don't doubt it. It's like the movement of the escalator. If you are on the stairway that leads downward – you will undoubtedly reach the subterranean depths. And vice versa – if you decide to go up to the surface, as you exit, you can take a deep breath. Yes, you may encounter rain or catch a cold, but still you'll be on earth, not in your grave.
As paradoxical as it may sound, despite its 4 percent decline, Ukraine's GDP is rising. It is rising–despite the war, the populist politicians, the sabotaging officials, the still paternalistic society, the lack of a professional approach to reform. It is rising, despite resistance at every step. However awkwardly, it continues to climb, even as it sputters, resentful, cursing, swearing at the president and the government, wondering why a miracle hasn't happened and why the West won't help.
Yet Russia is majestically going down – despite the oil, gas and other resources bestowed by providence. Despite peacetime and the absence of any external threats – the threats exist only in the feverish imagination of those going down. Russia's economy goes down without even trying to change anything, because of unfulfilled hopes and heroic Vladimir Vladimirovich and the stupid thieving Caudle he's surrounded by, cursing a monstrous Obama and an unfaithful Merkel.
We have just fixed in time the moment when two neighboring countries wound up meeting at the same level – 4 and 3.5 percent declines. But the directions in which they are moving are different. It's like on the subway. Here we are, riding escalators going in opposite directions, and it turns out, we are right across from one another. Let us look each other in the eye for the last time – only please put away your assault rifle and turn off your TV. That's not how to say goodbye. And don't say "until we meet again." We will never meet again.