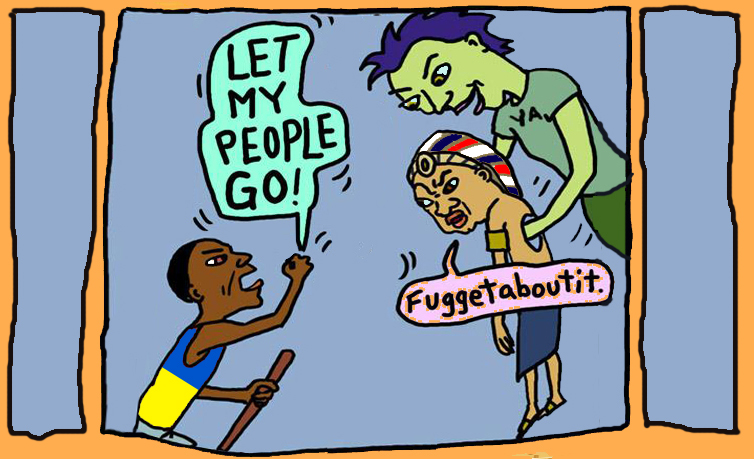 Image mixed based on comic from haggadot.com 
Important! Contest extended till 16 August 2014.
EuromaidanSOS and EuromaidanPress announce a contest for the lyrics to the melody of the song "Let my people go" in support of the #LetMyPeopleGo campaign to free Ukrainian political prisoners illegally jailed in Russia.
The American Negro spiritual Let My People Go, made famous by such prominent musicians of the 20th century as Paul Robeson and Louis Armstrong, became the slogan of the campaign to free the Ukrainians kidnapped, illegally imprisoned, and tortured in the land of Russia ruled by a despotic Pharaoh. We are looking for a poet that could capture all the absurdity of "justice" of Putin's Russia, in a remake of the lyrics to the melody of Let My People Go in order to create a song that will be be a call to freedom for not only the Ukrainian prisoners, but all political prisoners held in Russian dungeons (at least 181, according to the Human rights initiative for the former USSR). The absurdity of Nadiya Savchenko's imprisonment is already being highlighted in a Star Wars parody.
We are proud to announce that the sponsor for this contest is Fuck u Putin, a verified way to help the Army. The author of the winning lyrics will receive a Fuck U Putin Tshirt, mug, and five Fuck U Putin bracelets.
The deadline for submissions is 23:59 EET (Kyiv time) on Saturday, 16 August 2015. The winning entry will be determined by the results of an online vote and rating of experts. Please send your entries to the address [email protected] with the title "Rhyme for freedom." Submissions are accepted in Ukrainian and English.

The original lyrics:
1. When Israel was in Egypt's land, Let My people go! Oppressed so hard they could not stand, Let My people go!

Refrain:
Go down, Moses,
Way down in Egypt's land;
Tell old Pharaoh
To let My people go!

2. No more shall they in bondage toil, Let My people go! Let them come out with Egypt's spoil, Let My people go!


3. Oh, let us all from bondage flee, Let My people go! And let us all in Christ be free, Let My people go!

4. You need not always weep and mourn, Let My people go! And wear these slav'ry chains forlorn, Let My people go!

5. Your foes shall not before you stand, Let My people go! And you'll possess fair Canaan's land, Let My people go!
Resources:
Tags: #FreeSavchenko, #LetMyPeopleGo, Act!, Archive, Help Ukraine, Political prisoners, Russia