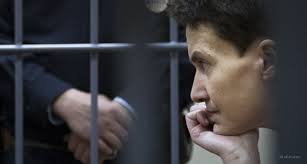 In a letter that she wrote her lawyers on March 16, Nadiya Savchenko stated that she has resumed her hunger strike. "I, a citizen of Ukraine, Nadiya Savchenko, illegally kidnapped and illegally transported from Ukraine to Russia, illegally imprisoned in Russia's prisons, refuse food and declare an indefinite hunger strike due to the Russian Investigative Committee's actions against me that violate international law and the Russian authorities' inaction to these violations. I have made this decision personally and without physical or moral pressure. I have no intentions to change it."
Nadiya Savchenko had declared a hunger strike on 13 December 2014 and had held it for 83 days after which she took a pause for 10 days, from March 5 to 15, following numerous requests from politicians and the public. Having examined Ms.Savchenko, Ukrainian doctors had found no irreversible changes but warned against resuming the strike. In her letter to the public where she stated that she will temporarily drink broth to regain her strength, she explained: "I will fight!  Together with you! And at your request, in gratitude for your support and for your sake, I will remain alive.  In order to have the chance to thank you."
On 16 March 2015, Nadiya asked her lawyers to make public another letter, in which she says that this time the strike is "to the bitter end." A translation of the letter is below:
"My dear, good people. Ukrainians.
I couldn't not show you that I hear you. and that I hear your requests for me to start eating. How else will you believe me in the future that your thoughts are important to me?
I also showed you that I had enough wisdom and patience to compromise, and that compromise is a two-way street.
I respected the decision of the European Court of Human Rights and listened to its advice to end my hunger strike and not harm my health.
But now, please, you must listen to me.
It is not me who is harming my health in a Russian dungeon. It is those butchers who dishonestly and illegally kidnapped and imprisoned me. Yes, it's a shame, but the European Court of Human Rights cannot defend me in Russia.
I'm not an uncompromising person, but bargaining with conscience and truth is something I cannot and will not do! I am very surprised that compromises between Ukraine and Russia are still even possible, but for me there can be no compromises with the legal system of the Russian Federation! After all, there can be no trade-offs between honor and dishonor!
I suspended my hunger strike for 10 days, from the 5th to the 15th of March, to show good people that I respect and value your opinion! But I cannot do this any longer, because I simply wouldn't be able to respect myself. Starting March 16 I will renew my hunger strike and continue until the day I am returned to Ukraine, or until the last day of my life in Russia! To the end! To the bitter end!!!
I will live! In Ukraine, heroes do not die!!!
I will be free! After all, slaves aren't allowed into heaven! One way or another, the Kremlin will return me to my homeland – Ukraine! Even if it returns me as "cargo-200" [military speak for KIA soldiers] tied with a ribbon and a bow as a gift for my birthday May 11, 2015!
The Russian authorities may be so afraid of losing face that they don't have enough sense and courage to honestly admit their mistake, but I will never lose my human face!
Instead of honestly admitting that Russia's Investigative Committee made a blunder and stole me and a hundred other Ukrainians and threw us in jail, they have discredited themselves as an investigative body with their malicious criminal acts. And instead of punishing them according to the law, the Russian government indulges their deeds, showing the whole world that there is no law in Russia!
Even the most dim-witted Russian politician cannot not understand that my death in Russia will be just one of the reasons, but still a reason for World War III! The world community can no longer allow Russia to flout international law – annexing Crimea, war in Donbas, kidnapping and murdering free citizens of other countries! Everyone understands that Russia brought disaster upon Ukraine, and tomorrow disaster will come back to their own home!
Therefore, if the Russians do not want war, then they will have to decide to summon up the courage to stop their bloodthirsty government!
03/16/2015
Nadiya Savchenko"
Nadiya Savchenko, a 33-year old Ukrainian soldier, deputy of the Ukrainian parliament and member of Ukraine's delegation to PACE, has been imprisoned in Russia on charges of killing two journalists of Russia's TV channel "Rossiya-1" and a purported illegal crossing of the border. However, Nadiya's lawyer Mark Feygin has stated that Nadiya's defense has a video filmed by a Russian which confirms that Nadiya Savchenko was kidnapped before the two journalists had died.
High Representative for Foreign Affairs and Security Policy Federica Mogherini had called to release Nadiya Savchenko, Oleg Sentsov, and other Ukrainian prisoners illegally held in Russia.
Tags: #FreeSavchenko, #LetMyPeopleGo, News, Political prisoners, Russia, Savchenko