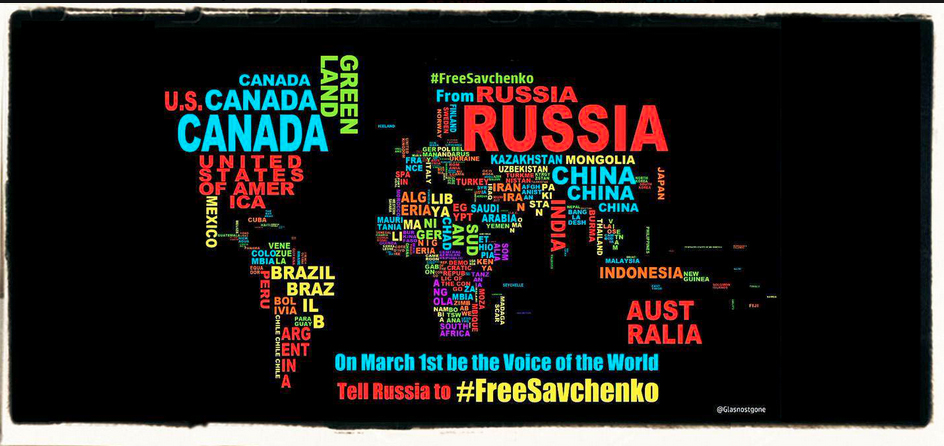 On 1 March, tweet #FreeSavchenko. Ready clickable tweets here:
On 1 March 2015, it will be 79 days of Nadiya Savchenko's hunger strike. The Ukrainian pilot  was captured on Ukrainian territory on 18 June 2014, kidnapped to Moscow, and imprisoned ever since. The accusations against her have undergone a bizarre evolution; her defense has refuted all of them. Deciding to fight in the only way available to her, through hunger strike, Nadiya has stood up to Putin in his invasion of Ukraine. On 26 January 2015, following a mass #FreeSavchenko campaign, PACE demanded to release Nadiya Savchenko. However, the Russian delegation answered by suspending its membership in PACE. Russian officials have refused to free Savchenko under the provisions of the Second Minsk peace agreement to release prisoners. Nadiya will not stop her hunger strike:
Until the day I return to Ukraine, or until the last day of my life in Russia! And I will not back down, otherwise what value would my words have?!
On March 1, the day of a large spring march of the Russian opposition, activists around the world will demand Putin to #FreeSavchenko. Join them in fighting for Nadiya's freedom. On 26 January 2015, 54 cities came out to urge for her release. On 1 March 2015, it is planned that 31 cities will come out:
 More things you can do:
Join the facebook event and invite your friends;
Tweet #FreeSavchenko;
Stage a demo – doesn't have to be at a Russian embassy, could be in a public place of where you live;
Contact your media and request to be interviewed or for them to do a story on Nadiya. The more the world speaks out for her, the more chances she will live!
Write or tweet to politicians to urge for them to speak out for her release. Ideas in the clickable tweets from the January 26 day twitter storm;
Print and spread leaflets about Nadiya – you can download them here in Ukrainian, Russian, English, French, Czech, German, Spanish, Polish.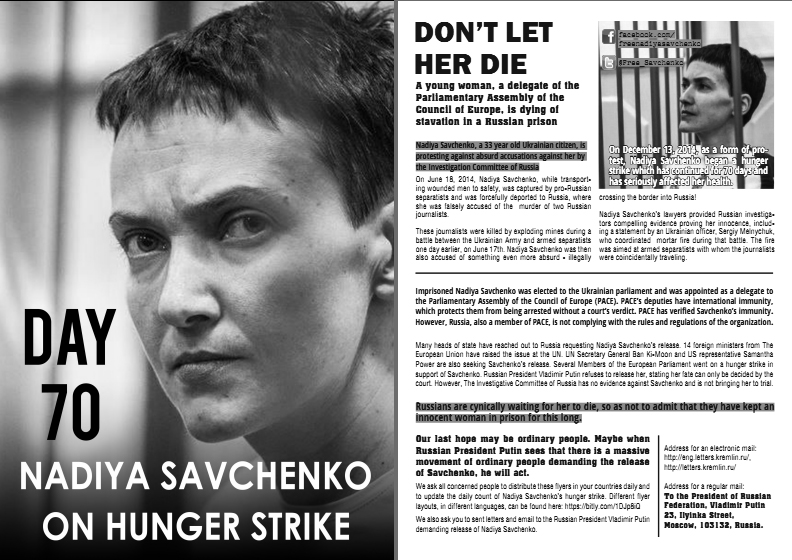 Find more resources on Nadiya in the press release for the 26 January Day of Action (photos, videos, articles).
Follow @GlasnostGone on twitter and check his tumblr http://glasnostgone.tumblr.com/ for more updates.
Images in English:
Images in Ukrainian:
Lots of more graphics in FB album on
Euromaidanpress
Videos:
Clip to support the kidnapped Ukrainian pilot Savchenko released by TV channel Ukraine Today together with Ukraine's MFA (German, French, Ukrainian, Portugese in link):

Articles
Tags: #FreeSavchenko, Act!, Archive, Help, Help Ukraine, Savchenko