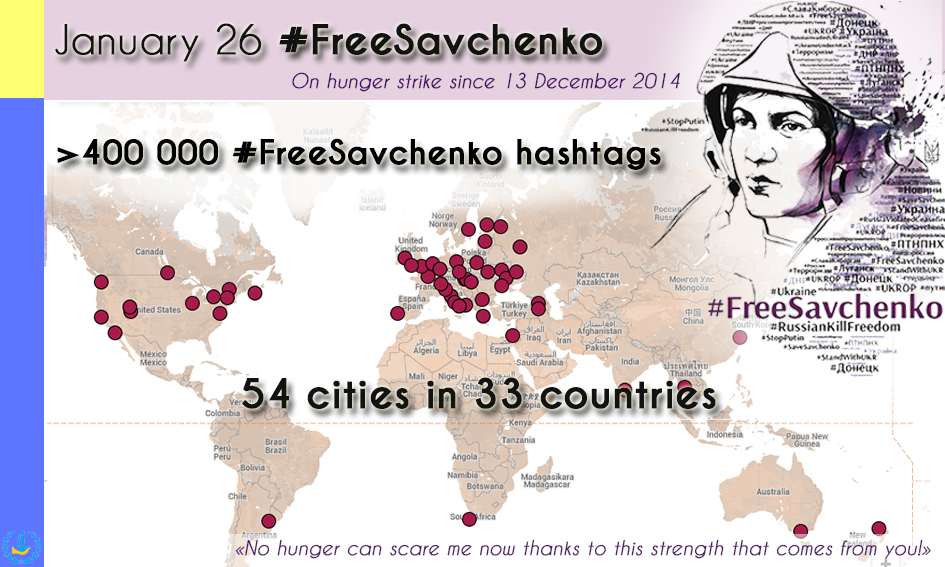 The public campaign #FreeSavchenko, advocating for the release of Nadiya Savchenko, has grown to global extents. A Ukrainian POW, lawmaker, and PACE representative held captive in Moscow, Ms.Savchenko has been on a hunger strike since 13 December 2014 in protest against fabricated charges. She is only one of Kremlin's captives, yet she has become a symbol of them all.
On January 26, the day when Nadiya should have been representing Ukraine at a PACE meeting were she not jailed in Moscow after being kidnapped to Russia "with a bag over her head," as she states herself, the whole world demanded her release on a #FreeSavchenko global day of support – both on the ground and in the virtual realms of twitter. The overwhelming global support for Nadiya on January 26 and in the preceding months led to increased media coverage of her plight and statements by politicians demanding Russia to release the unlawfully imprisoned pilot. During the PACE session, a resolution was adopted with a clause calling on Russia to demand immediately release all hostages, prisoners of war and illegally held persons in Russia, and to ensure Savchenko's release within 24 hours. However, no release followed – Russia suspended its participation in PACE and slapped new charges against her. According to Savchenko's lawyer, this is no less than a retaliation from Putin: "Just so that nobody has any illusions: The second case against Savchenko is [Russian President Vladimir] Putin's response to the PACE resolution for her immediate release within 24 hours," Polozov said via Twitter. Nadiya Savchenko, having previously vowed to be set free or die in prison, continues her hunger strike (day 51 at moment of publication), has been transferred to a prison hospital, and in a letter to the Russian activist Mark Galperin writes that she has not reached her borderline and looks forward to future battles.
This Putin-offending PACE resolution was made possible by a huge public campaign for her release that culminated on 26 January 2014. At least 54 cities in 33 countries showed their support for Nadiya with rallies or actions (click on each point for more information; if we left out your event, please inform us in the comments and we'll add):
A video from selected rallies around the world:

Photos from selected rallies – more in the event on FB, in the map, and on the FB page Nadiya Savchenko.
This slideshow requires JavaScript.
Moscow activists came out to support Nadiya at their own risk and got immediately detained by the police. They are facing up to 45 days in prison.
But the virtual realm was even more saturated with support for Nadiya. A twitter storm on January 26 brought the total amount of #FreeSavchenko hashtags to a total of 410 799. This success was built over time, said Alex King, known on twitter as @GlasnostGone, who is the hashtag's initiator. He together with supporters ran the first Nadiya Campaign using the #FreeSavchenko on 19 November 2014, and after that kept going at the campaign, playing with images and reaching out to Nadiya's lawyers. Alex is not Ukrainian, and has never been to Ukraine, but he found translators to Ukrainian to expand his campaign. "I Follow World affairs, so naturally the situation in Crimea caught my eye; I found myself continually checking the BBC website for updates, and was stunned that the comments page was wall to wall Russian Trolls/Propaganda. I started fighting for Ukraine on the comments page, and the desire to help Ukraine grew. I continued on twitter," Alex explained his motivation for the campaign. By 5 January 2014, the sum of tweets was at 75 000.
The 26 January 2015 campaign was joined by many other supporters, among which are Euromaidan Press, Voices of Ukraine, Digitalmaidan, OpenDialog Foundation, Ukraine Today, Kharkiv Human Rights Group, Ukraine's Ministry of Foreign affairs, the FB page Nadiya Savchenko, and many others, including video and graphic artists that created in support for Nadiya – please see resource center. Numerous politicians have already called on Russia to release Savchenko. The petition to PACE President Anne Brasseur urging her to release Nadiya gathered thousands of signatures and started PACE actions to speak out on her behalf. The campaign goes on in Nadiya Savchenko days of action. On January 31- February 1 you can join by "writing a letter" to the Chair of the Committee of Ministers of the Council of Europe (COE) – instructions provided here.
Lithuanian Ambassador to the UK says #FREESAVCHENKO pic.twitter.com/dlJk0iSQTG

— LithuaniaEmbassyUK (@LTEMBASSYUK) January 27, 2015
Apart from that, hundreds people showed their support and continue to do so by tweeting photos of themselves with the sign #FreeSavchenko. On the 50th day of the hunger strike, Nadiya's life is in danger. Secretary General of the Council of Europe Thorbjorn Jagland will keep trying to convince Russia to free Savchenko, and so will the network of activists around the world. Please add your voice to the campaign to fight for democracy and a brave woman standing up to Putin – follow @GlasnostGone on twitter and check for updates in the fb event to #FreeSavchenko and the FB page Nadiya Savchenko.
Tags: #FreeSavchenko, Archive, Help Ukraine, Putin, Savchenko, Stories