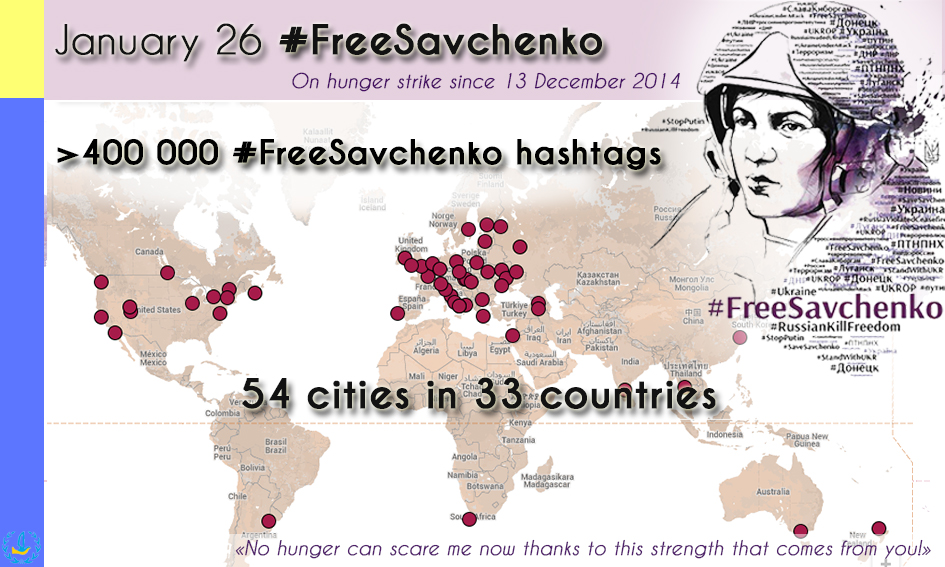 The public campaign #FreeSavchenko, advocating for the release of Nadiya Savchenko, has grown to global extents. A Ukrainian POW, lawmaker, and PACE representative held captive in Moscow, Ms.Savchenko has been on a hunger strike since 13 December 2014 in protest against fabricated charges. She is only one of Kremlin's captives, yet she has become a symbol of them all.
On January 26, the day when Nadiya should have been representing Ukraine at a PACE meeting were she not jailed in Moscow after being kidnapped to Russia "with a bag over her head," as she states herself, the whole world demanded her release on a #FreeSavchenko global day of support – both on the ground and in the virtual realms of twitter. The overwhelming global support for Nadiya on January 26 and in the preceding months led to increased media coverage of her plight and statements by politicians demanding Russia to release the unlawfully imprisoned pilot. During the PACE session, a resolution was adopted with a clause calling on Russia to demand immediately release all hostages, prisoners of war and illegally held persons in Russia, and to ensure Savchenko's release within 24 hours. However, no release followed – Russia suspended its participation in PACE and slapped new charges against her. According to Savchenko's lawyer, this is no less than a retaliation from Putin: "Just so that nobody has any illusions: The second case against Savchenko is [Russian President Vladimir] Putin's response to the PACE resolution for her immediate release within 24 hours," Polozov said via Twitter. Nadiya Savchenko, having previously vowed to be set free or die in prison, continues her hunger strike (day 51 at moment of publication), has been transferred to a prison hospital, and in a letter to the Russian activist Mark Galperin writes that she has not reached her borderline and looks forward to future battles.
This Putin-offending PACE resolution was made possible by a huge public campaign for her release that culminated on 26 January 2014. At least 54 cities in 33 countries showed their support for Nadiya with rallies or actions (click on each point for more information; if we left out your event, please inform us in the comments and we'll add):
A video from selected rallies around the world:

Photos from selected rallies – more in the event on FB, in the map, and on the FB page Nadiya Savchenko.
[slb_exclude]