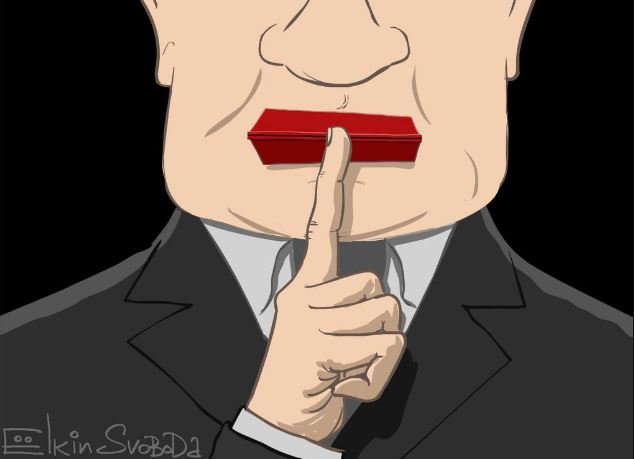 Caricature by Elkin 
In Russia, it is now forbidden to talk about Russian soldiers killed during peacetime. President Vladimir Putin, for whom the outcry over Russian boys dying in eastern Ukraine apparently got too loud, signed a decree to this effect.
That's interesting, since according to Putin, there aren't any Russian soldiers who could be killed there. One who leans toward being cynical could see in the edict – which bans discussion of something that, according to the government, doesn't exist – a kind of advancement for the rule of law: Opposition leader Boris Nemzov paid with his life for his investigation into Russian soldiers killed in the Donbas; he was gunned down. Russian mothers who still dare to whisper the names of their dead sons, on the other hand, can count on only having to report to a prison camp.
Battles in Donbas are part of Putin's policy of war
Whoever passes such laws is fighting a war. And he is planning even more war. It's as simple as that. The West is deceiving itself when it continues to describe the daily shootouts in the Donbas as "constant violations of the ceasefire," as German Foreign Minister Frank-Walter Steinmeier again did in Kyiv. They're part of Putin's policy of war.
A ceasefire that is constantly broken is not a ceasefire. And the dead who may not be spoken about are still dead.
Tags: Donbas war (2014-present), Op-ed, Putin