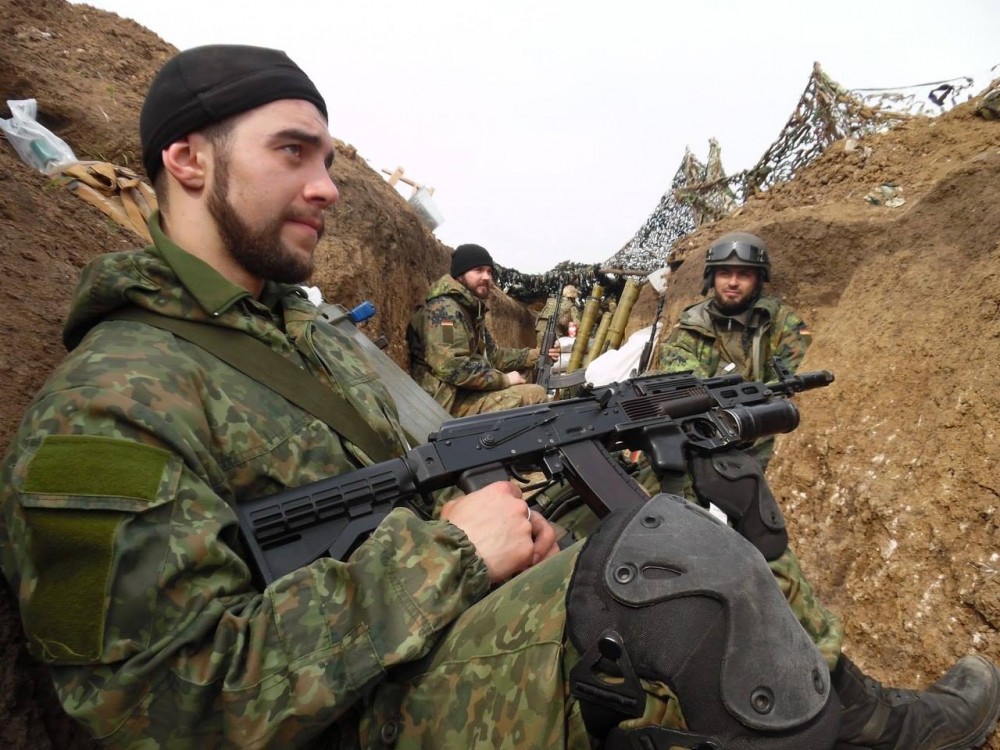 Azov fighters in a trench. Photo: Azov fb page  
In the night of 20 May 2015, Russian forces and their proxies in Ukraine launched an attack on Shyrokyne that lasted more than 3 hours, according to the Azov regiment situated in the South-Ukrainian city near the strategic port of Mariupol.
The battalion stated the following on their page:
"The terrorists opened fire at 3:15 am, firing automatic grenade launchers against the positions held by the Azov regiment in the village of Shyrokyne. At 3:40 am the terrorists opened fire with small calibre weapons to hit the forward positions of the Azov fighters, who returned fire and in a short period of time destroyed the positions where the enemy weapons were located. The enemy then opened up with heavy artillery – 152mm self-propelled guns, weapons that are banned under the agreements of the Minsk Accord.
The battle at Shyrokyne continued until 6:20 am. Azov has suffered the loss of two wounded soldiers. Information is still being verified about what casualties the enemy has suffered."
According to the Ukrainian National Security and Defense Council, militants attacked Ukrainian positions 22 times with 120mm mortars, 3 times with 122mm artillery, 4 times with tanks over the last day.
A day earlier, citizens of Mariupol picketed the office of the OSCE demanding that the organization withdraw its proposal to demilitarize Shyrokyne. According to the Mariupol residents, this move would leave their city open to Russian aggression. Protests against demilitarizing Shyrokyne had been held earlier in May, and the Azov regiment had commented that this proposal is "hazardous and irresponsible."
Tags: Donbas war (2014-present), Mariupol, Russian invasion, Shyrokyne