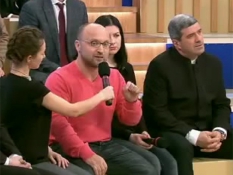 A formerly pro-Russian businessman from Odesa created quite a commotion on Russia's Channel One TV when he discussed Russia's aggression in Ukraine.
Businessman Vadym Chornyi, a former candidate for mayor of Odesa (in 1998 and 2010), was invited as a guest for the political talk show program Time Will Tell on Russia's popular Channel One TV station to discuss a proposed bill in Ukraine's Verkhovna Rada that would criminalize denial of Russian aggression in Ukraine. Apparently he had been chosen because of his earlier pro-Russian views, according to Patrioty Ukrainy. However,  to everyone's shock and surprise, he proceeded to explain why there will be no Russian Spring in Odesa and told his Russian listeners that Russia was similar to Nazi Germany.
When the talk show host Pyotr Tolstoy stated that Russia had based its laws on criminal prosecution for "distortions of history" on the Nuremberg Tribunal, Chornyi responded that the Russian government itself was facing a second Nuremberg Tribunal.
"Are you comparing us to Nazi Germany?" the TV host asked. "Absolutely," Chornyi answered.
"No person in his right mind can deny Russian aggression," he said. "Where do they (militants in the Donbas) get their tanks, where do they get the BUKs, where do they get their surface to air missiles?" he asked rhetorically, telling his Russian audience that "you can deny it till you're blue in the face."
Furthermore, he said the reaction of Ukrainians was similar to the reaction of Russians to the Nazi invasion. "During World War II, you (Russians) could not deny German aggression, you did not broadcast German radio, you did not treat the German point of view with respect. And so it is here (in Ukraine) where there is war," he said.
In his comments Chornyi also mentioned the Odesa tragedy of May 2, 2014. "It is only because 50 people died accidentally in Odesa that there is no war in Odesa. The people have rejected your ideas and have understood that they don't need the 'Russian world.'"
Finally, he expressed confidence that the Russian-terrorist armies will not reach Lviv. "Russians will not get as far as Lviv because they have no guts. Your army was not able to conquer small Georgia. And now Lviv?!" he said.
During Chornyi's remarks program participants and audience members booed and shouted and tried to interrupt him, accusing him of Russophobia.
Tags: News, Odesa, Russian invasion, Russian TV, Russo-Ukrainian War (2014-present)